The Town of Caledon, Ontario
A true 'community of communities'
Business View Magazine interviews Allan Thompson, Mayor of Caledon, Ontario, as part of our series on Sustainable Communities in Canada.
The scenic environs of Caledon, Ontario are the icing on the cake that makes this "community of communities" an enviable place to live, work, and visit. People love that it is safe, active, and environmentally conscious; close to large urban centres and major transportation routes, yet replete with quaint villages, nature, arts and culture, and abundant farm fresh goodness.
The Town of Caledon was established on January 1, 1974; an amalgamation of the former County of Peel townships of Albion, Caledon, the northern half of Chinguacousy, and the Villages of Bolton and Caledon East. Today, it forms the northern municipality of the Region of Peel. Caledon Mayor, Allan Thompson, delves into the intriguing logistics of the town: "The region of Peel has about 1.5 million people – about 800,000 in the city of Mississauga to our immediate south, and close to 700,000 people in the City of Brampton. Caledon is sitting here with a population around 75,000 and 56 percent of the entire land mass of Peel Region. Under provincial legislation, 80 percent of our municipality is under protection of some kind – covering development on agricultural land or areas for gravel (we're the largest producer in Ontario), and the beauty of the Oak Ridges Moraine and the Niagara Escarpment, and the headwaters of the major watersheds that flow south toward Lake Ontario. You could fit the entire city of Toronto in our untouchable protected area."
Mississauga, home to Pearson International Airport, is a huge trade hub for Peel Region and Toronto. With all the development going on in the surrounding area, Caledon needs a good tax base balance to keep farmers and residents sustainable in those protected land areas. It hasn't hurt the real estate value, but it does restrict what can be done to a property. During his term, Mayor Thompson has tried to streamline the process. "We're 'rolling out a red carpet' program and 'rolling up the red tape' to help businesses that come here get through a site plan or building expansion process quickly," he reports. "Our job as enablers is to help them thrive. We host small business summits; create innovation hubs – even smaller hubs for incubators to allow small businesses to establish here instead of in the big city."
Challenges are many. Farms on the Peel Plain are zoned for agriculture and future growth. The Hills have agriculture and equestrian. There are huge gravel pits, and Caledon still needs to find a way to get fiber in the ground. As part of Ontario's Southwestern Integrated Fibre Technology (SWIFT) initiative, the town's goal is to get everyone connected with 100 gigabytes within 10 years. They are trying to subsidize the rural cost of connection, so it's as affordable as in any urban center.
Mayor Thompson explains, "If everyone is connected, they can work remotely. We're fighting with gridlock traffic here in the GTA; we can't build roads quickly enough. And we're in a huge growth area. That's why innovation hubs and community hubs are key. People may work from home but want to meet with business associates, so they can come to a center and rent space for a think tank session. That type of offering is in high demand."
Employment in intelligent manufacturing is on the rise. Companies from the Pacific Rim are starting to locate in the Caledon area, developing parts for the auto, agricultural, and construction industries. Rather than warehousing inventory, they can manufacture a specific part in 24 to 48 hours (depending on complexity), have it assembled, and delivered. Husky Injection Molding, Mars, and Canadian Tire are some of the town's largest employers, and true community partners. Five of the top North American concrete manufacturers are located here, along with many innovative start-ups in the auto industry that employee seven to fourteen people.
The largest intermodal yards in North America are right at Caledon's doorstep; one just outside Pearson Airport is part of the CN intermodal yard; the other on the border of Brampton and Vaughan is for Canadian Pacific Rail. Caledon is perfectly situated in the arteries of this whole complex. Mayor Thompson notes, "Our new Official Plan is in the works, and will be ready within two years. It encompasses a huge expansion of employment areas. We're going to have business parks, but also a freight village – the first ever in the GTA. A freight village is a business hub. The most intrusive industrial part is in the center core, with outer rings supported by smaller business parks. It's very similar to what's outside Chicago, but instead of a military base, we're doing it with private land. It's a major undertaking and I'm quite excited!"
Agri-tourism is a large economic driver. In the past,
Caledon was a big name in the dairy industry, but it's now becoming known for a different sort of beverage. According to the Mayor, "There's a real appetite for cider. The people in the industry here can't produce enough of our award-winning products. For 14 years we've celebrated 'Caledon Day' with a food festival and entertainment. This past year, we did 'Cheers Caledon' the night before. It was a test. Normally, we get 8,000 to 12,000 people out on Caledon Day – we had 1200 on Cheers evening, itself. We had a total of 18 cider and craft brew businesses and everyone was out of product by 10 PM. So now, we're turning the whole weekend into a festival."
At 286 square miles, the municipality of Caledon has a large footprint. The popular trans-Canada Trail goes through Caledon, as do the Elora Trail, the Credit Trail, and the Bruce Trail, bringing scores of walkers, hikers, and cyclists. Not surprisingly, the cider industry, culinary pursuits, and farm markets are seeing great success. There are also more horses in the Headwaters area (Caledon, King Township, and part of Dufferin County) than in the state of Kentucky. Caledon has one of the finest equestrian facilities in North America and hosted the PanAm Games in cooperation with the Toronto Conservation Authority and the Caledon Equestrian Management Group.
By 2041, Caledon is projected to increase in population from 75,000 to 160,000 – massive growth with only 20 percent developable land. "That's why it's important to get our employment tax base built before the residential gets here," says the Mayor. "New greenfield development is coming, so Council has a discipline to figure out how we fit in seniors, as well; not just long-term care and seniors' residences, but people looking to downsize into smaller units like bungalofts. It's called 'aging in place' and we need to have that because 36 percent of our population right now is seniors. Another 20 years, we'll be about 50 percent. We've also partnered with Habitat for Humanity on the affordable housing side."
The downtown core of Bolton is already a heritage district, and Caledon is looking at protecting other historic downtowns in the municipality, such as Belfountain. Heritage protection designation is done through a community engagement process, with the goal of maintaining flexibility as businesses and services evolve. Even new buildings coming in should complement the existing heritage architecture.
"In terms of infrastructure, we're blessed to be part of the Region of Peel, a leader in water and wastewater management with the cheapest rates in Canada. Regional roads are second to none. Caledon and its taxpayers are really benefitting from the long-term visioning. We have a provincial highway corridor coming through that's key for us to thrive. When we do road construction, we're putting conduit in the ground and the fiber's going in with it. Council has just approved our third-year broadband levy. We put it on the tax base to make it transparent to the community, because we know the importance of being connected – especially, our schools and libraries, they're maxed out."
Mayor Thompson invites everyone to "come and see who we are. Not only is Caledon beautiful, we're recognized for our volunteerism. We have a lot of 200-year celebrations coming up in our old, established areas (1818, 1820), but we also have a lot of future growth. We're close to a big urban market, but we still have that distinctive rural character. Going forward, we know development is coming but we say, let's take charge of our own destiny."
Check out this handpicked feature on Fantastic Sams.
AT A GLANCE
WHO: Caledon, Ontario
WHAT: A vibrant town of 75,000
WHERE: Region of Peel in the Greater Toronto Area
WEBSITE: www.caledon.ca

Fieldgate Development – Fieldgate Development, a family-owned and managed company, is a Toronto-based, full-service, real estate investment and property management company that focuses on developing outdoor shopping centers in and around growing communities. It is a subsidiary of Fieldgate Homes, which has been building family homes and communities in the Greater Toronto Area, and other parts of Ontario, Canada, for over 60 years. – www.fieldgateconstruction.com

TACC Construction – Founded in 1977 and based in Woodbridge, Canada, TACC Construction, Ltd. provides earthmoving, sewers, water mains, underground, and road building services to municipalities, property developers, and government agencies. It manufactures manholes, catch basins, valve chambers, and sewer pipes; plans and installs distribution systems of high-voltage cable and transformers, telecommunication systems, and street and highway lighting and traffic signals; owns, leases, and manages a portfolio of single and multi-tenant buildings in the Greater Toronto area; and manages land development projects in southern Ontario. – www.tacc.com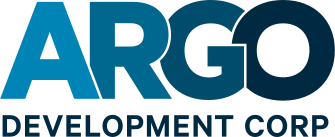 ARGO Land Development – www.argoland.com
Based in Burlington, Ontario, ARGO is a leading-edge land development company with more than 25 years of experience. The company builds and develops livable communities in some of the most desirable locations in the Greater Toronto Area. Recently, ARGO has expanded its footprint into Florida in the U.S.