Columbia-Shuswap Regional District, British Columbia
Beautiful, casual, down to earth
Business View Magazine interviews Rhona Martin, Board Chair of the Columbia-Shuswap Regional District, B.C., for our focus on Canadian economic development.
The Columbia-Shuswap Regional District (CSRD) stretches west from the Rocky Mountains along the B.C.-Alberta border to the center of British Columbia. Blessed with phenomenal natural beauty, history, and First Nations culture, the CSRD is home to roughly 60,000 residents and a wealth of visiting tourists who travel to the region for the stunning views, shopping, and four-season outdoor activities. Its prime location on the TransCanada Highway between Vancouver and Calgary, and proximity to four National Parks, makes the area a destination of choice for families, adventurers, golfers, hikers and bikers, winter sports enthusiasts, snowmobilers, and all types of water sports fans.
The Columbia-Shuswap Regional District Board consists of 11 Directors, one representing each of the member municipalities of Sicamous, Revelstoke (pop. 8,000), Golden (pop. 4,000), two from Salmon Arm (pop. 18,000), and one each from the six unincorporated electoral areas (identified separately by letters of the alphabet, from A to F). Area 'C' has about 7,000 people in the rural area. Rhona Martin, CSRD Director and Board Chair, shares insights on the challenges and rewards involved in servicing such a diverse territory as Columbia-Shuswap.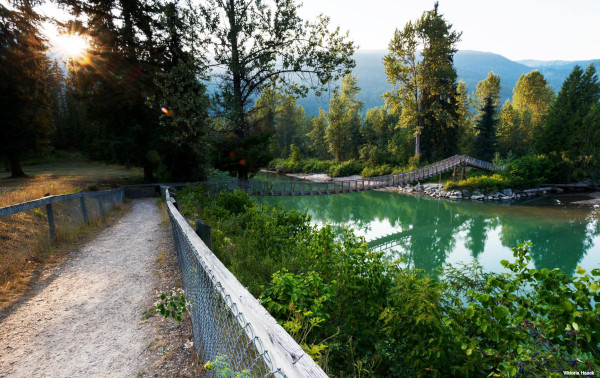 According to Martin, "It's a fast-growing region in some areas, others are growing slower, some have lost population in the last few years. There's a shift – we're seeing a lot of people from the coast moving to Kelowna and people in Kelowna moving out. The pressures of larger centers are putting pressures on the rural areas. It's good though."
The Columbia-Shuswap Regional District provides regional functions including solid waste, recycling, and fire protection in most of the rural areas, except B which has an agreement with the city of Revelstoke. There are 13 fire departments, in all. Martin explains, "We have rural economic development; we have a tourism function. It's interesting, Golden and area A do their tourism marketing; Revelstoke and area B do their own. And the Shuswap-Sicamous, Salmon Arm, and the four electoral Shuswap areas are marketed under 'Tourism Shuswap.' As for economic development, Revelstoke and B do it together, as do Golden and A, and the four Shuswap electoral areas are on our own now because Sicamous has just withdrawn and formed their own corporation. But it's not as confusing as it sounds."
In rural areas, people come to the Board with an issue they want addressed and it goes out for public consultation. If you want to, for instance, build a firehall, you have to go to the people for approval, and then the Columbia-Shuswap Regional District collects money in that service area, and people within that area continue to pay for that service. The beauty of a regional district is the ability to do partnerships. Columbia Shuswap Regional District and the Regional District of North Okanagan have successfully concluded the purchase of a section of the CP Rail corridor that runs between Sicamous and Armstrong. In partnership with Splatsin First Nations and their segments of the CP rail corridor, the land acquisition is intended to ensure public ownership of a key linear corridor to be used for recreational opportunities, including walking and cycling, while retaining the corridor for future transportation and economic development needs.
Tourism is one of the District's major economic drivers, picking up the slack from the diminished logging industry. It used to be just one season, then two, now they're building on to the shoulder seasons to become a four-season destination. Revelstoke and Golden boast renowned ski hills, and people come from around the globe to hike on the trials in four fabulous National Parks. A non-profit group, "The Shuswap Trail Alliance," has done a wonderful job building and maintaining the trails for many years. Transportation-wise, the Trans-Canada Highway runs through Columbia-Shuswap, ideal for people who fly into Kelowna or Kamloops or Calgary and drive to locations in the Columbia-Shuswap Regional District. There is a good inventory of rooms available for tourist accommodations from full-service resort hotels to quaint B&Bs. Martin owns a small restaurant and hears people from around the world commenting on how much they love the Columbia-Shuswap Regional District. When they're driving, people pull over to the side of the road and are just amazed at the peace and quiet, unlike the big, busy crowds at Banff and Lake Louise.
As for infrastructure, Martin reports, "The gas tax has made a huge difference to rural communities like ours. It was a federal initiative implemented a few years ago, and there isn't a local government in B.C. that's not getting benefit from the tax. It's made it possible for a beautiful playground in my community, and allowed upgrades to fire halls and community spaces, ultimately reducing operating costs. We don't have a lot of resorts in the Columbia-Shuswap Regional District rural area, but there is a water system. That's where the gas tax comes in and the granting from senior levels of government. We have invested heavily in our water systems. We have a lot of property owners with lovely, seasonal cottages who come out for the summer. Some have licenses to get water from the lake. Others are hooked up to actual water systems. One resort in Three Valley Gap is very independent. They even have their own power generation."
The Columbia Basin Broadband Corporation has been working in that area of the region to improve connectivity. Each improvement opens up many doors for employment, for education, and for communication, overall. Martin recalls, "We had a business owner with a lot of employees and he needed to connect with the company at the coast that was doing his payroll. That's what spurred us on, because our community association was, at first, providing the service. It took someone saying, 'I have this issue, what can we do about it?' to get things done. It's difficult here in the mountains. Line of sight works for a certain distance, then there are trees or rocks in the way. But we are working on it. There have been some successful apps that have helped, and we're continuing to explore every opportunity that comes around."
Along with tourism, the Columbia-Shuswap Regional District has a solid manufacturing sector, and an important mining history, as well as some active sites. Active gravel extraction pits set up in all the communities play a major role in new construction. There are also local construction companies that do work elsewhere, but their home base is in the CSRD. Forestry is still a big economic player – including a community forest in Revelstoke, a sawmill and finger-jointing plant, as well as timber framing companies and log home builders. The Columbia-Shuswap Regional District is in good hands for healthcare, with hospitals in Salmon Arm, Revelstoke, and Golden providing significant employment. The District Board pays 40 percent of hospital capital costs (new equipment, major construction, etc.), but no operational costs.
Strategic planning is important with such a wide and varied territory to cover. The Shuswap Region created a very successful tourism strategy, involving a branding exercise that focused on feet! Taking you places, walking, hiking, swimming, it was all about getting around. They also created an agricultural strategy they're working to implement, recognizing that agriculture (especially beef, poultry, market gardens) is another huge economic driver in the region.
"Now, we've got the economic development strategy," says Martin. "I'm excited about that. We'll be forming small committees in each of our electoral areas, so local people have more input on the direction of things. Every economic development learning opportunity I've been to stresses the need to take care of your existing businesses; to respect and nurture them just as much as you do new ones coming to the area. We're wanting to market ourselves as being open for business with lots of opportunity here."
Five years ahead, Martin would like to see sustainable growth in the RD, "so that we don't have systems that fail. We need to manage the Infrastructure we have and plan for improvements or building new to make sure we can service the constituents in our area. When significant growth happens at one time, it's difficult to manage. If you've got sustainability, you can do just about anything. I hope that we continue doing well, that our services are good and strong, and people are satisfied with the local government."
She adds, "I would welcome visitors to come to the CSRD to explore our heritage – the Swiss Guides history in Golden is particularly notable – and the unique opportunities that our natural beauty provides. There's not a short list of things to do: tour the hydroelectric dam, the Railway Museum, the Logging Museum, something for everybody. If you're tired of the big city rat race, there is opportunity here. And as we continue to improve connectivity, those opportunities will continue to grow."
Check out this handpicked feature on Barrow County Georgia – The best place for business.
AT A GLANCE
WHO: Columbia-Shuswap Regional District, British Columbia
WHAT: Regional District between Vancouver, BC and Calgary, AB
WHERE: Southern interior, British Columbia
WEBSITE: www.csrd.bc.ca