Montrose, Colorado
A mountain paradise
Business View Magazine interviews representatives of Montrose, Colorado for our focus on Growth & Economic Development in U.S. Cities
From the majestic peaks of the San Juan Mountains in the south, to the depths of the National Park's Black Canyon of the Gunnison in the east, the City of Montrose in Western Colorado is pure bliss for any outdoor enthusiast. Surrounded by lush natural beauty, the home rule municipality offers endless opportunities for exploration, adventure, and fun.
Officially incorporated in 1882, the city was named after Sir Walter Scott's Scottish novel, A Legend of Montrose. The area predates this period, as prehistoric rock art was discovered dating back to 1000 BC. Known as the Shavano Valley Rock Art Site, this part of Montrose is now listed on the Colorado State Register of Historic Properties. Today, the community is fast-growing with big-city amenities including popular retail stores and a growing health care sector. It's a special place to live, work, and play with ample opportunities for business development.
"Montrose is unique because it combines rural living with outdoor recreation," says City Manager, William Bell. "You could hike on a different trail every weekend for the rest of your life, and never run out of options. We're also a Gigabit city; high speed internet is available citywide at 1 gigabit per second. People can engage in both recreational and business opportunities at the same time."
The incredible outdoor lifestyle was what drew Lisa Kuczmarski, Director of Business & Tourism, to the area five years ago. She couldn't pass up regularly fly fishing in an alpine lake or on the Uncompaghre River, only four minutes from downtown. She notes, "The community is also a regional hub on the western slope with great logistics between the municipalities of Durango and Grand Junction. It allows us to provide healthcare, business, and education opportunities to the smaller rural communities around us."
As the highest populated municipality in Montrose County, there are approximately 20,000 residents calling the city 'home', according to the U.S. census. However, Bell maintains, "In 2021, the United States Department of Agriculture (USDA) Rural Development reported we gained 1,000 people. We have 21,000 in our city and another 10,000 living in the unincorporated county. So, our total residential population is about 31,000 but we also provide services to about 60,000 people."
Recently, the Colorado State Demographer presented at the Montrose Economic Development Corporation (MEDC) luncheon, predicting how the city's growth will trend even higher over the next decade. Bell believes that people escaping large cities after COVID reinforced the possibility of working from home. Smaller cities equipped with broadband are much preferred. Montrose is particularly fortunate because it also offers additional local job opportunities. Its largest employers include The Montrose County School District (MCSD) RE-1J, Montrose County, the City of Montrose, and Montrose Regional Health – a  local hospital and health provider.
The city partners with its industries to offer workplace training programs for local employees, job seekers, and students. This upcoming May, the Montrose Police Department will be launching the Western Colorado Law Enforcement Academy (WCLEA) in conjunction with the Colorado Mesa University (CMU), Montrose Campus. "Across the country, it's been difficult recruiting law enforcement," explains Kuczmarski. "With this new program, along with our police department's Citizens Police Academy, we're hoping to increase interest and recruiting efforts."
CMU has also partnered with the city and MCSD, to create the P-TECH (Pathways in Technology Early College High Schools) program. Grade nine students can choose between a four-, five-, or six-year plan to finish their education concurrently with an Associate of Applied Science (AAS). Majors include Mechanical Engineering Technology, Welding, Medical Office Assistant, etc. "Students entering the workforce will be prepared, having taken college classes and formed partnerships with hiring agencies," asserts Bell. The city and MCSD are also building an Outdoor Education Center on a 10-acre MCSD adjacent site. Educational seminars are already taking place in the existing buildings, but once the center is completed, students will be able to fully immerse themselves in nature.
Being surrounded by this sublime beauty turns Montrose and its neighboring communities into natural tourist destinations. Many of the workers serving the tourism and construction industries live in Montrose. "Our need for workforce housing increases every year," says Bell. "We've partnered with local developers to build approximately 300 workforce rental apartments. That's in addition to also partnering with developers for approximately 500 single-family homes and duplexes." Each year also sees an increase in property values. Retirees are buying many of the new builds for well over $400,000, creating a gap between younger professionals able to purchase only affordable housing.
Bell explains, "We've all lost new hires because they can't find anywhere to live. So, the city, and CMU have partnered to buy a large house for use by WCLEA cadets. The house is like a dorm for 10 to 15 people. The city also owns a single family home often used by new city employees; both properties will be used as temporary housing, just for three to six months until they find something permanent." For affordable housing, the city works with the Colorado Housing and Finance Authority [CHFA] and the Montrose County Housing Authority to offer more low to moderate income options.
One of the city's most desirable areas to live is historic downtown Montrose. "It's a beautiful area with amazing public art," boasts Kuczmarski. "We also have a local Historic Preservation Commission that works to designate historic buildings on our local Historic Register, which allows owners to pursue tax credits for preservation efforts. Our Development and Revitalization Team (DART) is dedicated to encouraging historic preservation while simultaneously allowing businesses to expand and thrive. It's a very active process."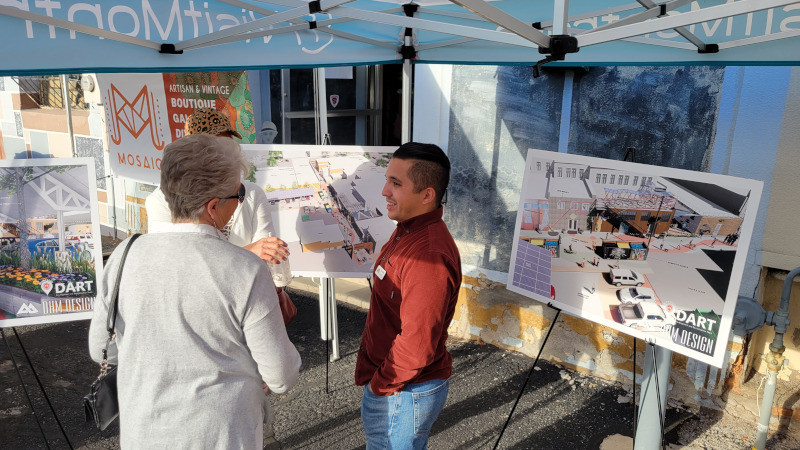 She also highlights the easy walkability of downtown, noting there are lots of bike racks throughout the community. Over the last few years, the city has even received grant funding to expand The Connect Trail. "You can get all over town without a vehicle," Kuczmarski says. "It's important, especially for youth that they can safely travel around without worry."
The Connect Trail now reaches the Montrose Urban Renewal Authority (MURA) land in the northern section of town. Located on the 164-acre site is the Colorado Outdoors campus – a commercial, light industrial, retail and residential development along the Uncompahgre River Corridor. "It's a successful and fast-moving project that's only been around four years – the result of a combination of public and private partnerships," says Bell. "We've put in about $13 million of public money for infrastructure like water, sewer, sidewalks, and parking lots. There's been about $65 million invested in private infrastructure."
The project began with just one company, Mayfly Outdoors, but now Fairfield by Marriott Hotel, family owned restaurants, outdoor retailers and even a photo gallery are moving in. The Maslow Academy and Bright Beginnings Preschool will be opening a center with 70 available childcare slots as well. "The Colorado Yurt Company is building a brand-new manufacturing headquarters at the Colorado Outdoors site," Bell adds. "They're doing amazing things. We're partnering with them to build a large public restroom facility. They're going to create a yurt and tipi village, Vrbo style, where you can try out tipis or yurts before purchasing. Conveniently, there will also be a publicly accessible restroom as well as a shower facility for the yurt and tipi guests."
The city is also upgrading and investing in its water infrastructure. Project 7 Water Authority provides treated water to six communities in the region, including Montrose. Bell states, "It's an engineering marvel. Over a century ago, the Gunnison Tunnel was created as an irrigation channel to bring water from the Black Canyon area of the Gunnison River to our valley. All the water is treated at the Project 7 Water Treatment Plant before it's disseminated to the different municipalities. Right now, we just have the one facility but we're a growing region. There's no redundancy. So, now the water authority is working on getting federal funding to build a second treatment facility north of the Ridgway Reservoir."
In addition, the city has created a Storm Water Program, which makes the permitting and inspection process more business friendly. There is even a person on staff who works with businesses to ensure accordance with both the city and state. Montrose doesn't want to shut down projects, but instead works alongside businesses and developers from the beginning.
Looking ahead to the next five years, Bell wants to focus on housing inventory, including workforce, affordable, and subsidized options. Like many communities across the nation, Montrose will continue to address  a seasonal rise in its homelessness population, opioid use and  the challenge of available mental health services. Bell continues to encourage public-private partnerships to solve these important issues.
Kuczmarski  readily promotes what a great community Montrose is. She emphasizes, "We have amazing resources in our own backyard, so  you don't have to fly internationally to have the vacation of a lifetime. Environmental tourism is important too –  we highly encourage our visitors to 'Leave No Trace' when enjoying our outdoor assets. We're working in the right direction so anyone visiting Montrose can see us shine."
AT A GLANCE
Montrose, Colorado
What: County seat of Montrose County; Population 31,000
Where: Western Colorado
Website: www.cityofmontrose.org

Secret Creek – Makers of Colorado Yurts, Earthworks Tipis, and Destination Tents – www.coloradoyurt.com