Spring Hill, Kansas
The Blueprint of a Thriving Community in the Making
Masterfully planning small-town charm, strategic growth, and community engagement
In the heart of America's Midwest, where amber waves of grain meet the indomitable spirit of enterprise, lies Spring Hill, Kansas—a burgeoning epicenter of innovation and opportunity.
Nestled strategically between the urban sophistication of Kansas City and the pastoral beauty of the Great Plains, Spring Hill offers a unique blend of small-town charm and big-city amenities.
The local economy, robust and diversified, is a veritable symphony of industries—from agriculture and manufacturing to tech startups and green energy initiatives. The city's pro-business policies, coupled with an educated workforce and state-of-the-art infrastructure, create a fertile ground for investment and expansion.
What truly sets Spring Hill apart is its community—a mosaic of hardworking individuals who value collaboration, integrity, and ingenuity. The city's leadership, deeply attuned to the needs and aspirations of its residents, fosters an environment where both businesses and individuals can flourish.
A Tapestry of Growth and Community Spirit
Spring Hill, a community that has gracefully straddled the line between tradition and innovation, finds its roots deeply embedded in the mid-19th century. "It was founded in the 1850s, around 1857, to be precise," confirms Patrick Burton, the Director of Community Development.
Today, the city boasts a population nearing 9,500, a number that Mayor Joe Berkey describes as an ode to the town's magnetic appeal. But what makes Spring Hill unique is its geographical footprint. "We are actually in two counties. Johnson County covers the North half of the community, and the South half falls in Miami County," explains Lane Massey, the City Administrator. This dual-county existence is not a mere accident but a result of strategic growth patterns.
Numbers and geographical boundaries only tell part of the story. The soul of Spring Hill lies in its vibrant community culture, a blend of events and festivals that bring the town to life throughout the year. "Our Fall Festival is probably our biggest event of the year," says Berkey. "People from even neighboring communities come into town for that. It's a significant event we have coming up here at the end of September."
The town also celebrates Daffodil Days in the spring and Hometown Holidays around Christmas time, events that Public Affairs Specialist Kristin Boxman describes as "the biggest ones."
The city's recreational offerings are not to be overlooked either. "Our pool hosts a lot of events that we partner with other organizations for. We might host a teen night or a family luau," adds Boxman. These events often serve as a nexus for community interaction, facilitated by the city's robust Rec Commission. "We have a really good rec department here in town that does a lot of free events throughout the year," Berkey elaborates.
The New Generation and the Industrial Backbone
In a world where demographics often dictate the trajectory of a community, Spring Hill stands as an exemplar of youthful vigor and economic vitality. "The average age currently is around 32 years old," Berkey observes. Burton adds another layer to this youthful profile by highlighting the town's robust median income. "It's around $80,000 to $90,000," he notes, a figure corroborated by Massey.
What's the alchemy behind these impressive numbers? "Positive growth," declares Burton succinctly.
Massey elaborates, "We're kind of on the south end of the Kansas City metro area, which has seen growth over the last 20 to 30 years." This strategic location not only fuels Spring Hill's residential appeal but also catalyzes its burgeoning industrial sector.
While some might label Spring Hill a "bedroom community" for Kansas City, such a moniker would overlook the town's industrial prowess. "We have a lot of industry here," Burton emphasizes. "Cardinal Glass, for instance, does a lot of the glass for skyscrapers, not only nationwide but worldwide."
Clorox, another industrial heavyweight in the area, specializes in kitty litter at the plant in Spring Hill. The city also has GemTech, an injection molding plant that primarily serves airlines.
Spring Hill's economic ensemble is not woven solely from the threads of large corporations.
"We now have a hardware store and a lot of smaller businesses that are really good community participants," Burton points out. The recent addition of a Kwik Trip store serves as a compelling indicator of the town's attractiveness to large corporations.
Infrastructure and Innovation: The Pillars of Progress
In a rapidly evolving community like Spring Hill, infrastructure isn't just a necessity—it's a strategic asset. "One of the positives about being in a community that has high growth is that there are a lot of projects moving forward," says Massey. "We have five-year capital plans that look at infrastructure needs within roads. We're currently working on 199th Street and will be looking at 207th Street, among others."
The city is also conducting multiple studies on sewer-related infrastructure, a crucial component for sustainable growth. "All this growth does create a lot of needs within the infrastructure," Massey acknowledges. "We probably have more needs and upcoming requirements for growth than we currently have the funding for, but that's something we have to figure out."
Infrastructure isn't the only area where Spring Hill is making strides. Berkey is particularly excited about the town's advancements in broadband connectivity. "We've had a major lack of broadband issue here for 20-plus years," he says. "After meeting with several companies for about six months, one big national company is building the entire town out in fiber internet. Now we're giving our citizens multiple options, whereas we didn't have any a year and a half ago."
A Magnet for Tourism and Local Culture
When it comes to attractions and tourism, Spring Hill is far from a one-trick pony. "We're currently working on Veterans Park, which has a lake and we're putting a memorial out there," Massey notes. The city also boasts the Sycamore Ridge golf course, described as a "top-five public golf facility in the state of Kansas." Burton adds another layer to the city's appeal with its proximity to Hillsdale Lake. "It's not only a provider of water for several communities but also a very good entertainment recreation area," he says.
The city's historic downtown area, with buildings that are 125 years or older, has been revitalized with new businesses, adding to its allure. Another point of interest is the Bull Creek Distillery, a local establishment that has become a cultural hub.
"We have a distillery in town that does live music at least three nights a week," Berkey adds. "It's a big draw for our community and surrounding communities." And not to forget the culinary delights that add flavor to life in Spring Hill, Berkley adds, "We have K and M barbecue here, and they're pretty good," adding a nod to their barbecue bowl.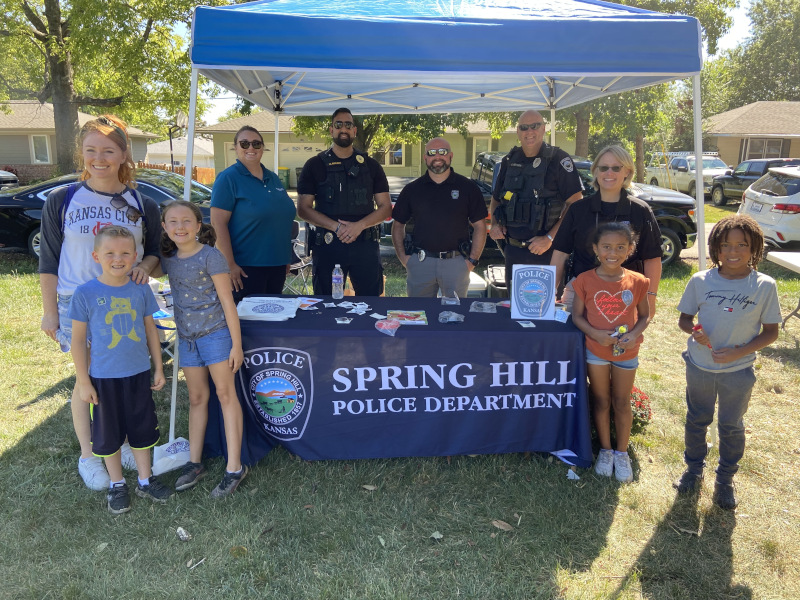 The Business Ecosystem: Incentives, Partnerships, and Education
In the competitive landscape of attracting businesses and encouraging growth, Spring Hill has strategically positioned itself as a compelling destination. Burton elucidates the city's approach to enticing new enterprises.
"We do have incentive packages that we discuss with new businesses," he says. "We also have several already plotted industrial areas that are prepared with sewer and water, and even a couple of them have area detentions, which saves a lot of ground."
The power of partnerships and community engagement also plays a pivotal role in amplifying Spring Hill's marketability. Berkey highlights the symbiotic relationship with the local Chamber of Commerce. "We have a really good Chamber of Commerce, and we partner very well with them," he notes. "They're very active in the community and surrounding areas."
Another cornerstone of Spring Hill's appeal lies in its educational infrastructure. "We have an amazing school district," Berkey adds. "That's a big draw to a lot of families who want to get away from some of the bigger cities but still have a really good school district." Burton concurs, emphasizing that the quality of the school district is a significant factor in residential growth and even correlates with the town's robust median income.
When it comes to external partnerships, Spring Hill casts a wide net. "We partner well with Miami County in terms of economic development," Burton says. "I also have good relationships with Franklin County's economic development and a lot of Johnson County economic development partners," Massey adds another dimension to this collaborative approach.
"We have really good partners throughout the metro area and also in Miami County and the surrounding counties," he states. "But we also have really good internal staff that market directly to developers and property owners. Our community development department is very good at reaching out to them and bringing them into our community."
The Essence and Future of Spring Hill: A Community in the Making
Spring Hill emerges as a vibrant patchwork of community, opportunity, and growth. Berkey encapsulates the town's allure succinctly: "It's got the small-town community feel, but yet you're still close to the bigger communities. You have very low crime, a very family-oriented town, and with the rec department, there's a lot of opportunities to get involved in lots of different ways for your family and your kids."
What sets Spring Hill apart is not just its current offerings, but its forward-looking vision. "We're in a big growth phase right now," says Massey. "Whoever moves here within this year has a really good opportunity to help mold what Spring Hill is going to be in the next 20 years." The city is in the midst of a comprehensive plan, inviting community members to shape the town's future.
"We do want to grow this community how the citizens want it to grow," Berkey adds, noting the myriad ways people can get involved, from online platforms to in-person meetings.
In Spring Hill, the future isn't just an abstract concept—it's a collective endeavor. It's a place where the community's voice is not just heard but actively sought, where the quality of life is not just maintained but conscientiously enhanced.
It's a town not just growing in numbers but evolving in character, setting the stage for an even brighter tomorrow.
AT A GLANCE
Spring Hill, Kansas 
What: A rapidly growing community known for its excellent school district, strategic business incentives, and a strong sense of community.
Where: Located in both Johnson County and Miami County, Kansas
Website: https://www.springhillks.gov/

Comcast Midwest – midwest.comcast.com
Comcast loves connecting communities to what matters most. That's why we are excited that more than 50% of Spring Hill residents can now sign up for our smart, fast and reliable fiber-rich network. This $9 million investment by Comcast brings residential broadband speeds faster than 1 gigabit per second (Gbps) and business speeds up to 100 Gbps to 3,400 additional homes and businesses in the area and will be completed by early 2024.
"As the world becomes increasingly digital, ensuring all Spring Hill residents and businesses have access to reliable, high-speed internet is a top priority for Comcast," said Kalyn Hove, Regional Senior Vice President, Comcast. "We are proud to partner with Mayor Berkey, the city of Spring Hill and Miami County Economic Development on this exciting expansion." Spring Hill residents will be able to take advantage of the company's full array of entertainment, mobile and broadband products, including Comcast's Internet Essentials program that provides low-cost, high- speed broadband for income-constrained households. Since its inception in 2011, the program has connected more than 6,400 Kansas residents. For local businesses, Comcast Business offers a suite of connectivity, cybersecurity, managed solutions and Comcast Business Mobile products designed specifically for their employee's needs. Supporting the Spring Hill community is also important to Comcast and this year we will sponsor several community events with the City of Spring Hill and the Spring Hill Recreation Commission.