Chowan University
Faith in your future
Business View Magazine interviews representatives from Chowan University, as part of our focus on best practices of American colleges and universities.
Chowan University's story is one of resilience and perseverance. Located in Murfreesboro, North Carolina, the school was founded in 1848 by Baptists in the area who desired to establish an institution where young women would have the opportunity to receive a proper education.
"We were one of the forerunners of higher education for women," says John Tayloe, Assistant to the President and Executive Director of Major Gifts and Planned Giving. "Chowan has always been able to adapt to the changing times. We enrolled men in the early 1930s, we closed during World War II, and then reopened as a junior college, which lasted until the early 1990s, when, against all odds, we moved to four-year status. We've worked hard to become a strong and vibrant institution, and in 2006, we knew that we were worthy, so after adding the graduate school, we became a university. Higher education is one of the strongest and most vibrant business sectors in the United States – the private institutions, the independents, and then, of course, the state colleges and universities. You add all of that together and look at what our contribution is to the economy. In every single way, we're a very vibrant business, and we have always operated as a business internally, and we've maintained our strength."
"We're comfortable because of our fiscal management," says President, Dr. Kirk Peterson, crediting much of the financial stability to former Chowan President, Dr. Chris White, who brought the school into a new era of growth and prosperity. Through White's leadership, both enrollment and endowment more than doubled, and the size of the campus nearly doubled, as well, while all existing buildings went through extensive renovations to improve Chowan's infrastructure. Dr. Peterson also praises Dr. Danny Moore, Provost and Vice President of Academic Affairs, as helping him to personally grow as an individual. "I was able to spread my wings and look at other institutions. I became President at Urbana University in Ohio, and I negotiated the merger of that University with another nonprofit, Franklin University, because it was insolvent. The point I'm trying to make is that this is a business. Our Board of Trustees requires us to operate from a financial background. We are very careful, and we are very methodical. We've erased more than $25 million of deferred maintenance, we've built a new housing community, and renovated our campus."
Dr. Peterson has continued to embrace the practices that were established by Dr. White and Dr. Moore, placing an emphasis on promoting a positive corporate culture at Chowan University. "We offer our staff competitive salaries and benefits, but what we offer at Chowan, more than anything, is that we are a family, and we're proud of that. We see schools that are $80,000 or more per year. Our cost is just over $36,000, including room, board, and tuition. We offer 100 percent of accepted students institutional merit scholarships, and roughly 90 percent of our students receive federal financial aid. And yet, we're still very competitive with academic offerings.
"We have just been approved by the Southern Association of Colleges and Schools Commission on Colleges (SACSCOC) to begin in 2021 with a Master of Arts in Organizational Leadership. With the approval of this program, SACSCOC also approved Chowan University to offer distance learning. Demands and technology are always increasing, so we are adjusting to meet the needs of our students and region. We have 20 athletic programs, plus junior varsity basketball, co-ed cheerleading, and co-ed eSports, and I have dreams for additional sports. I'd like to see us having track and field, field hockey, and men's volleyball. Forty-five percent of our students are student-athletes, and these are all programs that would fit very well within our conference affiliations."
In addition to its academic programs and athletic offerings, Chowan is having conversations and collaborating with other institutions. "This creates opportunities for each school to access one another's academic fields, classes, and possibly even future degree programs where the other school's students can get degrees from Chowan for a dual degree, and vice versa," Dr. Peterson shares.
Tayloe adds that another prominent factor for the success of Chowan University, and when it prospers the most, is when it embraces its Christian heritage. It's something that is emphasized by the school's tagline: "Faith in Your Future." He also acknowledges that it has less to do with being dogmatic, and more to do with providing unique opportunities for students, faculty, and staff. "We engage people with missional experiences that transform their lives."
"We've taken students to Cuba on three different occasions," says Dr. Peterson. "We've been to South Africa multiple times; we've gone along the East Coast helping with hurricane relief; we serve meals to the homeless; and the students who get involved in that type of missions work, have a 99-percent graduation rate, and that's amazing. Not every student that comes here is Christian; we welcome everyone, but we also give people the opportunity to accept Christian values."
"We started an organization called the Chowan Christian Service Association (CCSA)," says Dr. Peterson. "We've raised over $2 million, and that's outside endowment gifts from alumni, friends, churches, and community partners in support of our students with scholarships for those called to ministry and mission work. Our goal is to graduate gospel global citizens."
Chowan University stresses the importance of international immersion as a learning experience for its staff and students to further their development and perspective. "Each year, we take a group of students, staff, faculty, and board members overseas," Dr Peterson continues. "We've been to Turkey, Greece, Israel, Egypt, Italy, Germany, Scotland, and England through the support received from the M. Elizabeth Harris International Travel Endowment Fund. Ms. Harris was the first individual to make a million-dollar gift during her lifetime to make this experience possible, providing Harris Scholar Grants to faculty, staff, and students. It's just remarkable what a small rural Christian university of about 1,100 students can do to, not only impact the community at Chowan, but also to make a difference in the world."
The experience that comes with attending Chowan University is, in many ways, as paramount as the academic curriculum. "Anytime we randomly poll graduates, or engage them in conversation, they point to how important the experience is," says Tayloe. "They always say 'Chowan is family to me. Chowan is home to me.' Sometimes our students don't have a home, and we find ourselves in this unique community, and that's a very salient part of our history. We're near the roots of the foundational center of America. We're in an area that's rich in history, just like Chowan is, but at the end of the day, we're learning from one another, and we recognize that our mission is that we are a mission, and we fulfill that by providing exceptional education and a positive environment, and we bring about positive change in the lives and trajectories of families, forever. And we do that consistently by creating a family-oriented culture for everyone. Chowan graduates are family, and Chowan is a home that is developed by the faculty, staff, and students. These are lifelong, invested relationships that are maintained and that's truly what is special about our university."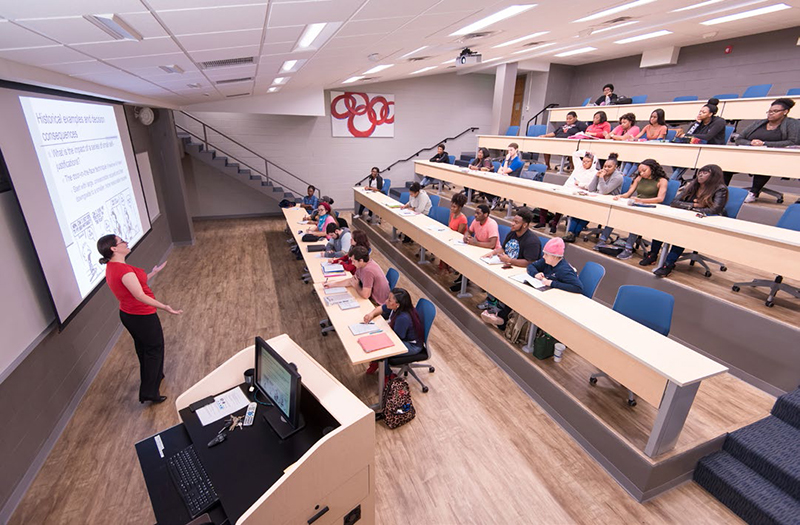 "We know our students by name," adds Dr. Peterson. "While Chowan is an educational institution, we also intertwine in our mission that we provide resources to ensure our students are successful in and beyond the classroom. We're very proud that we are Chowan University, and we're a family that deeply cares about its students. When we thrive, it's when we really stay true to our mission, our values, and the ethics that are associated with being a Christian institution. And we're non-judgmental. We accept everyone with open arms, and we give everyone opportunities."
In the crowded marketplace of higher education, what Chowan University has done is distinguish itself by focusing on who the institution serves and what makes it different. Being true to its mission, as a Christian university, remains a recipe for success.
AT A GLANCE
Chowan University
WHAT: A private Baptist university
WHERE: Murfreesboro, North Carolina
WEBSITE: www.chowan.edu