St. Johns County, FL
Balancing sustainable development and quality of life
Business View Magazine interviews Joy Andrews, St. Johns County, FL Deputy Administrator for Strategic Affairs, for our focus on Economic Growth in America.
Named after the St. Johns River that flows along its western border, St. Johns County was established in 1821 as one of Florida's two original counties, after the area was ceded to the United States from Spain. St. Augustine is both the largest city and the county seat, and it's the oldest permanent European settlement in America. Historically, the county has been a rural community driven by an economy focused on agriculture, retail, and tourism. Only a handful of major employers were in the education, medical, and governmental sectors. Today, St. Johns County establishes itself as a great place to live and to do business.
"The population has grown to 254,261 residents, which represents a 34% increase since 2010," says Joy Andrews, Deputy County Administrator. "We're now the eighth fastest-growing county in the United States, and our unemployment rate is only 2.2%, which is still one of the lowest in Florida. Our workforce growth keeps pace with our population growth." Residential developments are following suit. The county issued more than 4,500 residential permits in 2018 – a drastic increase from the 1,100 issued in 2010 – and those numbers are anticipated to keep growing. There have been more than 1,200 new businesses opened and 18,000 new jobs created, over the last decade.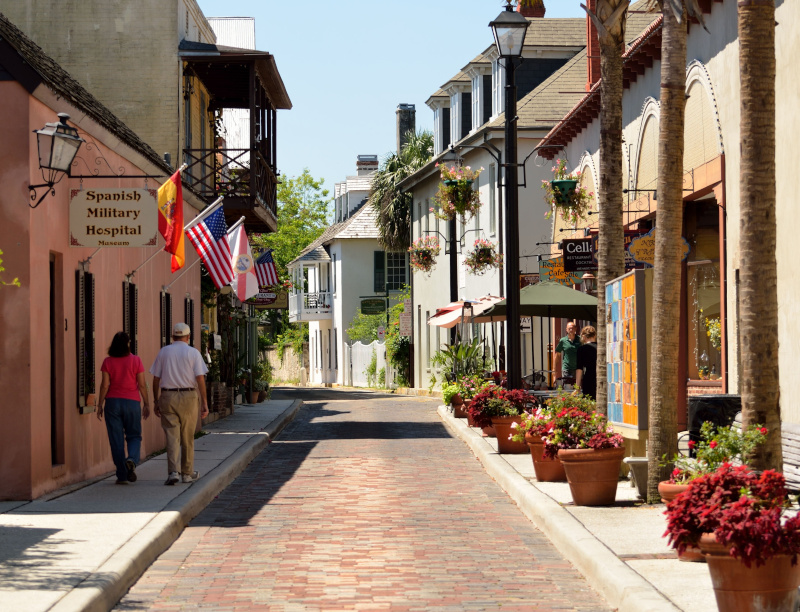 One of the more ambitious projects in St. Johns County's recent history is Durbin Park, a 1,600-acre property on the northern border, owned by Gate Petroleum. It's the largest concentration of urban development in the county and the first designated urban service area in the state. With 2.8 million square feet designated for offices, 2.4 million square feet of retail space, 350 hotel rooms, and nearly 1,000 multi-family units, the development represents an important venture for the county.
"Phase one is entirely retail," says Andrews. "Wal-Mart opened in 2018 and they occupy nearly 700,000 square feet. Home Depot opened in the first quarter of 2019, and Cinemark opened a movie theater in mid-February. This will complete the first phase of the project. Phase two has announced a 375,000-square-foot Flagler Health+ medical campus consisting of an acute care hospital with 150 beds, as well as medical offices, other health-related amenities, and potentially an educational component. We've seen a lot of medical office development – not only is Flagler Health+ becoming a part of the Durbin Park project, they've also opened a multi-specialty care clinic in the World Golf Village in St. Augustine with another location under construction in Nocatee. They're growing very quickly. They're the largest private employer in the county with a staff of roughly 2,000. That number continues to grow as they expand throughout the county."
Another key master-planned development in St. Johns County is Twin Creeks. Comprised of over 1,000 acres of mixed-use projects, Twin Creeks offers more than two million square feet of retail, commercial, office and industrial space, along with 3,000 residential units. "Twin Creeks continues to grow on the residential front," confirms Andrews. "They've recently announced the grand opening of their first apartment complex at Sentosa Beachwalk, followed by a new Publix supermarket to be built. Now they're weighing other offers for commercial developments, including a medical office and possibly a warehouse club." The Twin Creeks development includes a unique, 14-acre Crystal Lagoons amenity, surrounded by beaches and mixed-use developments along the Sentosa Beachwalk. It is now open, and currently operates as the largest lagoon in Florida.
One of the other significant economic development projects recently completed in St. Johns County is Northrop Grumman's $80 million Aircraft Integration Center of Excellence. The 361,000-square-foot facility houses 1,400 employees and created 400 new high-paying manufacturing jobs. It has also played an integral role in assisting with the development of the local workforce. "We've been working on a training program with our local colleges and manufacturers who've partnered to design programs to target the necessary skills required for industries that we want to grow in St. Johns County," says Andrews. "Northrop Grumman is our largest manufacturer and they're spearheading a program that will bring together a group of public and private sector partners in order to generate this new training initiative. This will not only benefit them in terms of providing a robust talent pool, but it will also benefit other manufacturers in the area."
"We're also working closely with First Coast Technical College," she adds. "They have an aircraft assembly program that supports Northrop Grumman's efforts, and we believe this will help attract other manufacturers to the county and help the existing manufacturers grow their employment base. It's been very important in helping to keep our unemployment rates so low. We're very proud of Northrop Grumman, and we're very pleased to have them continuing to invest in our community."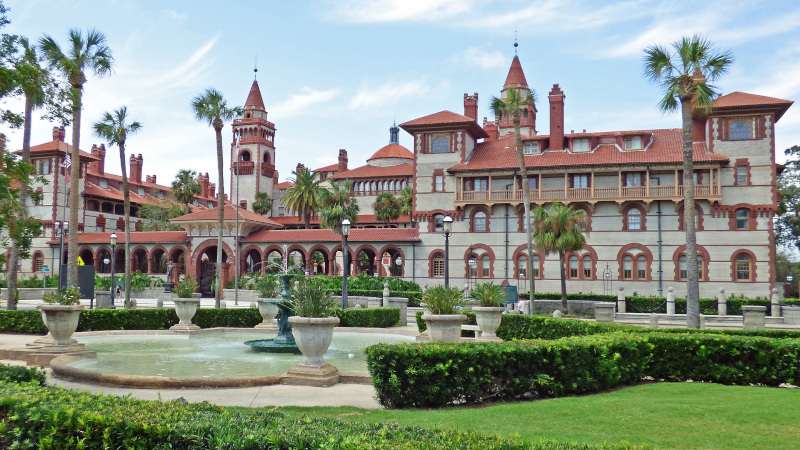 St. Johns County has also embarked upon several public-private partnerships, most notably with the PGA Tour, which announced an $86 million investment to construct a new 187,000-square-foot corporate headquarters. "The PGA Tour Global Home is well under construction, and they anticipate opening in late 2020," says Andrews. "They represent the largest corporate headquarters in St. Johns County. They'll be adding 300 jobs over a 10-year period, so we're very excited about that project. The Players Championship is held here in Ponte Vedra at the TPC Sawgrass golf course. They broke attendance records last year and are continuing to grow and expand every year. Additionally, they've been able to raise more than $100 million for local and regional charities since the inception of the tournament." Unfortunately, the PGA Tour canceled the 47th Players Championship in March 2020 after the first day of the tournament due to the COVID-19 pandemic. Nonetheless, the $15 million purse was still awarded, to be split equally among the golfers who competed.
The county is also in the midst of facilitating the development of an innovation center. "We've attracted a co-working space to be developed in our Nocatee neighborhood, in the northeast corner of the county," says Andrews. "We've provided an incentive to the developer of the project to bring it here. It's tentatively called the Hub at Nocatee – a $6.5 million project consisting of a 22,500-square-foot office complex that will house the new location of the developer's tech company. The developer wanted to be able to provide a co-working space and community activity center that doubles as an incubator hub to assist entrepreneurs and small businesses, because currently there is no place where tech entrepreneurs can exchange ideas and network. This will be the first of its kind in the Northeast Florida region."
Turning Crisis into Opportunity
As COVID-19 turned life as we know it upside down, St. Johns County was agile in their decision making to assist their existing community and businesses at lightning speed, and also pivot future growth into new and exciting areas. Like other Florida hot spots, St. Johns County's reliance on tourism and the subsequent impact on hospitality-related businesses was nothing less than earth shattering. "Our first focus was on the short term," says Andrews. "In April, we worked with our industrial development authority to assist local businesses with an emergency grant program. This is before funding was available. This was the first phase, when PPP was still difficult for smaller businesses." But they were not done there. Knowing that a Band-Aid is only a solution to a problem that already existed, the team at the county came together to look at what the future would look like.
According to Andrews, "The next step became clear. It's how can we look at economic recovery?" While other communities around the globe were reeling, St. Johns County had sprung into action to plan for the future. Creating an economic master plan, analyzing how a bedroom community could become a place where top talent would not only want to live but work as well, and courting big name brands and exciting new industries to make St. Johns County a sought-after place to work.
As with any step forward, sometimes you need to take a step back. Andrews admits, "We realized we were solely reliant on tourism, so we're very much on the path of long-term recovery. We know we have high quality of life and a high-quality school system, but what are our impediments?" The group quickly identified that aspects like higher cost of land and cumbersome regulatory processes can impede the growth trajectory of a community looking to expand, and thus immediately dove into developing educational services and investigating how to ramp up their fiberoptic network to attract everyone from the new bevy of remote workers to top tier tech who might want to move to the area. And, lastly, adding a more personal touch for businesses to assist in their growth. "Even something as simple as bringing in a new fire marshal to work with businesses can play a huge integral role in commercial development," says Andrews.
With a growing economy, population, and workforce, St. Johns County has continued to develop local infrastructure to stay ahead of the curve. "The connector to County Road 2209 is being extended south through the World Golf Village," says Andrews. "It'll bisect a new development currently underway called SilverLeaf, and that's going to provide an additional north-south corridor for commuters and provide them an alternative to Interstate 95. It should be completed this summer. There's also the First Coast Expressway, which will connect through St. Johns County and cross the St. Johns River and, ultimately, connect to Interstate 95. That should be ready by 2024. As a major thoroughfare, it would allow traffic to bypass Jacksonville altogether and bring additional opportunities to St. Johns County."
St. Johns County has found harmony and balance in its economic and community development and growth by getting creative in promoting its businesses and quality of life. It continues to focus on being adaptable and responsive to the needs of its workforce, as well as its citizens.
AT A GLANCE
St. Johns County, Florida
WHAT: A growing county with a population of 230,000
WHERE: Northeast Florida between the St. Johns River and the Atlantic Ocean
WEBSITE: www.co.st-johns.fl.us
Miller Electric Company – www.mecojax.com
Founded in 1928, Miller Electric Company has grown from a local electrical contractor to one of the largest companies in the industry. The company provides comprehensive power and technology solutions in a diversified range of industries. Miller is a family business that remains committed to stewardship in its communities and industry.