The City of River Oaks, Texas
A welcoming and progressive community
With infrastructure, recreational expansion and economic development on the agenda, River Oaks is one to watch.
The City of River Oaks is cherishing the past and embracing the future. Located in a naturally wooded area along the west fork of the Trinity River. This city is filled with a rich history that traces back to the 1800's. Nestled within the Dallas-Fort Worth Metroplex in north central Texas, this charming community celebrates its lush landscape by bearing a name that honors the abundance of oak trees that dot its surroundings.
Since the city was incorporated as a village in 1941 and subsequent transition into a city in 1946, River Oaks has evolved from a bedroom community near the former Carswell Air Force Base, now the Naval Joint Reserve Base, to a unique and distinct suburban area, with a population of close to 7,500 people. The city continues to grow steadily, focusing on enhancing its infrastructure and quality of life amenities while fostering a vibrant and close-knit community.
Expanding recreational opportunities and park enhancements in River Oaks
Spanning two square miles, River Oaks offers its residents a picturesque setting and is working to expand its recreational opportunities. City Manager Marvin Gregory explains, "We're in the process of getting some bike trails that will go through the city and also along the river into Fort Worth."
One of the local parks is McGee Park, it is a large recreational area that provides facilities for community gatherings, adult, and children's sports, including Little League Baseball.
River Oaks is home to the legendary NASCAR driver, Johnny Rutherford III.
Rutherford began racing modified stock cars in 1959 and he also dabbled in stock car racing, making 35 NASCAR Cup Series starts from 1963 to 1988. Rutherford won in his first start, at Daytona International Speedway driving for Smokey Yunick. This made him one of the youngest drivers ever to win a full points-paying race, as well as the only driver to date to win in their very first start in the Cup Series. On February 25th, 2020, resolution 1009-2020 changed the name of Coats Park to honor this local legend.
Wooldridge Park offers a good place for kids of all ages to enjoy outside activities.  Wooldridge Park, a recently updated skateboard park, is well loved by its community. "We are in the process of going through a master plan for our parks, we intend to have a new plan as to where we're going to go for the future," added Mr. Gregory.
Part of this plan includes renovations to the River Oaks Event Center, a valuable amenity for residents of the city. The Event Center allows the community to rent a party location, take classes and go to music events. They have a bi-weekly food bank and clothes closet open to local families in need. Yearly, the Event Center hosts a haunted house visited by hundreds of people.
Infrastructure upgrades and economic development
River Oaks is collaborating with the state on another master plan to renovate River Oaks Boulevard, a section of Texas 183. 183 is a four-lane divided highway with commercial businesses on both sides. With the renovations still in the planning stages, the city is working to attract new businesses before the project is complete.
"The state has a master plan to redo River Oaks Boulevard, which takes a long time to happen.  Once it is finished it will give us a facelift," said Darren Houk, President of the Economic Development Cooperation, and newly elected Mayor. Describing the plan which includes wider sidewalks, bike trails, benches, and beautification efforts, he acknowledges, "Part of what we're promoting right now is for businesses to get in before the real estate values shoot through the ceiling after they have redone everything."
As for the expected completion date of this project, Mayor Houk believes it is still a few years away. There are some other major thoroughfares first in line for upgrades within the city. The park master plan and this master plan will be an investment of $68 million into River Oaks, at the state level.
Mr. Gregory highlighted other infrastructure improvements taking place in the community, including the renovation of the water and sewer systems. Of these improvements, he says 80% have been completed since 2017. Currently, a $3.3 million construction bond is being used for street reconstruction throughout the city, along with an ongoing renovation of the water treatment plant.
"We have our own water system here in River Oaks, and we are totally renovating the clarifier and rebuilding our filters and the plant itself. The streets are nowhere near complete, but that is our next goal." said Gregory.
River Oaks is also in collaboration with TxDot addressing drainage issues and is actively involved in implementing fiber optics for improved internet connectivity.
As far as safety in the River Oaks community it has earned recognition as one of Texas's safest cities. This is largely attributed to its dedicated and diligent police department. Furthermore, the city has transitioned in the last four years from a volunteer fire department to a full-time team of professional firefighters for enhanced 27/7 emergency response.
Revitalizing River Oaks: Embracing growth and entrepreneurship
As River Oaks grows, it is committed to maintaining the small-town charm of the community while bringing it back to its full potential. "I think it kind of became a little bit of a sleepy town as everything grew away from the metroplex. Now, all of a sudden people are realizing how great it is to actually be as close to Fort Worth as we actually are. We're getting some of the people that moved away who are now seeking out neighborhoods like ours. Close enough to the action but still have that small-town feel," stated Mayor Houk.
Houk also noted that the city's commercial corridor is very small due to land limitations. "We have an eclectic little group of restaurants now. We've got a fairly new Italian restaurant, a Mediterranean restaurant, a down-home cooking restaurant, a Chinese restaurant and now Grumps Burgers."
Grumps Burgers is a chain of six restaurants in the Dallas-Fort Worth Metroplex. Grumps Burgers owner, Collier Albright is confident he made the right decision when opening in River Oaks, one year ago. "Things couldn't really be better," he shares. "From the get-go, it's been a true partnership. Having grown up in and around the west side, I spent a lot of time in River Oaks. I'm very familiar with the town. It's a little oasis in the Metroplex and certainly in Fort Worth. It's a step back in time with all the modern amenities, but still the feeling of community. We prefer to be in smaller towns, where there really is a sense of community and a sense of teamwork. I was blown away by the partnership with the town."
As a landlocked city, River Oaks was originally designed as a bedroom community, supporting the Naval Joint Reserve Base which houses 30,000 people. "We certainly have the opportunity for those people to be doing business in River Oaks. A lot of them rent properties being that most of them aren't there permanently," conveys Mayor Houk.
With no big box stores such as Wal-Mart within the city boundaries, he says there is easy access to these amenities in the region, while River Oaks remains committed to the entrepreneurial spirit the community is reputed for. "Most of our businesses are smaller, retail type, whether it be boutiques that have opened up that look very promising, says Houk.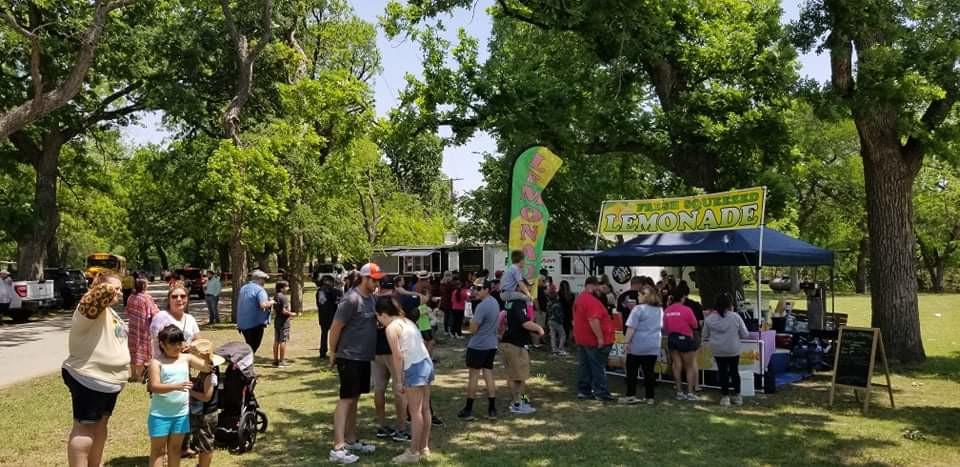 Nurturing business growth and exceptional service in River Oaks
The City of River Oaks has worked diligently in the past 4 years to promote good customer service in our city offices.  Years ago, city staff was not approachable and lacked appropriate customer service skills. Houk suggests, "We are trying to make sure that they realize that their smile and their greeting of a business owner should be no different than if you're going to a repair shop to have your car worked on. You don't want somebody grumpy, that doesn't like their job being the person that meets you.
He maintains that the addition of Blythe Reaves to the team four years ago has greatly assisted in addressing inquiries and providing information to both residents and potential business owners. The city has adopted a proactive approach, educating any interested business owners, organizing ribbon cutting ceremonies for new businesses, and actively supporting local businesses. The city has been demonstrating their commitments to economic development and community engagement.
The strategy is working, businesses are interested in opening in River Oaks. In the last four years, businesses have been opening and thriving in the city and the number of businesses has doubled.
Albright remarks, " I must have come in kind of after the mindset reset because I encountered a really 'Yes, we can attitude' and in having dealt with counties all over Texas, that's really rare. Normally, you get some pushback but in River Oaks, what I got was, 'Let's see how we can make it happen'."
In terms of business support, Ms. Reaves says, River Oaks works to make the process easy and welcoming from the beginning, initiating discussions about their opening process and necessary building improvements. Reaves was added as secretary to the Economic Development Commission and actively began assisting businesses with making flyers, coupons and helping them advertise. She created a city newsletter that is posted weekly on social media and uses it to inform citizens about local businesses.
"Our local businesses are amazed at the support of the city, the Economic Development Commission, our Mayor and city council," says Reaves.
From business owners to residents, she says, "Anybody that walks in this door is the most important person to us and they are treated the way I would like to be treated. We won't tolerate any less than that from any employee here."
Looking to the future, Gregory says his biggest goal is to complete the infrastructure improvements, while also creating a vibrant downtown atmosphere through the extension of Meandering Road. Another significant objective is the renovation of Meandering Road itself, which runs from the Naval Joint Reserve Base into River Oaks, including the bike trails.
He asserts, "Ultimately, it's all for one thing, and that is to increase the economic development within the city, and by doing so, we increase the number of people wanting to come to River Oaks, and increase the funds necessary to operate the city."
AT A GLANCE
River Oaks, Texas
What: A thriving suburb of Fort Worth, with a population of 7,500
Where: Tarrant County, Texas
Website: www.riveroakstx.com