Montezuma County, Colorado
Celebrating history and progress
Business View Magazine interviews representatives of Montezuma County, Colorado for our focus on Economic Development & Growth in the Four Corners Region
Montezuma County, Colorado not only embraces an extraordinarily long and rich history, but its future is also looking bright.
"I keep meeting with people and the common thread that I'm hearing is that we are definitely at this precipice to start developing and doing some really great things here," says Montezuma County Economic Development Coordinator, Jessica Thurman. "We are definitely going to start showing the fruits of our labor in the next five years."
Located in the southwestern corner of Colorado, Montezuma County was first settled in approximately 600 AD. The area was occupied by the Ancestral Puebloans, who left behind many sandstone dwellings. Ruins of these ceremonial structures remain today, the most famous being the Cliff Palace, located in Montezuma County's famous Mesa Verde National Park. Between the Ancestral Puebloans and 19th century the area was occupied by the Ute Tribes. The Ancestral Puebloans were agrarian. The Ute were hunter/gatherers. The area was resettled in the late 19th century as a prominent area for ranching and mining.
"We have a vibrant culture and a vibrant heritage that is steeped in history," Thurman says. "We have the Ancestral Puebloans archealogy at Mesa Verde, and we have western culture, too, with farming and ranching and mining nearby. In addition, we also have a beautiful scenic landscape as well."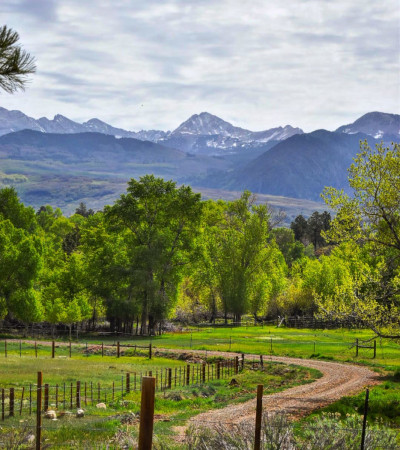 A gem of Colorado, Montezuma County is part of the "Four Corners" region – bordered by Utah, New Mexico, and Arizona. It is home to national parks and monuments, including Mesa Verde, as well as Canyons of the Ancients National Monument, Yucca House National Monument, and Hovenweep National Monument. Adventurers can camp in the San Juan National Forest, Mancos State Park, go fishing in the county's many water sources, and take hikes along the Sand Canyon Trail or the Dolores River Canyon Trail. There's skiing and winter sports nearby and special events and festivals running throughout the spring, summer, and fall.
"We are equal distance to Denver, Salt Lake, Phoenix, Vegas, and we are even closer to Albuquerque. We're also right in the middle of mountains," says Shak Powers, former Montezuma County Manager. "We are a year-round playground remotely located in the middle of everywhere."
Montezuma County's population sits around 27,000, made up of residents living in the City of Cortez (the county seat), as well as the towns of Dolores and Mancos, and smaller areas of Lewis, Towaoc, Arriola, Pleasant View, and Yellow Jacket. The population has remained steady over the years, but with thriving industries and a plethora of changes and improvements coming their way, the county is poised to see growth in the future. "I think if we secure better broadband and different types of industries, we definitely have the opportunity to grow more," Thurman says. "Especially with the rural workforce being able to work from home."
Plans are already in place to improve the broadband access to Montezuma County. Emery Telcom is working through the Utah side of the county, putting fiber lines into nearby Dolores County and into parts of Montezuma, and plans are beginning to form to bring access in from the east on Highway 160. "The governor has also given executive orders to start using the Colorado Department of Transportation right of ways to install fiber in all the state highways within the state," Powers explains.
As it stands, the county is already home to a variety of robust industry sectors. "Our economy is three to four-fold," Powers reports. "There's oil and gas. Kinder Morgan is our biggest economic driver and they extract CO2. Then there's agriculture. It's a big hay, pinto bean, and cattle area, and then there's a lot of smaller firms as well."
Tourism is also a major economic driver. The area draws up to 700,000 visitors a year to see all the archeological wonders that Montezuma County has to offer. Manufacturing is another growing sector, and mining and forest operations are also seeing a boost recently. The county is looking to bolster its already diverse employment sector by drawing in more outdoor industry manufacturing. They already have Alpacka Rafts, a packable raft manufacturer, and Osprey Packs, which makes outdoor backpacks.
"Manufacturing is definitely something that we're working on to diversify our industry, and our County more," Thurman says. In that regard, Montezuma County has its eye on becoming the prime location for manufactured housing. "The region between those major cities of Denver, Salt Lake, Vegas, Phoenix, Albuquerque is some of the most natural, disaster-free area on earth," Powers says. "We don't have floods, tornadoes, earthquakes, hurricanes, any of that. So it's really the ideal environment for manufactured homes. So much of the area in the region is remote that it doesn't even make sense to site-build houses because of the difficulty in getting materials there. So we are really hoping to become the regional supplier of manufactured houses."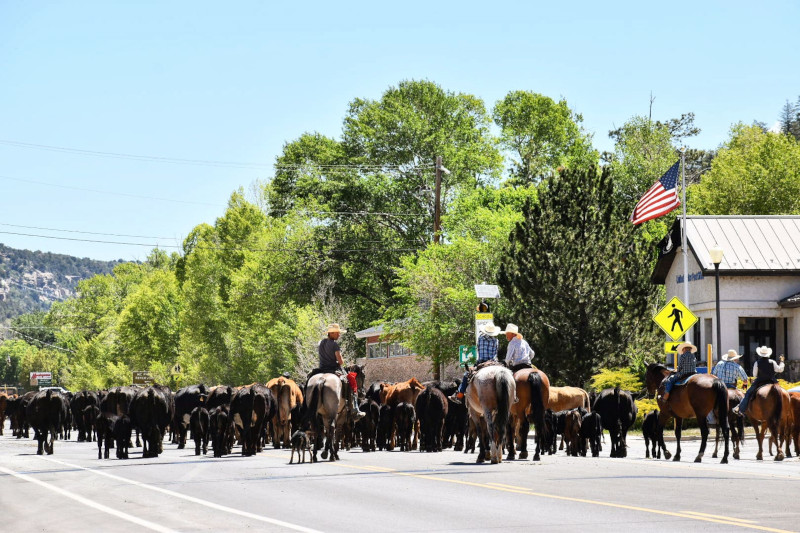 When it comes to workforce training, Montezuma County is working with Pueblo Community College of the Southwest to help build the trade skills needed to help diversify the area's industry. Thurman explains, "They're hosting a program for construction where they're going to be able to have adults certified with OSHA and flagging certifications and whatever else they may need to hit the ground running in the construction industry." There is also a "homegrown talent initiative" run out of the high school, which connects students with local businesses for internships. "It's really helped them become career-connected," Thurman says.
In preparation for future growth, Montezuma County has been moving forward with some new housing developments, including discussions with IndieDwell – a company that manufacturers homes from shipping containers. They also have housing initiatives being developed through the Pinon Project, the area's family resource center. Thurman explains, "The Pinon Project is working towards two programs – the one on Empire, which would be low income housing, and Built for Zero, which is to address homelessness."
On the sustainability front, Montezuma County has been working on some sustainable infrastructure improvements that could have big impacts for the states along the Colorado River Basin. Due to drought in the southwestern United States, water levels have been dropping. According to Powers, "If those water levels are not maintained, then we could be in danger of what's called a 'compact curtailment,' in which they would shut off agricultural use water in the upper basin states of southern Wyoming, eastern Utah and western Colorado, which of course, would be devastating to the entire food supply chain."
Making matters worse is the Phreatophyte invasion. "The phreatophyte species are an invasive tree species, mainly Russian Olives and Tamariskor Salt Cedars that are consuming literally billions of gallons of water every year that we are losing to trans evaporation," Powers explains. "Montezuma County has the most aggressive phreatophyte program probably in the Colorado Basin, and we are seeking congressionally-directed spending for it. We have bipartisan support for this and we are trying to get initiatives through from congress to start removing these phreatophytes basin-wide, not just in Montezuma County. But we are really the leader on that and we have saved over an estimated 300 million gallons of water per year with the removal and treatment we've done in our tiny little basin."
With so much on the go, Montezuma County is poised for a bright tomorrow. That's something they are both looking forward to, and approaching with caution. "I definitely hope that we are able to grow, but grow responsibly and hold fast to our roots," Thurman says. "Montezuma County is definitely unique in that we are a very forward-thinking county. We have a lot of proud people and people that have worked hard to be where they are. I hope we can continue to highlight that and continue the traditions and the heritage that we have here, while being able to grow and continue to make it a great place to live, raise children, work, and recreate."
AT A GLANCE
Montezuma County, Colorado
WHAT: A county of 27,000
WHERE: Located along the borders of Utah, New Mexico, and Arizona
WEBSITE: www.montezumacounty.org

FastTrack Communications – www.fasttrackcomm.net
FastTrack Powers Local Rural Towns With Fiber-Based Connections
As the region's only local fiber optic-based provider, FastTrack Communications brings high-speed internet, data transport and voice services to underserved communities throughout Colorado and New Mexico. The company delivers middle- and last-mile fiber optic connections to businesses, community institutions, schools and municipalities, as well as to cellular backhaul carriers and service providers.
FastTrack's secure, reliable and cost-effective telecom solutions fuel economic growth and bring well-paid high-tech jobs to the region.
FastTrack works closely with the City of Cortez, utilizing its fiber network as the last mile to connect to customers while constructing new infrastructure to reach businesses beyond the City's fiber footprint. FastTrack powers Montezuma County's municipal services, plus provides an access for local ISP partners to deploy wireless service to rural areas.
After connecting Mancos schools to FastTrack solutions, the district's director of technology said, "FastTrack surpassed expectations for service and technical support. They took care of all the details. We've been totally happy with the process and the results."
Headquartered in Durango, Colorado, FastTrack was formed in 2002 by two rural electrical cooperatives—La Plata Electric and Empire Electric Association. Find out more about this home-grown, world-class company at FastTrackComm.net.