Colleyville, Texas
Quality lifestyle, by design
Business View Magazine interviews representatives from Colleyville, TX, as part of our focus on best practices of American cities and towns.
Located in the heart of the Dallas/Fort Worth Metroplex, the community of Colleyville, Texas, is known for its spacious neighborhoods, inclusive lifestyle, and small-town charm. With a population of 25,000, the city offers a unique living experience, working to uphold its core values of quality and excellence.
Colleyville has its roots as a rural community in an area first settled in the 1850s between Big Bear Creek and Little Bear Creek in the central portion of northeastern Tarrant County. Soon after the town of Bransford was founded there in 1880, Dr. Lilburn Howard Colley, a veteran of the Union Army, and his wife, moved to the community. Over four decades, he became one of the best-known physicians in northeast Tarrant County and was widely recognized as a town leader in Bransford. Colley's name became associated with a community that formed around a store opened by W.G. Couch, south of Bransford in 1914, and the surrounding area gradually acquired the name "Colleyville."
Today's Colleyville is an upscale community with a mostly residential tax base – truly a city that is working for its citizens. As Mayor Richard Newton explains, "When the staff receive a phone call from any citizen, they respond that day. Period. Even if we don't have an answer to their question immediately, they are going to get a call to let them know they are acknowledged, and they will get a follow-up." Adrienne Lothery, Assistant City Manager, adds, "Our city's way of interacting with our citizens reflects that kind of small-town, white-glove service."
With State Highway 26, known to locals as Colleyville Boulevard, running through the heart of Colleyville's commercial corridor, improvements are underway to update this area of the city, in keeping with the quality and beauty of the surrounding residential areas. This includes a three-phase beautification plan, which began with installation of semi-custom black-powder-coated lamppost streetlights and banners promoting community events. Currently underway is Phase Two, an upscale redesign of the medians and rights-of-way. "This is no simple flowerbed type of beautification; this is around $5 million, up and down the whole corridor, with lots of stone elements, stone planters, beautiful mix of plants, and large trees – all to create that beautiful aesthetic," describes Lothery.
Phase Three, known as the "gateway package," is in the final design stage and will be open for bid this year. That part of the project focuses on stone architecture at the entrances to the City, as well as at the Main Street intersection. The City will construct tower elements, some 90-foot tall, that include landscaping and pedestrian elements at the base. "People will know when they're driving down the road that they have entered a unique community. That's what we want," says Lothery, adding, "overall, with all three phases, you're talking about a $12 million investment into the beautification of our major commercial corridor, all using our tax increment financing dollars, not the city's operating budget. It is not costing taxpayers any additional money to accomplish this. This is all cash on hand specifically designated for this project."
As a complement to the beautification project, Colleyville is offering grants to help local businesses located along Colleyville Boulevard make property improvements. The Business Enhancements to Support Transformation (BEST) grant provides matching funds to businesses making exterior improvements, up to $100,000. "The focus of the grant program is to encourage investment in commercial properties to mirror the beautification the city is doing along the corridor. We have provided grants for projects such as enhancing architecture, refacing a building with stone, painting, parking lot pavement improvements, landscaping improvements, and new roofs," says Lothery. The city also offers a sign grant program, which has been popular following an update to signage regulations – $5,000 is available to businesses who update their signage to comply with the new requirements, adding to the improved aesthetic in the commercial corridor.
"We have a lot of different elements working with our business community in ways that provide value to the businesses and also provide a high quality of life value to the residents," states Lothery. With property values on the rise in the area, Colleyville has been able to maintain its "no new revenue tax rate" for the past two years, and the city recently introduced a new financial policy to continue this, going forward. According to the Mayor, "If we need to raise new revenue, we will identify what it is for and let all the citizens know. We wrote a policy to that effect, and that's the way we behave." The city will be debt free by 2029 and has a five-year capital improvement plan that is fully funded with cash.
Innovation and forward thinking have earned Colleyville an international economic development award and drawn the attention of other cities and media outlets. Lothery shares, "Right when the pandemic hit in March, we put our heads together. A lot of businesses were trying to figure out how to convert their operations into 'to-go' efforts, whether it was retail, or restaurants. We developed $35 gift cards and mailed one to every single Colleyville address. The gift cards could be redeemed at any local business." The gift card program encouraged businesses to accept the cards as payment, later returning them to the city for reimbursement. Cards were mailed out again six weeks later, totalling 20,000 cards sent into the community with a 60-percent redemption rate. "The businesses loved it, and the citizens really got behind it. It became a community event. It really worked out great," says Mayor Newton.
The innovation did not end there. Lothery reports, "We have a city event center and we completely repurposed the staff when they were no longer holding events and turned them into a business outreach team. As we had new regulations, or new information came down from the city, the county, or the state, we would take all that information and turn it into easy-to-understand flyers. The business outreach team would hand deliver this information. That way, we could get information directly in the hands of business owners and answer any questions they had about what was going on."
Supporting business owners in getting their message out to the public is another step in the city's business support plan. "We've done a lot to encourage the community to shop in Colleyville, and a lot of businesses have had to evolve their operations during the pandemic. Businesses have had to determine how to communicate that message to their customers," says Lothery. Through a program called C-Pop, businesses can work with the City's audio-visual team to film a professional one-minute promotional video, which will be edited and ready for use on social media or in newsletters, to communicate with potential customers.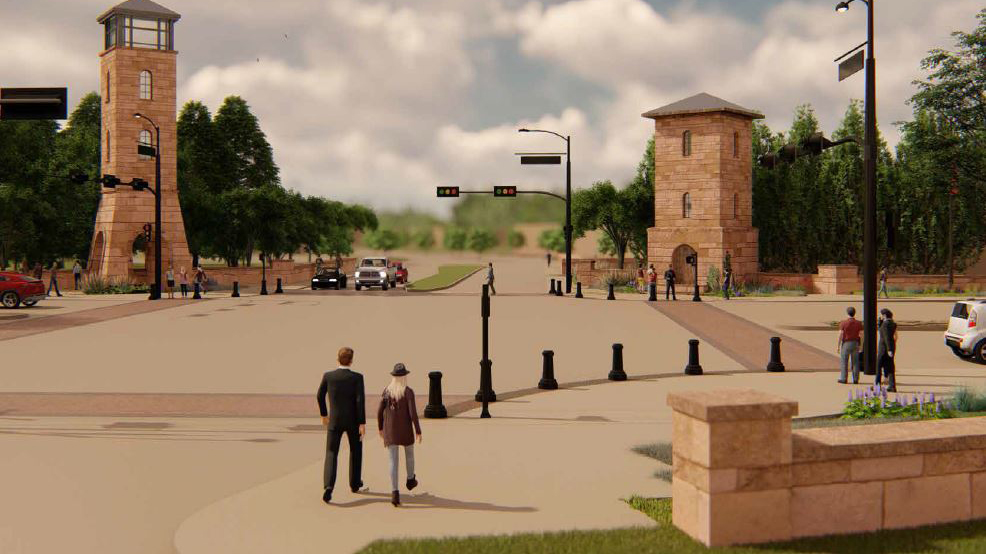 While supporting businesses through the pandemic, the city also launched the Colleyville Business Center. The Colleyville Chamber of Commerce, along with the Service Corps of Retired Executives group (S.C.O.R.E.) who offer business planning and coaching services, will operate out of this newly opened location that provides a one-stop shop for businesses. Workstations for public use, conference rooms, private office rentals, and programs to support business growth are some of the other services offered through the growing center.
Mayor Newton is very proud of his community and eager to fuel its potential as a business hub for entrepreneurs. He states, "Colleyville is unique in the sense that we have a lot of business owners here, we have a lot of senior executives here, we have a lot of entrepreneurs here, but we've never really tapped into that and helped them. Part of this business center has an entrepreneurial component. In Colleyville, residents are very successful – part of the component there is to link them to people that want to start businesses, because a lot of them have money that could be invested. The value and the quality that Colleyville is known for is by design, and we work very hard to maintain it. In fact, that is one of the city's most critical success factors. People want to be here; it's a very high-quality lifestyle."
With this philosophy in mind, the City of Colleyville continuously supports community growth through planning and innovation, while improving and protecting its signature upscale, rural charm.
AT A GLANCE
Colleyville, Texas
WHAT: A city of 25,000
WHERE: In northeastern Tarrant County, north of Dallas/Ft. Worth
WEBSITE: www.colleyville.com

MESA Design Group – www.mesadesigngroup.com
MESA is an award-winning Landscape Architecture, Planning, and Urban Design firm based in Dallas, Texas. For nearly 40 years, we have enhanced public and private spaces and created opportunities for recreation, education, and community, both locally and internationally. Our portfolio ranges from intimate garden spaces to largescale, comprehensive, master-planning projects.