Desert Hot Springs, California
A hidden gem in California's Coachella Valley
A dynamic and modern city, Desert Hot Springs welcomes residents and tourists with a relaxed community-centered core
Per the Ryness Report, which tracks under-construction-New Home Sales in the Coachella Valley, the SKYBORNE Master Planned Community by Lennar Homes project ranked First in sales for January 2023 out of the 29 new home projects throughout the Valley! The City's future is bright and moving forward in a positive direction with more homeowners coming to live in the City of Desert Hot Springs!
There are many small towns in California that have their share of charm and beauty. Desert Hot Springs tops the list, blessed with natural surroundings that are second to none, and adds to this good fortune a community-centered approach and modern, dynamic amenities for both residents and tourists to enjoy year-round.
Although the city of Desert Hot Springs was incorporated in 1963, the history of the community begins decades before that, when homesteaders arrived in the area. One of the earliest settlers was Cabot Yerxa, who constructed the first permanent building, a small structure with one door and one window, known as Eagles Nest Cabin.
Although that building no longer stands, another of Yerxa's creations, a 4-story high Hopi-style dwelling remains, and is now known as Cabot's Pueblo, a treasure that celebrates the early beginnings of the community. Today Desert Hot Springs is a vibrant city in California's Coachella Valley, with a population of close to 33,000.
As the only city in the Coachella Valley that you don't drive through when traveling on Highway 111, Mayor Scott Matas quips, "I tell people, you have to have a reason to come north of the freeway."
Sharing that there is more than one reason to visit Desert Hot Springs, he says, "We are on an aquifer that captures hot water, so visitors can come here and relax in our hot mineral spas. We have some of the greatest hiking. We have access to Joshua Tree and the Sand and Snow monument. Desert Hot Springs is a working community with a lot of families, and it has a lot to offer when it comes to that." Given all its natural charms and first-rate amenities, the famed Desert Hot Springs continues to be a major draw for tourists and for residents.
Describing the evolution of the community since its incorporation, the mayor adds, "The 60's, and 70's we were kind of a bedroom community, and destination for snowbirds as we call them, from Canada and the northern states to visit. In the 80s, it became more of a working-class community and by the 1990s it changed from a vacation destination for snowbirds and became really all about the working class. In the 2000s, the city council changed its momentum and focused more on tourism and what made our community special. And that is where we are today."
With available development opportunities in the city, Matas notes that retail and commercial growth is currently on the radar. Economically poised to meet retail and business growth, Desert Hot Springs has been awarded an A+ Standard and Poors Global Bond Rating.
As the first city in California to embrace legal cannabis, Desert Hot Springs has seen a significant increase in revenue, and while they are continuing to grow and diversify that industry, Sean Smith, Economic Development Director says there is also an effort to ensure the city is focused on a broad array of economic development resources and revenue. "We want to be ahead of the curve as we were initially by embracing that industry," he explains.
Recently recognized as the fastest-growing city in the Coachella Valley, according to 2020 census data, Smith observes, "We are focused on business attraction and retention."
"We recently approved a three-and-a-half million-square-foot Amazon logistic facility and they are going through the process of putting together their building plans. This is a significant project for us, not just from a revenue standpoint, but also from the number of jobs it will create."
Traditional retail is another area of focus, especially on highway frontage along the I-10 freeway, and highway 62. "Those are very well-trafficked highways, and that presents one of the last opportunities for freeway frontage retail in our valley," says Smith. Getting away from big box stores, the city is instead seeking to attract hotels and lodging to this area, which will complement Desert Hot Springs' growing tourism sector.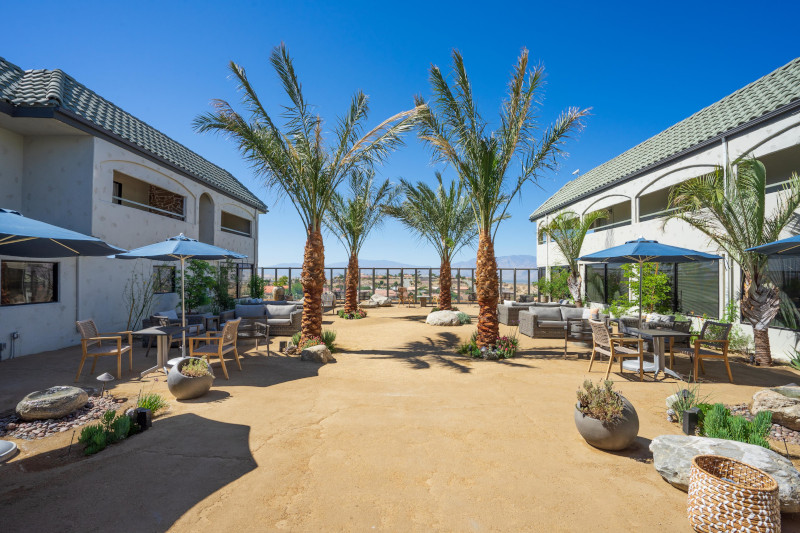 Taking the lead on keeping its residents safe Desert Hot Springs boasts its own local police force opposed to contracting with Riverside County Sheriff Department. This bold initiative with residents' needs at heart has resulted in the city having one of the lowest crime rates among the nine cities in the Coachella Valley.
Among other city highlights, Matas has focused efforts on expanding existing infrastructure and the city has just broken ground on a new state-of-the-art $70 million Regional Water Reclamation Facility to treat an additional 1.5 million gallons of wastewater to accommodate future development.
"Tourism is the number one industry in our valley, by far, and we are this really fantastic gem with a story that hasn't been told yet," Smith maintains.
Drawing on the hot mineral water aquifer, the city's status as having the best drinking water in the world, and the fact that the area is said to have an energy vortex, there is a push to attract those looking for health and wellness opportunities. Desert Hot Springs is also home to remarkable trails, and the best views of the valley, offering more to the list of reasons to visit. Along with Cabot's Pueblo, the city is also preserving some other historic homes, and maintaining the small town's quaintness wherever possible.
Although there is not currently a designated downtown, Smith says there is a plan underway to define a downtown area, creating what he calls "a really unique sense of place," which would be a hub of food and beverage, entertainment, and art.  On a regional level we are a strong and growing destination for art and tourism. So, that's something that we're working to strategize on for future growth, particularly in our downtown area," he asserts.
This downtown project will be significant to the city, and is a large undertaking, as Daniel Porras, Assistant City Manager conveys, "We are actually taking in a lot of different consultants, a lot of different grant funds, and even university students to help us with the design and with the concept to move forward."
Valued partnerships and collaboration are essential for the operation of a city, and Desert Hot Springs is no exception. "We understand the importance of building  relationships with regional partners because we know at the end of the day that that's going to be of benefit," says Luke Rainey, City Manager.
"Some examples of that would be the Greater Coachella Valley Chamber of Congress, Visit Greater Palm Springs, Coachella Valley Association of Governments, and Coachella Valley Economic Partnership, which are all organizations that we work closely with."
He also mentions the importance of the partnership between the city and utility providers, Southern California Edison, Southern California Gas, and Mission Springs Water District, especially with regard to the planning of developable land within the city, and the need to ensure that utilities will be available in a timely way. Another valued relationship is with Riverside County, which built and operated an excellent library in the city and is in the process of bringing affordable housing.
"We have a very good relationship with our county supervisor," says Rainey. "So, anything that we need on a regional level, we have a good opportunity to reach out and have those issues addressed."
On the infrastructure side, Desert Hot Springs has been focused on roads and sidewalks, including both safety and beautification enhancements and upgrades on all of the main corridors. The city has also been awarded funding for 7 new bridges, which will improve access throughout the community. To eliminate flooding in some areas, two large storm drain projects are underway, as well as continued fiber upgrades to improve broadband infrastructure.
"All of those projects provide significant economic development incentives that we're currently working on to bring in new and different businesses throughout the city," acknowledges Porras "We have a lot of areas that currently are vacant and are available for a future project. So, these infrastructure improvements are definitely going to make a big impact."
Sustainability is an ongoing priority for the City of Desert Hot Springs, which has partnered with the Coachella Valley Association of Governments on a traffic syncing project in an effort to reduce emissions. EV chargers are also being installed in key areas throughout the community and at City Hall. Housing developments, including the recently completed 41-home Silver Rock development, and a successful ongoing 187 homebuilding project in the SKYBORNE Master Planned Community by Lennar Homes are incorporating solar into their plans.
Reflecting the value of such green initiatives and high building standards, The Ryness Report, which tracks under-construction-New Home Sales in the Coachella Valley, SKYBORNE Master Planned Community by Lennar Homes project was ranked first in sales for January 2023 out of the 29 new home projects throughout the Valley.
These green building code standards are also required in commercial and industrial facilities, as Porras recounts, "The Amazon facility is required to install solar panels throughout the majority portion of its roof, provide electric vehicle charging stations for its employees, and have all-electric vehicles for its use, such as forklifts, and so forth."
Although these green standards start at the state level, Porras says "When it goes through the review process, we have met with the developers to see how we can even increase the requirement and have additional ways to conserve energy and to provide the electricity needed for those facilities as well."
As the city with the lowest crime rate in the Coachella Valley, future plans for Desert Hot Springs include a continued focus on this area. "We have worked really hard over the last 10 years to bring those numbers down, and to support and enhance our police department," says Mayor Matas. "So, these next couple of years, we're really going to focus on our capital improvements related to these facilities."
In 2023 the city will break ground on a new fire station, with plans to add another within the next few years. A build-out of the police station and the addition of a public safety campus in the new downtown area are also in the plans. "We've been working really hard on public safety to make the city of Desert Hot Springs a safe place to live, work and visit," he reports.
The future is bright for the city of Desert Hot Springs as it continues to grow and evolve, creating an even better place to visit, do business and call home.
AT A GLANCE
Desert Hot Springs
What: A growing city of 33,000
Where: California's Coachella Valley Region
Website: www.cityofdhs.org

Skyborne Ventures LLC | Strategic Land Partners LP | jimk@strategicland.net | www.strategicland.net
The ownership of Desert Hot Springs's largest Master-Planned Residential Community, Skyborne, is excited to see the tremendous progress the city council leadership has made the last several years.
City leadership diversified their economic base from what was  an over-reliance on tourism to incorporate  legal cannabis production and retail. The Increased industrial, retail, and housing development, which increased its General Fund Revenue to fully fund its reserves, its own Police Force, its capital programs and secure a Standard & Poor's A+ Bond Rating.
These positive steps helped the City of Desert Hot Springs become the fastest-growing city among the nine cities that make up the Coachella Valley per the 2020 census.
These compelling economic factors foster a favorable climate for additional private capital investment into the city, as evidenced by Lennar Homes continuing to build and sell new homes in Skyborne Village II. In 2022, Lennar's Skyborne project was one of the best-selling communities for Lennar throughout California.
Skyborne's resort-like amenities and mountain views surrounding the project create exceptional value for those looking for new home construction with a 10-year warranty, 3+ bedrooms, 2.5 baths, and a 2-car garage with a fenced backyard.
Currently, with over 300 homes occupied by residents, Skyborne is quickly becoming the place to live in Desert Hot Springs.