United Counties of Leeds and Grenville
Where lifestyle grows good business
Business View Magazine interviews Pat Sayeau, Warden of the United Counties of Leeds & Grenville, for our focus on Infrastructure in Canadian Cities.
The United Counties of Leeds and Grenville is an upper-tier municipality in eastern Ontario comprised of 10 diverse local Townships and three partner communities (Brockville, Prescott, and Gananoque) in a broad geographical area. With the shores of the St. Lawrence River and the Thousand Islands to the south, and the banks of the Rideau Canal to the north, Leeds Grenville is a beehive of year-round outdoor recreation and tourist activity. Ottawa, Kingston, Toronto, and Montreal are just a few hours' drive away, and two international bridges allow easy access to and from the U.S. Rail service is also available, as well as the convenience of the Port of Johnstown, a recently expanded deep-water port and storage facility on the St. Lawrence River.
The United Counties of Leeds and Grenville extends an open invitation to entrepreneurs, developers, investors, and corporate leaders to come and experience this thriving region, "where lifestyle grows good business." Pat Sayeau, Warden of the United Counties of Leeds & Grenville and Mayor of the Township of Edwardsburgh/Cardinal, is a 28-year veteran politician and a champion of the region. He reports, "In 2018, we had over $250 million of private capital money invested in my township alone and that was the result of being extremely well poised and ready for a large investor (Giant Tiger) that came knocking on our door at just the right time. They have now built a 600,000-sq.-ft. distribution center, and moved their entire distribution function from Ottawa to the Johnstown Industrial Park in Edwardsburgh/Cardinal. It was the largest single investment in the entire United Counties, and had a huge impact on the employment base for the region."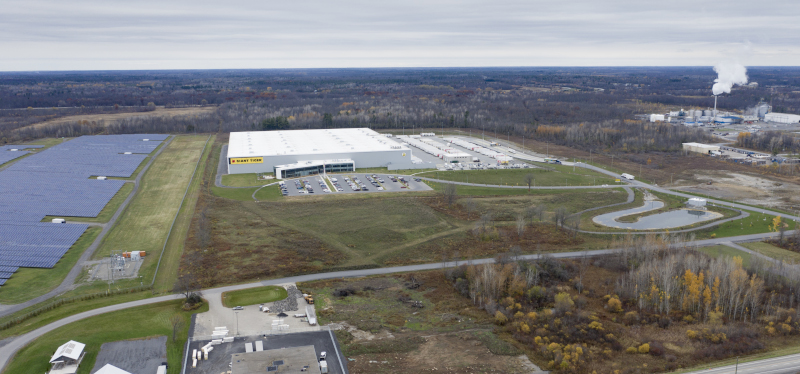 Edwardsburgh/Cardinal is located at the junction where Hwy. 401 from Toronto to Montreal intersects with Hwy. 416 from Johnstown. When Giant Tiger came calling, there was 222 acres of Ontario Site-Certified, Investment-Ready Land. The government-operated certification program requires that 17 studies, including archaeological, endangered species, and environmental studies have to be done on a raw piece of land prior to construction. That entire group of studies was completed on the Johnstown industrial park property over a period of 15 months.
Now, when a company wants to move in, all that's left is for the Township to approve their site plan and issue the building permit. Those two things were done within 222 days of Giant Tiger knocking on the door. Another significant investment is being made by Canadian Rail Equipment Works and Services. They are building a 100-acre rail yard immediately adjacent to the industrial park. When it's fully complete, it will be a $30-$40 million investment. Six acres of that property has been leased to Greenergy from the U.K. and they are building a fuel distribution station, onsite. The Leeds Grenville economic development department continues to aggressively track down leads and work with prospective investors to bring new business to the area.
The United Counties is a member of the Eastern Ontario Wardens Caucus (EOWC), and one big project on their agenda involves improving cell phone coverage. Right now, when you're driving through rural areas, the cell phone signal often gets dropped, and some rural residents have no cell phone coverage at all. So, the Caucus has embarked on a major $231 million project to get cell phone coverage through the entire Eastern Ontario region right to the Quebec border. "The first part of the project was done by the Eastern Ontario Regional Network (EORN)," says Sayeau. "They installed a fiber optic backbone through the United Counties and those linkages and terminal points will become the basis of this broadband network that will bring fiber optic to the home in the third phase of the project. The provincial government committed its $71 million quite early in the process. And the federal commitment is good for an equal amount. Once we have an agreement signed, the EORN staff will go out to the private sector for in-kind contributions of $61 million – there are cell towers to be built, cable to be laid, fiber to be connected – and the EOWC has already contributed $10 million."
In other infrastructure news, a $36 million upgrade of the wharves was completed at the Port of Johnstown – over $250,000 of that cost was for environmental studies and ensuring the work was done in an environmentally responsible and sustainable manner. That "green" awareness and focus overrides every project the United Counties undertakes in its municipalities.
A variety of local businesses are among Canada's Best Managed Companies: Wills Transfer Ltd. joined the Gold Standard List and Burnbrae Farms Ltd., Canarm Ltd., Greenfield Global, Kriska Transportation Group, and Newterra Ltd. are on the Platinum list. The region is also becoming known for its craft breweries, distilleries, and wineries, including Scheuermann Vineyard and Winery, Green Gables Vines, King's Lock Craft Distillery, Windmill Brewery, BUSL Cider Co., and Westport Brewing Company.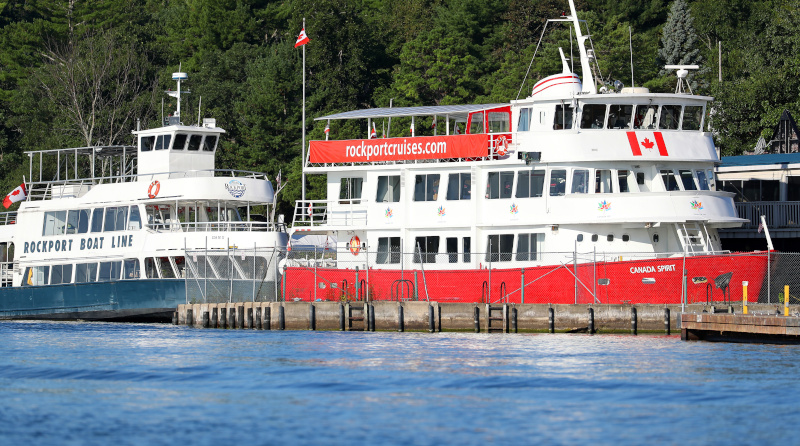 On the tourism front, Leeds Grenville shines as an ideal vacation destination midway between the famous 1000 Islands region and the historic Rideau Canal Waterway, Ontario's only UNESCO World Heritage Site. In 2018, Le Boat launched its first North American base on the historic Canal and moved its headquarters from Clearwater, Florida. This $16-million investment has since attracted thousands of visitors to the region. The Opinicon Dining and Resort at Chaffey's Lock on the Rideau has undergone a multi-million dollar rejuvenation, and Skywood Eco Adventure Park and the Aquatarium at Tall Ships Landing are popular new attractions.
The United Counties is also a residential destination – sought after by people moving out of Ottawa. Towns like Kemptville can't keep up with the demand for new housing stock, so older housing stock in Leeds Grenville communities is on and off the market in record time. Thanks to the very reasonable prices, these existing frame houses make great starter homes for first-time home buyers – many of whom are relocating from the Ottawa area as part of Giant Tiger's expanding workforce.
Five years down the road, Leeds & Grenville wants to be ready for more industry. In that regard, five United Counties townships along the St. Lawrence River between Edwardsburgh/Cardinal and Gananoque, plus the separated Town of Prescott and City of Brockville, have formed the St. Lawrence Corridor Economic Development Commission. Based on it once being the traditional industrial area of the United Counties, the objective is to bring back manufacturing and industry to this section of the river. The Commission was established with a $250,000 a year budget to bring in new investments.
"One thing we learned from Giant Tiger is that these big companies require large amounts of land," says Sayeau. "They bought 222 acres from us up to the rail line and another 75 between the rail line and Hwy. 401 just because they wanted to have a large land position. Their footprint on those 222 acres is less than 50 acres but, as they say, they're buying for the future. We also have several large-scale companies on the verge of investing here that have already done familiarization tours on formerly active plant sites and other properties that are now for sale. They're looking to locate someplace in the next 12 to 15 months, and we're working hard to make sure United Counties is their choice.
"We have a multitude of communities to choose from and our Mayors and elected officials are fully invested in working with you to bring new business and jobs to our region. We are prepared to meet with you in the early stages of your planning, offer political support and guidance for your initiatives, as well as provide you with the unique features and opportunities in our individual municipalities. It's an exciting time to be here in Leeds Grenville!"
In the United Counties of Leeds & Grenville, collaboration is key to getting things done. Group governance is provided by the Counties Council, which is comprised of the 10 Heads of Council (Mayors) of these 10 member municipalities:
Municipality of North Grenville
Township of Rideau Lakes
Township of Elizabethtown-Kitley
Township of Leeds and the Thousand Islands
Township of Augusta
Township of Edwardsburgh/Cardinal
Village of Merrickville–Wolford
Township of Athens
Township of Front of Yonge
Village of Westport
City of Brockville and towns of Gananoque and Prescott are part of Leeds Grenville census division but independent
AT A GLANCE
Who: United Counties of Leeds and Grenville
What: Upper-tier Municipality comprised of 10 Townships
Where: Bordering on the St. Lawrence River in Eastern Ontario
Website: www.leedsgrenville.com

Stewart Corbett – www.stewartcorbett.com
Stewart, Corbett law offices are entering their 115th year of serving Brockville and the surrounding municipalities with a range of legal expertise including corporate, municipal, real estate, estates, wills and trusts. Stewart, Corbett has a longstanding association with The United Counties of Leeds and Grenville and is proud to support its commitment to enhancing and building our community. 
G. Tackaberry & Sons Construction – tackaberryconstruction.com
Since 1957, the firm of G. Tackaberry & Sons Construction Company Limited has been serving Eastern Ontario. We are proud to say we have over 50 pits and quarries throughout Eastern Ontario.  
Tackaberry's is able to provide fast, efficient, quality work for Municipal, Commercial and Residential clients.  
Let Tackaberry's be the choice for your next project whether it be as large as building and paving a road or as important as delivering a load of stone for your driveway!