Calhoun City Schools
Nurturing Excellence
With its rich tradition of excellence and strong community partnerships, Calhoun City Schools is dedicated to preparing students for college, careers, and life.
Calhoun City Schools is a public school district located in the heart of Gordon County, Georgia. Since its establishment in 1902, the district has been reputed for its rich tradition of excellence, a legacy that continues today. Serving the educational needs of students in the city of Calhoun and the surrounding areas Calhoun City Schools has 4,200 students and is one of the largest employers in the community, with 450 employees.
Student success is a top priority, as Superintendent, Dr. Michele Taylor emphasizes, "We have excellence in academics, arts, and athletics, and we are preparing our students for college, careers, militaries, and life. Calhoun City Schools has worked to ensure that all of our students graduate. We have had a 100% graduation rate since 2020, and we've been able to continue to reach that goal and ensure that we're preparing our students for the future."
Community Collaboration and Engagement
Calhoun City Schools thrives on solid collaborations and community engagement, underpinning its commitment to providing exceptional education.
Dr Taylor relays, "We are blessed to have strong partners in education. We also have strong school governance teams which include strong leadership at the school board level, a college and career academy board of directors and CTAE advisory council.  High level of engagement from parents, community, business, and industry leaders is critical to meet the ever changing needs of our students. They walk with us every step of the way, and they serve as advisors and governing body members focused on continuous improvement."
She adds that the district's leadership stays engaged, participating in civic organizations and community organizations which support our schools and align with our mission.  Calhoun City Schools also maintains a valued relationship with the Gordon County Chamber of Commerce and its Education and Workforce Development Committee, which helps them to achieve broader community goals. "A lot of time, effort, and energy goes into building and sustaining relationships that I think make a difference for Calhoun City Schools," she asserts.
Further portraying the commitment to community engagement, Dr. Brandi Hayes, Director of College and Career Programs shares, "We have incorporated the five C's as a focus throughout Calhoun City schools from pre-K through 12th grade. Usually, you see four C's, but we added the fifth which is community. So, five things that we focus on are collaboration, critical thinking, communication, community, and creativity."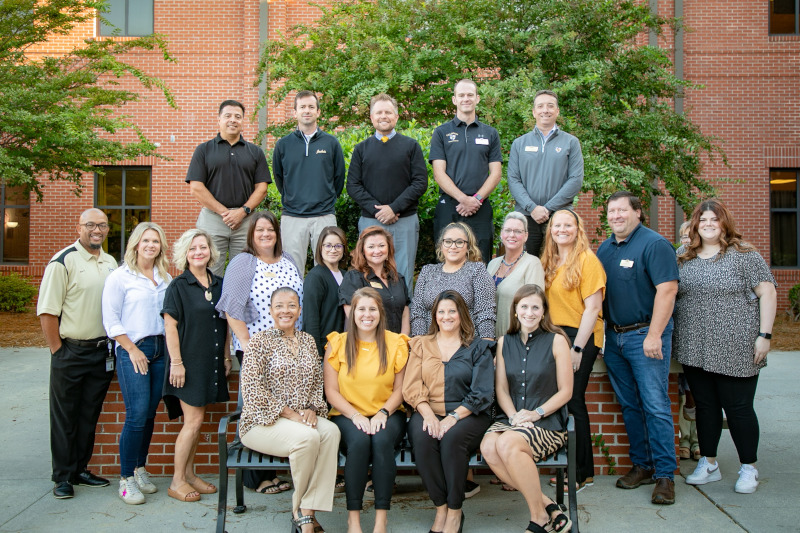 Early Exposure to Careers
The focus on the future starts early, with students as young as two and three years old being exposed to college and career options.
Dr. Hayes elaborates, "We realized we were very fortunate with all of the resources that we have, and the people that care about our school system. So, we have taken the opportunity to build awareness for our students by putting up logos of universities, technical colleges, military options, etc. in all of our media centers.  We want our students to start thinking about the opportunities they will have following high school."
They also focus on different program areas each month, such as education, healthcare, and agriculture and bring in speakers related to each theme. Moreover, they are considering organizing career pathway fairs for students as early as 2 to 5-year-olds to introduce them to high school students and community businesses involved in various career fields. "It's very important to expose and bring awareness to students at an early age so they can see what opportunities are available to them," she says.
The district recognizes the importance of exposing students to opportunities beyond their immediate surroundings. To achieve this, they have introduced career classes in elementary and middle schools, providing students with hands-on experiences. They have also established career program areas and pathways, particularly focusing on STEM fields.
Aptitude testing is another key component, helping students discover their strengths and potential career paths from a young age. This approach aims to broaden students' horizons and introduce them to a wider range of possibilities beyond what they may have encountered in their homes and communities.
"It's opened our teachers' eyes to see just how many things they can relate to career opportunities so that students can start connecting what they're passionate about, and what they're skilled in to identify a particular career pathway as early as middle school," describes Dr. Taylor.
"I think that's helped transform the minds of our teachers and students and how we need to be making education relevant to everything that we do. We need to be talking with students about how they can apply and use those skills in their life moving forward."
Redefining Future Opportunities
Working with school counselors, Calhoun City Schools is striving to make parents aware of all of the future opportunities available.
"We want to prepare students for high-skill, high-wage opportunities. Sometimes parents don't know that welding can be a phenomenal career option for their students who might be interested in construction or that type of pathway. Students don't necessarily have to go to a four-year university to be credentialed in some of those career options," Dr. Taylor stresses.
"I do feel like our students and parents are investigating the different options now more than ever and we're seeing a lot of good feedback from our students and our parents and a lot of great support from our community, business, and industry leadership, in understanding that it's no longer just the option of a four-year university for our students."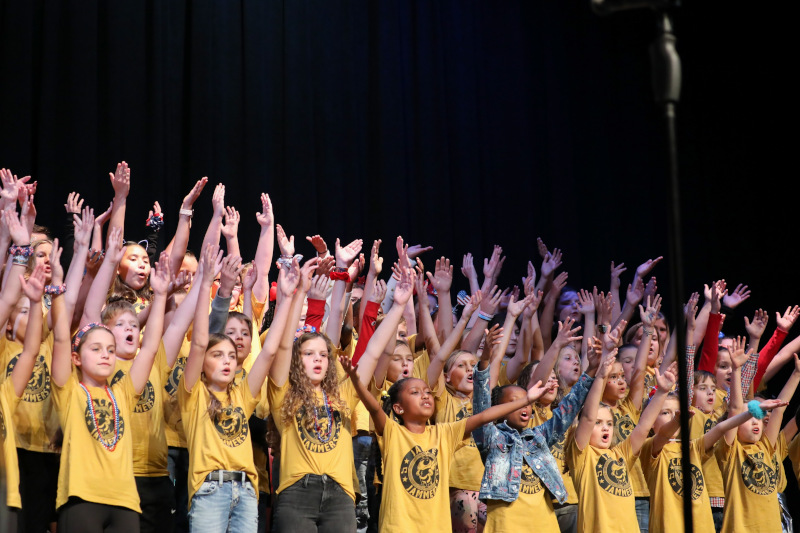 A Legacy of Excellence and Future Success for All Students
Underlining the strong emphasis on excellence across all areas of education, Dr. Taylor notes that the district conducts an annual excellence audit, focusing on academics and assessing various measures beyond just test scores.
"We are continuously improving in all areas to make sure that our students are performing well and not just meeting state and national expectations, but that we're exceeding those. That is our goal," she says.
In addition to academics, Calhoun City Schools excels in the areas of arts and athletics, boasting more than 25 state championships over the past decade. As a Capturing Kids' Hearts Showcase School District, Calhoun Schools is also committed to building and sustaining positive relationships between students and staff, because as Dr. Taylor recounts, "We feel like if we offer a safe and secure environment and students know that they are cared for, they're going to excel."
Engaging students in extracurricular activities is also a priority, and Dr. Taylor believes this is one of the reasons for the 100% graduation rate the district has been experiencing. She describes a typical Friday evening football game, where a large percentage of the student body is participating as players, cheerleaders, performing in the band, working the jumbotron as part of the video / broadcast team, providing security for the event with students in the public safety pathway, or showing school spirit from the sidelines in the student section.
"That also transcends to other sports," she conveys. "We have high numbers of our students who are plugged in and engaged in a lot of different activities on our high school campus. We take pride in the relationships that we're building. We know that it's important that students not just have teachers that are supporting them, but also coaches and community mentors."
Calhoun City Schools is committed to preparing its students for future success. Nearly 1,000 students at Calhoun High School are actively involved in career and technical student organizations, such as FBLA, Skills USA, and TSA. In the past year, 112 students participated in work-based learning, collectively contributing nearly 28,000 hours, and earning over $145,000.
"We have a thriving and large work-based learning program," Dr. Hayes boasts. "We try to encourage the students if at all possible to do their internships related to their career areas. We find that's a good way to help them decide and determine what they want to do in the future."
The district also triumphs in both dual enrollment and advanced placement (AP) programs. "We had 225 students that earned dual credit last year with over 2000 college credit hours earned. We try to provide both of those. Some high schools promote one strongly over the other, but we feel like we can offer both and provide great options for those students seeking either the dual enrollment or the AP opportunity," adds Dr. Taylor.
Community Partnerships
Robust partnerships with local employers, including Mohawk Industries, a flooring manufacturer, and AdventHealth Gordon, play a crucial role in supporting students and providing future opportunities, while also addressing workforce needs in the community. Dr. Taylor highlights their partnership with AdventHealth Gordon, which led to the establishment of an urgent care clinic on the school campus, benefiting both students and the community through internships and health services.
In collaboration with Mohawk Industries, the district emphasizes diverse career possibilities spanning areas such as supply chain, engineering, accounting, finance, graphic design, marketing, and more. These partnerships help highlight various job opportunities within the local community.
Additionally, Calhoun City Schools has established relationships with Georgia Northwestern Technical College, and Chattahoochee Technical College, enabling students to access career-focused education and earn dual enrollment credits.
Moving forward, Calhoun City Schools remains committed to nurturing students from "crayons to careers" and discovering the hero within each of them.
Dr. Taylor concludes, "This year, we're identifying our staff and students' superpowers. Every student, every teacher, every staff member has something to offer, some kind of skill that will get us to the next level and prepare our students for college, career, and life.  Superheroes abound in Calhoun City Schools."
AT A GLANCE
Calhoun City Schools
What: A school district with a reputation for excellence and a 100% graduation rate since 2020.
Where: Gordon County, Georgia
Website: www.calhounschools.org