Long View RV SuperStores
Let the good times roll
Business View Magazine interviews Frank Roberts of Long View RV Superstores, as part of our focus on best practices in American businesses.
Fran and Shirley Roberts opened their original Long View RV SuperStore in 1959, in Greenfield, Massachusetts, not far from the Long View observation tower on the town's Mohawk Trail. The tower, with its three-state view from the top, supplied the company's name and is still part of its logo, almost 60 years later. In 1984, the business was moved to a five-acre site in Northampton, MA, and, in 1993, the acquisition of a prime location in Windsor Locks, CT brought with it the need for a new name that would better suit the company that now had two major facilities. So, Long View RV SuperStores (plural) was born.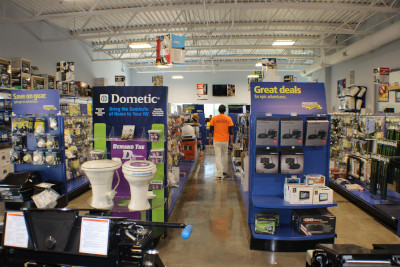 In 2000, Long View opened a sales outlet in Canaan, NY; followed by the establishment of three locations in Florida – Leesburg and Kissimmee in 2001, and Tampa, in 2004. The company was growing rapidly, and times were good, but things turned sour during the Great Recession. In order to survive, Frank Roberts, company President and son of Fran and Shirley, says, "We had to work harder than everyone else. But the good thing is, our customer service is so much better than everyone else's, and the loyalty from our customers is what made us keep going when things turned down."
Customer loyalty, notwithstanding, the economic downturn hit the RV industry particularly hard, and downsizing and consolidation also helped Long View RV Superstores weather the storm. In 2009, the Northampton property was sold and its inventory consolidated at the larger Connecticut facility. Then, the Florida properties were sold, outright. Today, two outlets remain – Windsor Locks and Canaan.
But since that time, the RV sector has rebounded and so has Long View. This past year, according to Roberts, was the best yet. "Last year was the record number," he reports. "505,000 RVs shipped across the world; this year, it looks like there are going to be 570,000 shipped. That's a massive increase. The year before, it was a 40,000 unit increase, so, year over year, it's growing. At some point, the manufacturers won't be able to build any more. And even to get units is difficult if you didn't plan properly for your inventory."
Luckily, Long View did. "We have set records for every single month, this year," he declares. "And these aren't short term records – these are since 1959 records. There is a great economy and a real passion for camping, right now. This month, we have 91 units out the door, and a lot more employees than we had last year. Our biggest problem is that we're working the employees, hard. I'm looking out my window right now, and we have 80 or 90 units in for service and all of them want to be out for the 4th of July. But, everything is going great; you couldn't have better problems."
Roberts is also upbeat about all the new upgrades and gadgets that keep being added to the units as they come off the assembly lines. "There are so many more cool features as there were even two years ago," he says. "Everything is pushbutton – awnings, jacks, the whole nine yards." The only potential downside in the industry is the rising costs for raw steel and aluminum due to changes in the tariff situation. But Roberts is even upbeat about that. "It will be a slight increase," he admits, "maybe two percent, but nothing earth shattering for my business."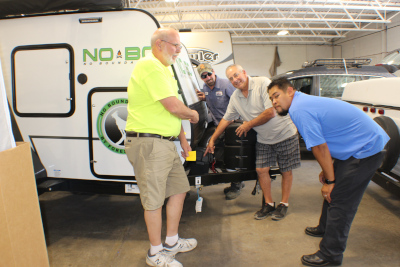 Through good times and bad, Long View RV Superstores is still known as "New England's Largest and Oldest Family Owned and Operated RV Dealership," and it still sells all classes of new and used RVs, travel trailers, fifth wheels, park models, toy haulers, and tent campers. It represents over two dozen brands from such manufacturers as Forest River, Gulf Stream, Hymer, Keystone, K-Z, Thor Motor Coach, and Winnebago. Its services include: roof maintenance, appliance services, general and engine maintenance, winterizing and cleaning services, and product installation, and its Parts and Accessories Department offers a wide supply of items which can be purchased onsite or bought online.
Long View is also a member of the Priority RV Network, whose members include 135 dealerships across the United States and parts of Canada. So, if one of Franks' customers breaks down, say in Florida, they can pick up the phone, call his service department, and it will book an appointment for them and hopefully, they will be in and out of the shop within a day.
With over 30 years in the RV business, Frank Roberts has seen it all, and he remains decidedly optimistic about the future of the business he inherited from Fran and Shirley. "With no oil embargos, with no spike in interest rates, this business will keep growing," he avers. "This is what people work hard for their whole lives. So that when they're finished working, they can retire and enjoy time with their families." And Frank Roberts and his Long View RV SuperStores family intend on helping those people get on their way. So, let the good times roll.
Check out this handpicked feature on Giant Recreation World – Still on top.
AT A GLANCE
WHO: Long View RV Superstores
WHAT: A family-owned and operated RV dealership
WHERE: Windsor Locks, Connecticut
WEBSITE: www.longviewrv.com