Spring-Green Lawn Care
The neighborhood lawn care professional
Business View Magazine interviews James Young, President of Spring-Green Lawn Care, as part of our focus on best business practices in the franchise sector.
Founded in 1977, Spring-Green Lawn Care, based in Plainfield, Illinois, delivers both traditional and organic lawn and tree care services to residential and commercial properties through a network of locally owned and operated franchises. Its services include fertilization, weed and disease control for both turf and trees, as well as aeration, overseeding, mosquito control, and other regionally appropriate services.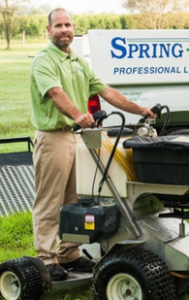 "When the company was founded 40 years ago, it had its roots in franchising from day one," says President of Spring-Green Lawn Care Corp., James Young. "It also maintained a portfolio of company-owned franchises. One of the things that the founders felt was important was that they had their own 'sandbox' to understand what it meant to scale an operation and to test new services, products and processes.  This local environment gave them some practical knowledge of the business itself so that they were not just relying on franchise owners to see how it worked, and it remains true today."
Over the years, Spring-Green has grown both organically through territory expansion and by the addition of new franchise owners. Today, there are Spring-Green franchises in 26 states, divided into 143 territories.
"This year we will exceed $60 million in revenue, with about one quarter of that revenue under our company management. Our company-owned franchises service the Greater Chicago area with multiple branches, and we also operate a stand-alone franchise in Green Bay, Wisconsin. Everything else is franchised through our strategic partners."
Young explains that Spring-Green is positioned in the market as the local professional, occupying the middle ground between the largest company in the lawn care business, TruGreen, which recently acquired its number two competitor, Scott's Lawn Service, to create a combined company with an annual revenue of $1 billion, and the small, local, mom-and-pop businesses that may offer mowing, landscaping, and other types of lawn maintenance services.
Most recently Spring-Green has found success in adding new franchise owners by appealing to those local, existing "green industry" business owners looking to expand their business through diversification. "Whether you are a commercial mowing and maintenance company, a landscaper, or an existing lawn care or pest control company, running a Spring-Green franchise in conjunction with your existing business creates the opportunity to combine your knowledge and experience with a proven platform to propel your business further and faster, creating greater financial security and options," Young states. "Our model is beneficial to an existing business owner because it allows them to diversify into a business that is leveraging their experience but is not purely relationship-based as many green industry businesses are.  Spring-Green allows the owner to be removed and the relationship is established between the customer and the brand. This makes succession planning for the next generation, or a future sale of the business, very attractive because the customers are easily transferrable."
"40 years ago we sold a lot of part-time businesses to firemen and police officers because they would work a swing shift and do lawns on the side and it was a one-truck operation," Young continues. "Now we're building ten and twenty truck operations and we're starting with an existing business owner that understands why they are building the business and what they want the business to look like when they are done.  Once they understand the value in the marketing support, the call center, purchasing power, and operational support that we bring, there is an 'Aha moment'.  Also, when a green industry business owner realizes that they do not have to convert their existing business and that, together, we can accelerate the growth and profitability of their company helping them to achieve their goals faster than they can do independently, the focus quickly turns to strategic planning for the next generation and/or their retirement. Diversification with Spring-Green just makes sense."
"Our business model has evolved, but we remain focused on our core service", Young asserts. "Fertilization and weed control is our business. We make lawns green and healthy; we build sustainable turf that provides value to the environment; and we get rid of the weeds in order to build healthy root density and establish the turf. The service we provide has not really changed that much; but everything else has, like the technology that drives the business: how we market, retain and measure our customer experience, and the additional services we offer like aeration, overseeding, and mosquito control."
According to Young, the combination of the latest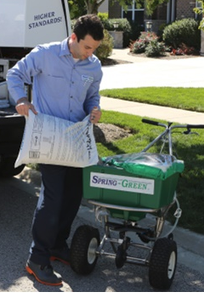 marketing and technology, which includes a call center to close sales and answer the phones for a franchise owner and Spring-Green's robust marketing arsenal which leverages their database marketing experience to target and attract new customers are two of the main benefits of an existing business choosing to add a Spring-Green franchise. "From a franchising standpoint, the big value is in the purchasing power and the back-end support," he states. "We bring a strong business-building acumen with an organization of successful owners as our blueprint.  We work with each owner individually on a business plan to meet their goals.  The planning process includes a cash flow plan, multiyear projections, staff development, and a marketing plan to get the business where they want it to go.
"At Spring-Green we promote a database marketing mentality. That means everything is targeted and measured.  We start with the property address and then add attributes that will help us identify and target the right programs and pricing. One example would be that we use satellite technology to measure the treatable turf area of a lawn and we add that attribute to the record so that any future marketing or customer interaction is highly personalized. When a prospect receives a direct mail piece or a digital advertisement, not only does it have a specific program description, it has a unique neighbor code which can generate a personalized quote based on the treatable area of their lawn. It's a differentiator for us, because our competitors lead with a generic pricing for the first application and then, after that, they tell you what it's really going to cost because now they know how big your lawn is. We take a different approach being more transparent in our pricing and it pays off as part of the overall customer experience."
Then there is Spring-Green's national call center for both inbound and outbound calling services during peak times of the year. Inbound services allow the owner to focus on the necessary leadership it takes to operate the business in the spring, the busiest time of the year, in order to maximize the greatest opportunity to acquire customers. Outbound customer care calls following a field property evaluation ensure that customer expectations are being met in a timely fashion and that relevant additional service offerings are being made.
"When people call in, in the spring, we spool up the national call center for the franchise owners," Young relates. "That's where the value comes in.  If somebody calls the call center based on their property address, or unique neighborhood discount code, or a PURL in an email or digital ad, they're going to be provided their personalized quotation for service.  We also offer an e-commerce site that allows the same level of personalized experience to be self-driven allowing customers to sign up and pay bills online.  It's complex behind the scenes, and we gain efficiency by centralizing our data, but ultimately it is the expectations of the customer that drive us to deliver this experience."
Young also reports that the strategy of selling franchises to existing green industry business owners has had some notable and positive outcomes. One is that, as the Spring-Green side of the business succeeds, some owners are now choosing to focus less on their original companies. "A lot of owners will stop trying to grow the other side of their business," he says. "We're starting to see owners sell off their mowing and maintenance businesses because the Spring-Green business is operationally simpler and more profitable. Once the Spring-Green business has grown to be sizable enough to meet their income needs they're simplifying their life. The other thing that we're seeing is second generation succession planning – a high percentage of our new franchise owners are choosing Spring-Green with existing family members in mind. In some cases, they are seeking a way to bring family back into the business.  Dads are putting their kids into the franchise side of the business with the idea that they're leveraging what they've built, and building a road for their children's future."
After 40 years in business and all of the notables above, the thing Spring-Green is most proud of is that this second generation business has maintained its core values and remains true to the vision of franchising that it started with. It is a powerful value proposition when ideals align and, with the help of a strong operating system, leading technology, and effective marketing programs, Spring-Green Lawn Care continues to be the "neighborhood lawn care professional" of choice.
Check out this handpicked feature on Shore Solutions – Mission ready.
AT A GLANCE
WHO: Spring-Green Lawn Care
WHAT: A lawn and tree care services company
WHERE: Plainfield, Illinois
WEBSITE: www.spring-green.com
SiteOne Landscape Supply – Founded in 2001, and headquartered in Roswell, Georgia, SiteOne Landscape Supply is the nation's largest supplier of wholesale irrigation, outdoor lighting, nursery, landscape supplies, fertilizers, turf protection products, grass seed, turf care equipment, and golf course accessories for green industry professionals in the United States and Canada. – www.siteone.com