Business View Magazine interviews Gary Musich, VP of Sales for the Atlantic City Convention Center, as part of our series on convention venues.
First opened in 1997, upon completion of the $268 million construction project, the Atlantic City Convention Center (ACCC) was designed and built to reflect the city's seaside location and was part of a multi-billion redevelopment plan that included new retail and entertainment projects. The ACCC has 600,000 square feet of total meeting space and occupies about 31 acres of land, making it one of the east coast's largest convention centers. Five second-floor exhibit halls ranging in size from just over 29,000 square feet to nearly 200,000 square feet are available for exhibitions and other events. The site has 45 meeting rooms totaling nearly 110,000 square feet of combined space. It has 29 covered loading docks, plus four drive-in doors, mechanical elevators, and 1,400 indoor parking spaces.
Located within a few hours' drive of nearly one third of the nation's population and 20 percent of the country's business addresses, the ACCC is easily accessible for convention, trade show, and meeting attendees. It is connected with the Atlantic City Rail Terminal that runs the Atlantic City Line from Philadelphia to Atlantic City. Jitneys, buses, and taxis queue at the front of the building to provide service to other points within the city. A pedestrian air bridge links the Convention Center to the adjoining Sheraton Hotel.
"It opened to fill a niche in Atlantic City as gaming started to spread and the original convention center, Boardwalk Hall, was aging, was 200,000 square feet, and didn't have the support for breakout services as Atlantic City's market changed," explains Gary Musich, ACCC's  Vice President of Sales. "So, part of the master plan was to build the Atlantic City Convention Center about five blocks off of the boardwalk as part of a big, multi-block development, a retail district, which is now called 'Tanger Outlets The Walk.' It's roughly a ten-square block of stores and restaurants that connect the Atlantic City Convention Center with the activities on the boardwalk."
The ACCC is owned by the Atlantic City Casino Reinvestment & Development Authority (CRDA). Its operational services and venue management are provided by the Spectra Corporation and its sales and marketing services are provided by Meet AC. The facility mainly hosts large association and corporate trade shows, meetings, and conferences – about 100 events a year. "Because we're a destination resort versus an urban building, we do a smaller number of consumer-related events, although our biggest shows happen to be consumer-related," Musich says. "We do the second largest beer festival in the United States, next to Denver. We have a boat show that draws almost 40,000 people. So certain consumer events do extremely well due to the nature of the destination, but those smaller things – high school graduations, small corporate meetings, things like that – are the types of things you don't see here as much as you might see in other buildings."
General Manager, Dean Dennis, reports that the ACCC has recently made some physical upgrades to the Center and is planning on more. "We spent a million dollars, in cooperation with our CRDA funders, into our technology, our Wi-FI, redoing our restrooms, buying new chairs and tables, various concession carts, new stanchions – all those things that help a 20-year-old building and things that our clients are looking for. We have great meeting space, and we are looking to upgrade that with some way-finding signage on digital screens. This building was built without a ballroom, so we have part of our Exhibit Hall A that we carpeted and we use it, somewhat, as a ballroom. But we're really looking to upgrade that fully into more of a banquet-type facility, so that it is more conducive to those kinds of social functions that many of our groups need. The last piece is to upgrade everything to LED lighting, both in the exhibit halls and the meeting rooms, so that we have fully integrated LED lighting systems for the building."
The ACCC has also made a commitment to sustainability and green practices. "The building, at one point, had the largest rooftop solar array of any building in the United States; that was six or seven years ago," says Musich. "There are 13,486 solar panels on the roof that power about 29 percent of the building's electricity consumption. It's part of the culture of New Jersey to be more progressive about renewable energy."
"Several years ago, we looked at how close we are to being LEED-Silver Certified," Dennis adds. "There are a couple of things we're missing that we're working on, right now. One is the renovation of our restrooms and, in doing that, the low-flow toilets, faucets, and urinals are really important parts of the overall environmental piece. Some of the other things that we do: we run about a seven percent waste diversion rate; we recycle glass, plastic, aluminum, paper, and cardboard, and we are committed to recycling our kitchen grease and other materials. Unfortunately, we do not have an organic hauler in this area, so we don't do much composting, but we're right across from the Rescue Mission, so our food and beverage team gives a lot of food to them. About 90 percent of our cleaning products that we use are certified green."
Musich believes that the success of the ACCC is overwhelmingly based on the relationships it has with the area's hotel and casino operators. "They are critical on a long-term basis in helping this building produce," he states. "They provide guest rooms, services, financial support in some cases, to produce the events in this building. They've always been there for us. Everybody in these properties is responsible to sell the city, first. They are passionate about it; there is a passion for the success of this area. It's not just business relationships, but genuine friendships with our partners. We all have the same goal. At the end of the day, we know the need that each of us has for one another and the goal is to bring business and push Atlantic City and the Atlantic City Convention Center to the forefront of choices in the northeast."
"And one of the most important things that's happened to this destination in the past several years is the failure of the referendum for gaming to be expanded in the State of New Jersey," he adds. "What that's done is jump-started the investment back in the city. So, there's a lot more going on; it's wide and diversified. So, when you look at it that way – entertainment and events and investment in this building – that's the biggest thing happening. As those changes occur, you have a lot of people waiting to bring business and investment back into the city."
Dennis simply sums up the ACCC's competitive advantages: "We really pay attention to our survey scores and to how we service our guests; our service levels are off the chart," he states. "We're a Tier One convention center in space, in a resort destination. It's one of the largest buildings in the northeast and it has all of the amenities and hotel pieces – everything for a major city, but it's not a major city; it's a town of 40,000 people. This building – a million square feet of footprint, 600,000 square feet of meeting space, and 16,000 hotel rooms – it's something you don't get in most larger cities."
For a small resort town on the south Jersey coast, Atlantic City certainly means business.
AT A GLANCE
WHO: The Atlantic City Convention Center
WHAT: One of the east coast's largest convention centers
WHERE: Atlantic City, New Jersey
WEBSITE: www.meetac.com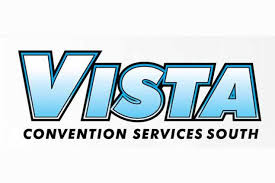 Vista Convention Services – Vista Convention Services provides nationwide trade show services for face-to-face marketing including expositions, conventions, corporate events, and exhibits. Founded in 1993, the company has its headquarters in Egg Harbor Township, New Jersey, with offices in Miami, FL and Philadelphia, PA. – www.vistacs.com