Business View Magazine profiles Ziebart International Corporation, worldwide franchisor of the Ziebart brand of automotive aftermarket products.
When a company's name becomes synonymous with the product or a service that it provides, it's said that its brand has become "genericized." This happens when the company, itself, or one of its products, becomes so ingrained in consumers' minds, that they conflate it with the general product category or specific service that it represents. For example, Jacuzzi is only a type of hot tub – not all of them, but people enjoy "taking a Jacuzzi." Kleenex is a brand of tissue – there are others, but people ask for a Kleenex. And Google is a company that invented a search engine – not a verb that means to look for something while surfing the internet.
According to Dan Baker, President of Ziebart Corporation, his company has been safely ensconced in the realm of genericized brands for decades because, as the originator of the scientific process of protecting a car or truck from the ravages of corrosion caused by rain, snow, salt, and ice, "you don't get your car 'rust-proofed'" he says, "you get it 'Ziebarted.'"
Ziebart, the company, was founded in Detroit, Michigan in 1959, by Kurt Ziebart, a German immigrant who came to America in 1953 and landed a job as a mechanic in a local dealership. While rebuilding a wrecked Packard automobile in his spare time, the crafty inventor began to experiment with a rustproofing process for its body panels. Within a few years, he had perfected his sealant and, along with two partners, opened his first rustproofing shop in the Detroit area to offer his proprietary process to local car owners.
Baker explains that before Ziebart, car manufacturers had attempted to rustproof their vehicles prior to selling them, "but they were not successful at it. In the beginning, they were actually afraid of the liability," he says. "American Motors tried it, but were stymied by some technical issues in the plant environment when they were manufacturing and assembling their vehicles." So, rustproofing became a strictly aftermarket procedure known as Ziebart Rust Protection, and offered only after a vehicle was sold.
Ziebart owned his company for several years, and when he decided to expand in order to meet the growing demand for rustproofing, he brought in Roger Waindle, who had both franchising experience and expertise in the field of corrosion studies. Their first U.S. franchise opened in Detroit in and the first international franchise opened several years later in nearby Windsor, Ontario. Waindle bought the now prosperous business and renamed it Ziebart Process Corporation. The company was later purchased by E. Jan Hartmann who began franchising operations worldwide. "From those humble beginnings," says Baker, "today, we have a company with over 400 locations and 800 processing centers in 33 countries."
For many years, rustproofing was the only product that the company offered. Since, for most people, their automobile is typically their second largest investment next to their home, and cars did rust, Ziebart's success came from offering a process that gave car and truck owners a way to protect their investment and keep their vehicles safe from the destructive power of corrosion. But that all changed in 1987, when Lee Iacocca became President of the Chrysler Corporation at a time when the legacy car company was struggling with financial difficulties.
Baker recounts the events: "Chrysler came out with what he called a 'manufacturer's anti-corrosion warranty,' that basically said that if you bought a new Chrysler vehicle, it would be warranted against rust for either three years, or 100,000 miles, depending on the vehicle. When that happened, even though they had not changed the way they were building vehicles – it was strictly a marketing move to try to survive and keep market share – it had an impact on the automotive after-market, in particular, rust protection. And the reason it did was, at that point, a sizable portion of the after-market rust protection was either being done at, or sold through, car dealerships. So, Chrysler dealers started telling their customers that they had this manufacturer's warranty and that they no longer need rust protection. Soon after that, of course, General Motors followed suit, and came out with an anti-corrosion warranty, and then Ford Motor Company, and Toyota, and Nissan. So that had a tremendous negative impact on the automotive aftermarket for rust protection. And it wasn't because cars weren't rusting; it was because customers were being told that they no longer needed rust protection."
Now, though, Ziebart realized that it had to diversify its revenue stream in order to survive. So it added paint protection, interior protection, sunroof installation, and other accessories for cars and trucks, such as trailer hitches, tonneau covers, step bars, sliding rear windows for pickup trucks, and 12-volt electronics. "The rustproofing business was still large," says Baker, "but to keep growing and maintain market share, we bought our largest competitor, Tuff-Kote Dinol®. That gave us 150 additional locations."
The next level of diversification was the detailing business. "We bought Tidy Car®, a Florida company, so we could learn the detailing business," Baker says. "Then we partnered with a company in Canada, called Speedy Auto Glass®, and got into the auto glass business." Next, the company partnered with Rhino Linings USA, the leading brand in spray-on truck-bed liners. "So we had franchises that in the beginning were singularly branded as Ziebart, that were now doing automotive aftermarket," Baker explains. "Speedy Auto Glass replacement, Rhino Lining spray-on truck bed liners, and the detailing business started to grow. In the 1980s, we were doing about $100 million in annual sales and 80 percent of our business was rustproofing; today, we do about $170 million, and about 20 percent of our sales come from rust protection. We did that by changing our product line and evolving our business model."
While Ziebart is still largely a franchise operation, the company still operates a handful of corporate-owned stores: three in Detroit; three in Minneapolis; one in Chicago, two in Cleveland, two in Columbus; and one in Pittsburgh. According to Baker, company stores are the best places to get direct feedback on marketing and advertising initiatives as well as serving as laboratories where future district, regional, and technical support managers get their training.
The company markets its franchise opportunities through various associations to which it belongs, including: the International Carwash Association, the International Detailing Association, the International Franchise Association, the International Window Film Association, the National Automotive Dealers Association, the National Glass Association, and the Veterans Transition Franchise Initiative. In addition, prospective franchisees are solicited via tradeshows and various franchise websites. "Most of our leads come digitally, when people are using the internet to search for franchise opportunities," says Baker.
Ziebart's President touts the advantages of becoming a franchisee. "We have about the highest gross profit of any of the aftermarket automotive franchises I'm aware of – especially when you compare us to paint and body or mechanical. This is a business model that's proven, and as a company we have been innovative in keeping it current. Anybody who wants to be in business for themselves should definitely look at the Ziebart business model," he claims.
In addition to its customary product offerings, Ziebart has begun growing the film side of its business, which, in the beginning was just window tinting. Now, it offers an optically-clear film that goes on the outside paint of a car or truck. "It protects against stone chips, surface rust, scratches, nicks, insect stains, small road debris and sand," says Baker. "It keeps your car looking like new without changing the appearance of the outside of the vehicle. When you're more than three feet away, you literally cannot tell that the product is on. It's a popular service and it's growing every day, so we added that. But the newest thing that we're in the process of doing right now is a new franchise called "Fine Lines Graphics." Their features are color change, and striping wraps, and advertising graphics for fleet vehicles – service trucks for plumbers or electricians or delivery services or flower shops, for example. And that's what we're just getting into in the last 18 months. We're immersed in bringing that into the Ziebart system and then growing this new Fine Lines franchise."
Baker also maintains that there has recently been a tremendous resurgence in the rustproofing business, as well, largely driven by the increased sales of light trucks, minivans, and SUVs – especially because of the long-term financing arrangements that dealers have made available for these vehicles, such as 84-month car loans. "A truck person will invest two or three thousand dollars in after-market purchases, the first twelve to twenty-four months of ownership," he says. "We have financing available, where people can spend 1,000, 1,500, or 2,000 dollars on their vehicle and pay for it with no interest and with terms where the cost is anything from a few to a hundred dollars a month. They're able to protect their investment and keep that car looking like new for as long as they own it, so that when they do pay it off, in 84 months, if they want to trade it in, or sell it themselves, the vehicle is in good shape and it retains its retail value."
Although Ziebart is not the only player in the marketplace, Baker believes that its longevity, its diverse product line, and its trusted name, help the brand outshine the competition. "There are no national or international companies that offer the complete service lineup that we do," he says. "Most of our competition is regional in individual categories that we do business in. The thing that makes us successful is because of our wide range of product offerings. When you have what we have available in our stores, your up-sell and cross-sell opportunities are fantastic. And because we've been in business since 1959, we are the brand that people trust. We're professional and we know what we're doing. And we have the solution to meet their needs to keep their car looking like new for as long as they own it. And that's really the proposition that we operate under and keeps us moving forward, today."
AT A GLANCE
WHO: Ziebart International Corporation
WHAT: Worldwide franchisor of the Ziebart brand of automotive aftermarket products, services, and stores.
WHERE: Headquarters in Detroit, Michigan
WEBSITE: www.ziebart.com

Rhino Linings – Since 1988, the mission of Rhino Linings has been to develop top quality, proprietary, high performance polymers. Today, the company is the brand name leader in the sprayed-on truck bed liner industry, with coating products suitable for industrial, commercial, and retail applications. The Rhino Linings network consists of more than 2,000 applicators and contractors in more than 80 countries around the world who set the standard in the protective coatings and building product industries. – www.rhinolinings.com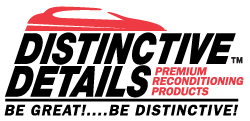 Distinctive Details – Manufacturer and distributor of premium reconditioning products for the car wash and car dealer industries – cleaners, degreasers, waxes, polishes, sprays, detailing supplies, etc. The company also offers private label programs to its customers including artwork, packaging design, formulating, and product manufacturing. – www.distinctivedetailsinc.com
Synchrony Financial – A provider of private label and co-branded credit cards, installment loans, and a broad suite of services that help grow businesses. The company works with national and regional retailers, dealers, manufacturers, buying groups, and industry associations across many markets including: Automotive Care, Home Furnishings and Flooring, Appliances and Electronics, Jewelry, and Home Improvement. – www.synchronyfinancial.com
BusinessVoice – Make more money with "On Hold Marketing" from BusinessVoice. We help you up-sell and cross-sell to your callers on hold, while reinforcing the reasons to choose your company. And with our comprehensive programs and no-touch system, you don't have to do a thing. – Visit www.BusinessVoice.com
or call Brian at 419/724-7368