Clarke Products, Inc.
Setting new benchmarks
Business View Magazine interviews Donald Clarke, President of Clarke Products, Inc., as part of our focus on best practices in the manufacturing sector.
Clarke Products, Inc. is a privately-owned, bathing product company that designs and manufactures innovative and sophisticated showers, bathtubs, sinks, wash basins, and whirlpool products in its 210,000-square-foot facility in Waco, Texas. The company, which, today, is the premier manufacturer of acrylic and solid surface bathing products, was founded in 1984, by Donald Clarke, who purchased a bankrupt whirlpool bath business and began his new venture by making acrylic shower pans and tubs.
"The business grew over the years," Clarke recounts. "In the early '90s, we began targeting private label OEM customers; we did a lot of private label work in those early years and still do, today. We made tubs for Whirlpool Corporation, DuPont's Corian Division, and a lot of other manufacturers that have been acquired by other firms, such as Eljer, which is now part of American Standard. So, we continued on in the private label sector and that still represents the majority of our business with the somewhat hidden Clarke name."
"In 2014, we established a new division in the company called Clarke Architectural, and this was devoted, entirely, to solid surface products, which are different from the acrylic products that defined us up to that point," Clarke continues. "Solid surface is, essentially, a cast product. It's a resin, filtered with different kinds of filler like aluminum tri-hydrate, in our case, poured into parallel molds and cured with catalysts, and then further cured and matured with heating ovens. This was a relatively small segment, but it was not well-populated by competitors. We moved into it with a different approach. We decided to be aggressive and bold with our designs to make products that were, heretofore, not available. And that worked out quite well for us. We got a lot of attention because our designs were unique. We pursued a quality design initiative and we referred to our products as 'museum quality functional art.'"
In addition to its bold design initiatives, Clarke Products is also an innovator in the realm of automation and robotics, which helps to increase product quality while reducing the labor needed to process its unique bathtubs and showers. Recently, the company installed a new robotic fiberglass chopping operation, becoming the first company in North America to utilize such a system. "It's roughly three times faster than a manual operation and the quality is better because there's less rollout, meaning rolling the fiber into the wet resin. There's less need for that with the robotics because it puts it on so uniformly. Solid surface has increased 300 percent in the last year, so this thing is really explosive for us. We are the largest maker of solid surface bathtubs in America and we've added a number of products to it, all of which are plumbing related. For non-plumbing, I was thinking of things like planters that might be used as decorative pieces; or wall sconces for lighting. But we've had so many opportunities in our core business that we've concentrated there by default."
Each January, the company exhibits its products at the National Kitchen & Bath/Builders International Show, the largest such trade show for the combined industries. "We're going to Las Vegas to show a couple of key product categories," Clarke notes. "The first one is what we refer to as 'Iridess' – that is our name for solid surface shower wall kits. These are panels that go on the wall with one of our shower pans underneath, or another manufacturer's shower pans, as well. There's a strong trend in America of taking out non-functional bath tubs and replacing them with a functional shower. And, oftentimes, that shower will tend to be, what we refer to in the industry as a 'low threshold.' That implies that it would suitable for people with infirmities or difficulty in getting around – people using a walker, a cane, or even a wheelchair. That was, initially, the target market.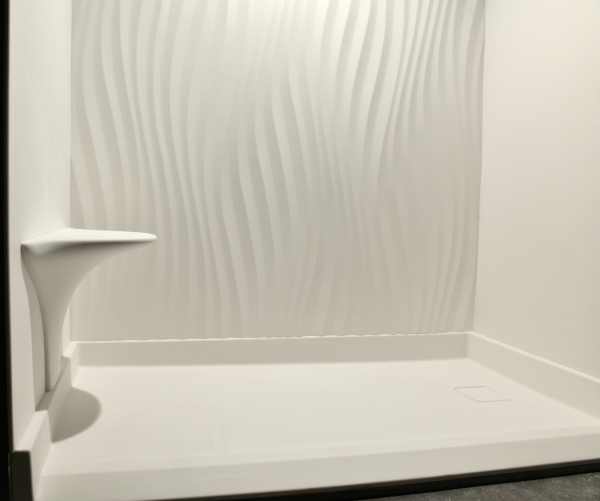 "However, it was an underplay on our part in terms of where the product had acceptability; it was also well-received by new construction people who saw the advantage in terms of not having to hire tile contractors, and that trend line is continuing to grow. As a matter of fact, my sales manager is calling on customers in Miami, and one of the reports coming back is that there is an inordinate interest in the solid surface showers we're making. And this is particularly enlightening, because, traditionally, Florida had been known as a ceramic tile market. But that seems to be breaking and they're looking for other options, and, of course, our product comes to market with an extraordinary durability factor; these things can last centuries if they're maintained properly. The other beauty is: there are no grout lines to speak of; the entire shower goes together in three panels – the back wall and two sides over a shower pan. So, the solid surface business continues to grow."
"The other thing that we're doing is we're coming out with a new product type, made out of solid surface, again," Clarke adds. "We're referring to it as Clarke One. This product started out as a solid surface, walk-in bathtub. That business seems to be plateauing, maybe even declining a little bit over the last two or three years and we did not want to jump into that category, just to be in a declining market. So, we re-envisioned the product and what we ended up with was Clarke One, to imply one product performing several functions: a shower, a bath, and a doored entry for those who need that kind of assistance.
"We used to think of accessibility in terms of older people. As we looked into that, we realized that was a very limited view; there are a lot of other situations where people have difficulty. For example, pregnant women have a hard time stepping over bath tubs, particularly late in their pregnancy, and sports injuries are more common today than they once were. So, there's a wider range of potential users of these products. That was part of our thinking in building it. We also wanted it to have a very contemporary, modern look. Most of these tubs are bit old-fashioned and we decided to come in with a very clean, sleek, almost invisible look. We wanted a product that wouldn't draw attention to itself; people who have infirmities, typically, don't want to draw attention to devices for their ailments, and these bathtubs did just that. So, Clarke One appears to be just sort of white wall in the bathroom. For the most part, it will be non-obtrusive. We'll be showing that, and based on our previous market research, it should be quite successful.
"The other thing we've done is we've rethought the entire door system. Most of the doors on these walk-in tubs swing inward because it's easier to design and build them that way. The trouble is that it's awkward for the users, particularly if they have to get out. There have been two unfortunate cases in the last year or so about two people who have died in these tubs with inward swinging doors. They were older people who were quite fragile; they slipped off the seat and got lodged into the foot-well and drowned. We are going to demonstrate a new door design that will swing outward and, by the way, the old door designs are usually locked in place with pretty heavy hardware, compression levers, to hold them in place. Ours will be held in place with electro-magnets that can be operated from a touch pad on top of the tub. So, should the user wish to exit, a simple touch will swing open the door. Water will flow out and flood the bathroom, but it's a small price to pay if somebody is in distress or in danger. Had these two women who died had a design that we're going to be showing, a simple touch to the touch control pad, and that door would have opened and they would have been saved.
"Finally, a lot of the people who use these walk-in tubs are older people who have been forced to take showers for many years, because they simply couldn't get into a bathtub. So, first time out, as they get used to a bathtub, again, they oftentimes get overstressed by the hot water; they get lightheaded, dizzy, and even faint. They may have heart issues, vascular issues, you name it. So, until they accustom themselves to the temperature of the hot water, they can be victims. We've always put temperature gauges in our walk-in tubs, and we still do that. They have a preset temperature of 94 degrees, so should the water get to 94 or above, an alarm will go off so their caregiver, if available, can help assist the bather. It's a significant safety feature."
"So those are the key things going on in my company as we go into the New Year," Clarke states in conclusion. "We continue to develop new solid surface, as well as acrylic products. The emphasis, however, has been on solid surface, because there are more opportunities there." And as the New Year begins, Clarke Products, Inc. continues to set new benchmarks in modern design, advanced manufacturing, product quality, and, of course, customer safety and satisfaction.
AT A GLANCE
WHO: Clarke Products, Inc.
WHAT: A manufacturer of shower and bath products
WHERE: Colleyville, TX
WEBSITE: www.clarkeproducts.com