Logansport, Indiana
The best of all worlds
Business View Magazine interviews Dave Kitchell, Mayor of Logansport, IN, as part of our focus on best practices of American cities.
Logansport is a city in, and the county seat of, Cass County, Indiana. It is located in the north central part of the state, midway between Indianapolis to the south and South Bend to the north. It was first settled around 1826 and named for a half-Shawnee soldier named James Renick-Logan, better known as "Captain Logan," who served as a scout for U.S. forces in the surrounding area during the War of 1812. His name was chosen via a shooting match won by Col. John Duret.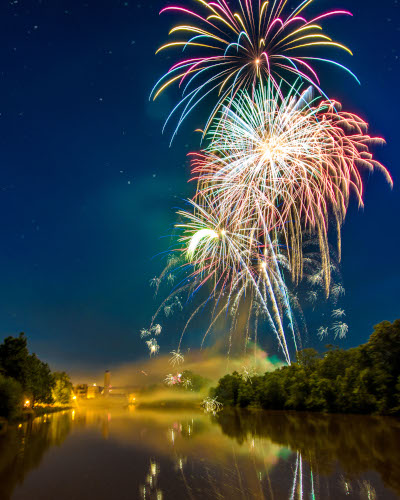 The Wabash and Erie Canal reached Logansport in 1837, contributing the "port" to Logansport's name, as in "Logan's port." The city, which is also located on the historic Michigan Road, the first north/south road in Indiana, became the nexus of several different passenger and freight train routes in the mid to late 1800s.
Early in the 20th century, Logansport, Indiana became home to the pioneering, brass era automobile company, ReVere, which had been based previously in Chicago and that renamed itself the Western Motor Company when it moved to the city. Logansport is also home to a refurbished Dentzel carousel, which resides in Riverside Park on the banks of the Eel River. The carousel is on the National Register of Historic Places and is National Historic Landmark. The city also hosts such notable community venues as the McHale Performing Arts Center, the historic State Theater, and the People's Winery.
Although the Norfolk Southern Railroad still runs through Logansport, connecting the Port of Canada in Detroit with St. Louis, according to Mayor Dave Kitchell, the city is no longer the major rail transportation hub it once was. "The Pennsylvania Railroad was one of the major employers," he recounts, "and we had the second most rail lines of any city in Indiana. But the transportation piece has changed; now we're very much a food and fiber economy with Tyson Fresh Meats as our number one employer. We're also about advanced manufacturing; we make all sorts of springs for cars here. We also make Batmobiles, now, because there's a market for replicas – a small company called Fiberglass Freaks. In fact, we're putting in a Batmobile museum here next year."
"The food industry is pretty big for us," adds Bill Cuppy, president of Cass County/Logansport Economic Development Organization. "We have a lot of companies that work off of Tyson, so, their presence here helps other things that come from the pork processing world. We have pet treat suppliers; we have storage facilities; we have transportation companies that are here and growing because of Tyson. A lot of our main employers are expanding, adding new equipment and people – just over $130 million in the last 16 months. We also have a lot of entrepreneurs in Logansport opening up restaurants and boutiques. So retail and restaurants are growing organically. Things are going well in Logansport."
Kitchell says the city's philosophy is to try and create the correct environment for future economic growth "instead of chasing smokestacks." There is a major industrial park near the Logansport/Cass County Airport, which was named Airport of the Year in Indiana in 2013. "So the infrastructure is there," he asserts. "We have shovel-ready sites there with a silver designation for their readiness for immediate development." In addition, the industrial park is located in a TIF District and new businesses can receive some support from Logansport's County Economic Development Income Tax (CEDIT) reserves.
In addition, Logansport, Indiana, which owns all of its utilities – water, electricity, sewer, and stormwater – has established an economic development rate for businesses in the city. "We are one of two municipalities in Indiana that has gone with NextEra Energy out of Florida, which is, essentially, Florida Power & Light's marketing wing for solar and wind power," Kitchell explains. "So what that's done is let us drop our power rate, substantially. Companies like Tyson will save about $75,000 a month on their energy bill, which is significant. Power intensive industries that want to come in here will get 25 percent off their demand charge the first year, 20 percent the second, 15 the third, 10 the fourth, and five the fifth. That's an added incentive to get them to come here."
Kitchell reports that last year, there was a very strong, bipartisan effort among the city, the county, and the state to get an area designated as an Opportunity Zone under the auspices of the federal government's 2017 Tax Bill. "We wanted to extend it from Grissom Air Reserve Base, which has the largest runway in Indiana, through the county, to Logansport's industrial parks," he notes. "Unfortunately none were designated, but that's a great tool for us if we can land that and I would hope that, in the future, we can do that. We think that this is the kind of incentive to get some of the older legacy buildings and structures more actively involved as generators of tax revenue, jobs, and growth."
"The fight here, now, is for warm bodies to employ," Kitchell continues, "because we have an engine that needs more fuel and workers are the fuel. We can't automate our way out. We're going to need trained, skilled people to be here. And our hope is that we can attract and retain more young families here. There are a lot of rural communities that are dying, but, right now, we're moving forward and growing at a steady pace. We had census figures that showed a population decline from 2014 to about the first month of 2016, but since then, it's leveled off and turned around."
In another attempt to support the local workforce, the city has established an internship program that pays up to $1,000 a summer or $500 a semester for young workers to intern at local factories. "We're trying to get more college skill sets in the doors of local industries, here," says Kitchell. "It's a way for young people and non-traditional students to get into the workplace because companies need workers." "We've had 62 interns that the city has funded over the past two-plus years," adds Cuppy.
"The one great handicap we have right now that we're addressing is housing," Kitchell admits." Last year, we finally did something that I wanted to do when I came in, and that's have a housing master plan. We've accomplished that and we've identified the need for about 400 units in the city. That's at all income levels and it doesn't include projects that we already have that are going to add about 70 units – 40 market-rate apartments and 30 single family homes. We've got a lot of work to do, but we've done a lot of work in three years and our unemployment rate, now, is 3.6 percent, which is the state average. It's holding steady, which is a phenomenal indicator for us."
Kitchell understands that attracting families and workers to relocate to Logansport, Indiana will depend on offering a high quality of life, and in that regard, he believes that the city is on the right track. "Last year, we were named the Number One Small Town in America where you'd want to live, by Realtor.com," he states. "The crime rate is low; we have over three miles of trails; our high school is an 'A' school; we also invested in our medical care. We supported our hospital with our own economic development funds for the construction of a $7 million cancer center. The city and county both partnered to give $500,000 each to the cancer center project. Now it's operating and the hospital is generating more revenue for the community through its foundation and fundraising arm."
Logansport, Indiana also is home to one of the newest Ivy Tech Community College campuses in Indiana as well as a downtown campus of Trine University.
The city is also working on upgrading its infrastructure, including retrofitting its lighting system with LEDs and beginning a combined sewer overflow project to reduce the amount of stormwater going into the sewer lines. "We will have our system complete in the next three years," says Kitchell. "We've started construction on it. It reduces water treatment costs and, ultimately, it will be a better use of the system." In addition, the city has applied for a grant to have an energy audit done on major structures in the city – both public and private buildings – to see where savings can be realized.
So, for businesses, Logansport, Indiana offers prime industrial sites ready for development, and for families, this Midwestern community of 18,000 offers all the amenities they could want without the cost and traffic of a major urban area. It's the best of all worlds.
Check out this handpicked feature on Phillips County, Arkansas – A rich heritage.
AT A GLANCE
WHO: Logansport, Indiana
WHAT: A city of 18,000
WHERE: In Cass County, in the north central part of the state
WEBSITE: www.cityoflogansport.org