Tokai Carbon GE LLC
A great combination
Business View Magazine interviews representatives from Tokai Carbon GE LLC, as part of our focus on best practices of American companies.
Tokai Carbon Co., Ltd. the parent company of Tokai Carbon GE LLC, based in Charlotte, North Carolina, was founded in 1918 and is headquartered in Tokyo, Japan. Tokai Carbon Co. manufactures and sells carbon-related products, including carbon black, which is used as a reinforcing agent of industrial rubber products; graphite electrodes for use in the electric arc furnaces that produce steel; and fine carbon products for use in the semiconductor, nonferrous metals, ceramics, and high precision machinery industries.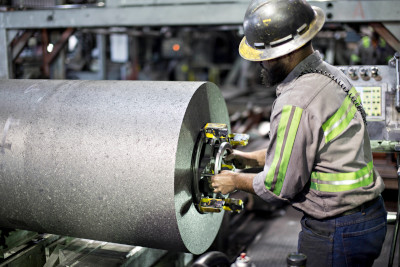 Tokai Carbon GE LLC was formerly a subsidiary of SGL Group, headquartered in Germany, and specialized in the U.S. graphite electrode market. "SGL Group sold its global graphite electrode division to Showa Denko (a leading Japanese chemical engineering firm) in 2016.  Due to regulatory mandates by the U.S. Dept. of Justice, Showa Denko was forced to resell the U.S. company to Tokai Carbon at the end of 2017," explains Company President, Scott Carlton. "The new company is comprised of many of the former SGL employees and a considerable number of new employees. Tokai Carbon, as a global company, just celebrated its hundred-year anniversary, so there's a lot of history and technical expertise within both companies. Tokai has been making graphite for over 100 years, and the U.S. graphite electrode plants from the former SGL have over a 40-year history as well.  So, the combination has given a very bright future for Tokai and our customer base in the U.S. steel industry."
Today, Tokai Carbon GE LLC has about 160 employees and two plants in the U.S. – one in Hickman, Kentucky, and one in Ozark, Arkansas. "The Hickman plant is our extrusion plant, where the electrode is formed to meet all the customer requirements.  Then it gets shipped to the Ozark, Arkansas plant where it is further processed, finished and shipped to the customer," says Carlton. "And we have our corporate headquarters, here, in Charlotte, North Carolina."
Jay McCloy, Vice President for Sales & Marketing, explains that the company also has a nine-member sales and technical services team that covers its U.S. customer base.  This includes such major steel manufacturers as Nucor Steel, Steel Dynamics, Charter Steel, Northstar Bluescope, North American Stainless, and CMC (Commercial Metals Company), to whom it sells the graphite electrodes for their electric arc furnaces. "If you looked at all the steel mills in the U.S. that have electric arc furnaces, we supply the majority of those," Jay states. "The services that we provide are to support our customers. From a technical perspective, we have various monitoring systems and measurement tools which allow us to work with our customers to achieve optimal performance. We can make recommendations to the steel customers on how to set their furnace parameters to run more efficiently. The goal is to help the customers become more efficient in utilizing our electrodes to produce steel.  We work closely with the customers to make sure that our quality is right to meet the furnace parameters."
Regarding the company's competition, McCloy says, "Our breadth of service is deeper and more experienced.   You can drill it down to the experienced and dedicated individuals in the commercial team, as well as the technical team. As an example of the breadth of experience we have is that technical team is comprised of an expert in graphite; another gentleman worked as a smelter for over 23 years; and then, we have two individuals that installed furnaces.  So, if there are any questions that come up from a customer, we're able to address them."
"As for our commercial team – everyone has at least 20 years of experience in the industry and some have 40 or more," he continues. "They've been calling on the same customers for decades, so they know them intimately and have access to a lot of the furnaces and the furnace data.  By utilizing this experience and knowledge when we're making our suggestions to the customer on how to optimize their performance, we can make the right recommendation because they can count on us to get it right."
Carlton agrees: "Our competitors supply a product and then it's up to the customers to use it.  We develop a partnership with our customers, so our product deliverables include our technical service capabilities.  So that when issues do come up, whether it's on the customers' side, or even on the product side, we can help provide solutions.  The total package we offer is second to none in the U.S. – experienced, knowledgeable production teams in our plants and the wide range of highly skilled sales and technical service teams."
Both Carlton and McCloy stress that one of the company's main priorities, going forward, is to support a resurgent American steel industry with products that are domestically made. "Tokai Carbon has been importing graphite electrodes into the U.S. steel industry for many years," Carlton notes. "Now, with Tokai having a U.S. manufacturing footprint, we will expand our production capacity in the U.S. to locally provide supply and service for both our existing customers as well as Tokai's.  We have told our steel customers, 'We're going to offer you U.S. based sales, service, production, and support all from the U.S. facilities.'  We might not be the biggest supplier, but we'll be the best supplier for the U.S. steel industry."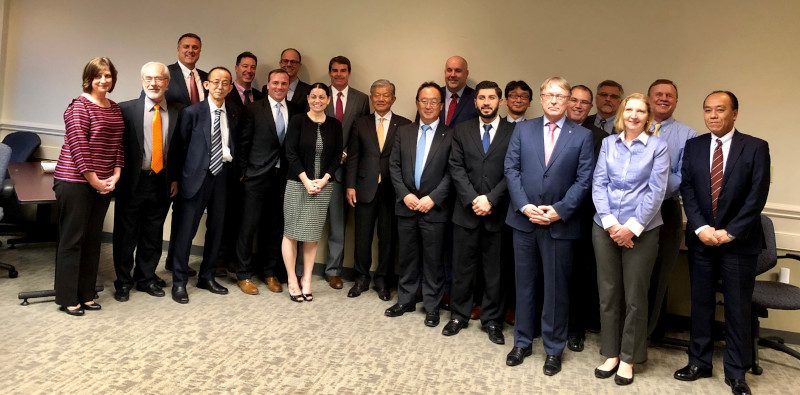 "We're here to support and supply the U.S. steel industry out of a U.S. plant," echoes McCloy. "We currently do import some products, but we're eventually looking to absorb that into our production capabilities in the U.S. In a short few years, the U.S. market will be supplied by our graphite produced from American plants and made with American-made raw material, as well."
As the investments are being made, Carlton is looking to his most important assets – his employees. "Once we further invest to expand our capacity to best serve our U.S. customer base, we'll have one of the largest electrode production capabilities in the U.S," he declares. "But the people are the ones that drive our success and make it happen. We are actively moving toward a driven and passionate corporate culture. With our employee's experience and knowledge, all they needed was a spark.  We are now very excited to drive that positive outlook and passion into our company."
"One of the things that Scott has done since he's become President of Tokai Carbon GE LLC is to empower everyone to make recommendations to improve our processes; to improve the way we operate; to improve our overall offerings to the customers and our partners," says McCloy. "It is a change in the culture from where we were as SGL. If you were to canvass our employees, you would hear that from them. In Hickman, Ozark, and Charlotte, they have a real voice in the way this company is now operating in the U.S.. Years from now, when people look at our company, they'll see the best North American supplier, as well as the best employer of choice."
"We have a global technology integration team that is moving at a very fast pace," says Carlton, in conclusion. "Taking the best technologies from Tokai and integrating our decades of experience in graphite production and knowledge of the U.S. market will be very impactful. This will not only be felt here by our long-standing customers with a higher quality product, but will also be felt around the world in Tokai's other manufacturing sites in Germany and Japan.  It's a great combination of the two companies."
Check out this handpicked feature on the Steel Erectors Association of America.
AT A GLANCE
WHO: Tokai Carbon GE LLC
WHAT: A manufacture of graphite electrodes for the steel industry
WHERE: Charlotte, North Carolina
WEBSITE: www.tokaicarbon.com