Deming, New Mexico
Engaging the community
Business View Magazine interviews representatives of Deming, New Mexico for our focus on Economic Development in U.S. Cities
Many communities are struggling to regain the development momentum and community engagement that went by the wayside during the COVID-19 pandemic, but the City of Deming, New Mexico is eager to see its engagement plans come to fruition.
Despite the continued challenges the city faced in 2021, Cassie Arias-Ward, Deming's Economic and Tourism Development Coordinator, is optimistic. She reports, "We had a challenging year. I think everybody has. Every community has, coming out of the effects of the pandemic. Workforce has really been an issue for us, but we've had some really great projects that came through – a couple of expansions within the region and then some new businesses that started up as expansions of current operations down here in Deming." On the plus side, companies moving to Deming are finding employees, partly due to the city and region's workforce planning measures and programs that start as early as elementary school.
The City of Deming and the surrounding region attract residents and companies from all over the world because of the beautiful natural surroundings, which include a desert grassland surrounded by picturesque mountains and access to the Mimbres River. With a population just over 14,000, Deming is the main community in Luna County – located 35 miles from the Mexican border and 60 miles west of Las Cruces, via Interstate 10, which opens the community to shipping opportunities throughout the world. The community is mainly rural and relies on agriculture and manufacturing for most of its employment base and economic drivers, but it's also a mid-point between Los Angeles, California and Houston, Texas.
Arias-Ward notes, "The city's position lends itself well to business. Our proximity to the logistic advantages that we have is beneficial. We parallel the interstate, we have rail, we have air, and we have a 24-hour commercial port of entry, which is the only 24-hour port in the region for commercial activity. We're just really trying to maximise our impact and our efforts."
To address workforce engagement, Deming and Luna County are doubling down on workforce planning initiatives with Western New Mexico University by helping to increase trades-based programs, including a welding course, which will see its first graduating class this year. They plan to expand the course with additional welding programs. There is also a commercial driver's licence (CDL) course, which Arias-Ward says is going to do wonders for the area. "We've talked about doing that for years and the bookwork part of that has been coordinated and I think we're going to be looking to help out with the site. There is a really big need in our area for CDL qualified individuals and, of course, throughout the nation. We're excited that it's being done here in the community."
The City of Deming is also supporting the Southwest Council of Governments and County of Luna to create a communications and broadband initiative that will specialise in telecommunications and broadband-based trades. Arias-Ward acknowledges, "It's neat to see all of that coming to fruition here in the community and really working to address some of those gaps that we are seeing with the workforce. The other thing that we are doing is teaming up with our local workforce connection office to just really re-engage the community and let them know what types of careers are available here."
Some of Deming's major employers include DH Lescombes Family Vineyards, the largest winery in New Mexico that also operates its winery's harvesting vineyards and its bottling manufacturing facility (newly expanded) in Deming; Olam Food Ingredients, the largest jalapeno and green chile processor in the country; Billy the Kid Produce; Carzalia Valley Produce; and Red Mountain Produce. But there are more than line-work opportunities available, including trades and engineering positions.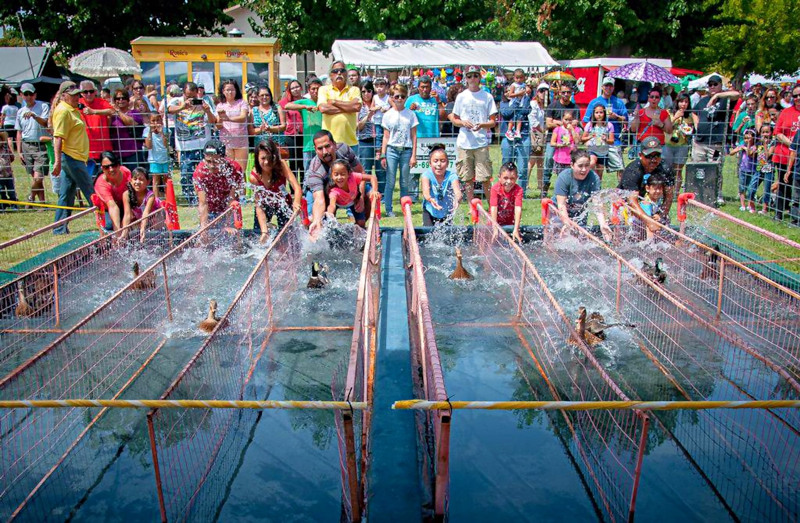 According to Arias-Ward, "Most people think that there's nowhere to go within a food processing plant, but there is. Our Compass Made is a huge employer – they manufacture wire harnesses, so a lot of people just see the line work. We're really trying to showcase the employers for all the opportunities they have within their company. There's a lot of room to move up within all of these companies. There's a big demand for engineers. The winery that we have here runs their bottling operation and we actually went in there and they were doing a lot of manual filtrations and that type of thing. So, we're building out some programs to get into the schools as early as elementary school, to showcase, 'hey if you're interested in science and technology, there are jobs here in Deming and Luna County that you can make a really great living at.' We're just trying to do a better job at telling that story."
Deming staff aren't just working to help businesses, they're also working to improve the quality of life in the city for residents. Alexi Jackson, Airport Manager and Community Services Director says the 2.5-acre man made Trees Lake is quickly becoming one of the most popular destinations in the city for outdoor recreation, fishing and more. They plan to put a floating water park on the lake with a completion date in 2023 that could generate up to $250,000 a year, with plans for much more. Jackson explains, "It's going to be a big addition to this facility that has already really changed the community. I think it's made people like us more than they did before… it's amazing what a body of water has done to the community. It's unreal. I didn't know it would be that famous, or that big of a hit."
Deming's popularity and relatively low cost of living has led to a lack of available housing, leaving it difficult for new residents to move in, but the city is working to address that with Luna County. The city also operates two industrial parks – The Peru Mill Industrial Park off of Interstate 10 and the Deming Industrial Park just east of the city. Peru Mill currently has 1,200 acres of land available with accessible utilities, while Deming Industrial has 20-acre plots that are ready for development.
Another benefit for business and pleasure travellers, Deming operates its own municipal airport that includes an 8,000-foot runway. During the Second World War, Deming Municipal Airport served as a military airbase where Bombardiers were trained. Situated between Fort Huachuca in Arizona and Fort Bliss in Texas, it is still frequented by the military. Jackson says the non-commercial airport is busy, adding, "There's always something going on there. It could be a lot better though, there's a lot of acreage and a ton of potential." Jackson is working to secure funding to go ahead with a $25 million project to beef up the runways to allow for heavy cargo planes and add a hangar or two.
There are currently a few facade projects on the go in the Deming downtown core, as well, to help spur new business. They've received a portion of the funds for phase one of the Gold Street beautification project, which Jackson says, "will definitely change the downtown look." He also hopes to work on securing streetlights.
Deming recently purchased the former K-Mart building and plans to move city hall's operations to a portion of that site and rent the rest to businesses. The police station will be moved into the current city hall. The municipality is also working to bring solar power to the region with many sites identified, but they are having issues developing clear pathways to lines from preferable solar sites. Jackson says, "I'm pretty optimistic about a project that has done their homework, and we hope to see great benefit from the project."
The City of Deming's next major project is to help encourage small business in its west end through a business incubator. The incubator is being created with a vision to help new businesses grow and then move on to bigger locations in the community once they have established themselves. Arias-Ward shares, "The future looks bright. I think that we're most excited about capitalising and maximising our impact and engagement and efforts with the profitability of doing business in Deming, and pairing that with the people we have here. We do have the people, particularly within the region. It's just engaging them appropriately and telling our story well, so we're really focusing on that."
AT A GLANCE
Deming, New Mexico
What: A delightful desert city; population 16,000
Where: Luna County, just 30 miles north of the Mexican border
Website: www.dlced.com