Redbird Carriers
A legacy of intermodal integrity
Business View interviews representatives from Redbird Carriers, for our focus on Leading Transportation and Logistics Companies in America.
Established in 1977, Redbird Carriers specializes in intermodal trucking – moving freight in trailers and containers between railroads, ports, consignees, and shippers. Redbird is the largest intermodal carrier in the St. Louis, Missouri area and has offices in most major U.S. cities with rail hubs. The company maintains total compliance with federal, state, county, and local laws while conducting the intermodal transportation of all commodities.
Redbird Carriers' mission is to be recognized as a premium transportation service provider. They are committed to supporting their clients' requirements by delivering cost effective, reliable service with trust and integrity, while sustaining a rewarding work environment for their greatest assets: their employees, owner-operators, and agents.
Mark E. Belew, Chairman and Owner of Redbird Carriers, started the company in 1977 and it has grown every year since. There are now 23 offices nationwide, including the headquarters in St. Louis. A few are company stores with W2 employees and others are agency locations for Redbird. Three years ago, the company did a $4 million, 6-acre terminal expansion at the St. Louis headquarters. In addition, they have company stores in Kansas City, Charlotte, Memphis, and north New Jersey. All the rest are independent agency locations. Top level management have over 50 years at Redbird between them and include Dack Ledbetter (President), Jennifer Hayes (VP-Administration) and Brian Hayes (VP-Operations).  David Beasley joined Redbird a few years ago as VP-Business Development and has 35 years' experience with The Hub Group under his belt.
Redbird's fleet is 95 percent owner-operated. Of the company's 500-truck fleet, it only owns 15 to 20, all based in St. Louis, essentially loss leaders doing the work that owner-operators don't want to do. According to Belew, "The intermodal business is a brutal form of trucking, meaning it beats up the truck more than almost any other type of trucking. It's a maintenance nightmare; you're going into horrible facilities with craters that'll swallow your truck, and you're banging over railroad tracks in and out all day long."
An extreme amount of honesty and organization are the traits Belew believes set Redbird apart from the ample amount of competition out there. He notes, "Typically, agents that come on board with us from other companies say, 'Wow, you guys are unbelievable, you pay to the penny what I'm owed every week, I don't have to chase my money from the home office.' It's the same with owner-operators – we have the lowest turnover in the industry, as far as intermodal trucking, because we pay them in full every week. That sounds like it should be a normal procedure but it's not. In contrast to our competitors, we take pride in the organizational end of the business. We have never lost an agent or an employee – zero turnover. We take care of our people."
Technology needs for intermodal carriers have changed significantly in the last couple years. In the past, shippers were satisfied on getting updates only when the shipment was placed on a railcar, when it passed the railcar scanner point, and when it unloaded on the other side. Today, every order is monitored and traced from door to door and intermodal shippers are demanding. In 2015, Redbird took the approach of implementing the Federal E-log solution, prior to its mandated date of Dec. 2017.
Company President Dack Ledbetter reports, "We knew the solution would need to provide a breadcrumb trail of drivers and transit, and we had to be willing to share that information with our operations system provider. Once that was in place, we were able to take that info from the E-log system and provide real-time updates to our dispatch team. This enabled us to better serve our customers, our drivers, and the public in many facets. These include: safety, on-time performance, and driver wait time.
"In 2016, we were approached by an intermodal broker with a big base of customers to start feeding the breadcrumb data to them for a specific shipper. This was common for on-the-road shipments and had never been done on non-asset-based intermodal shipments to this point. We were asked to meet with the shipper's preferred tracking and tracing provider to work out a solution for forwarding our tracing data directly onto loads for the shipper. Within six weeks, we had a working solution in place that autogenerated system reports every 15 minutes on every load currently moving by truck. We moved 50 to 100 trucks per day for this company in various locations."
In the beginning of 2017, larger IMCs (Intermodal Marketing Companies) were coming out with their own version of apps they wanted drivers to log into and update. Redbird recognized this as a problem for their owner-operator base because drivers would have to learn several apps to update the many IMCs they service. Redbird's operating system already had an app tailored to over-the-road shipments, but not intermodal. So they met with their provider and laid out the needs for an app with functions that could satisfy all customers. This solution has been in full use for a year, and is not only meeting customer requirements, but making it easier for drivers by simplifying the process down to one single app.
As Ledbetter explains, "Our current technology has also greatly reduced tech calls from customers who, themselves, are advanced enough to receive this information. New enhancements we are working on include: auto ETAs, traffic patterns, and knowing our GPS position to better pinpoint ETAs. We're setting a goal for 98 percent of our shipments to be on time. In a nutshell, we are able to make better business decisions today based on actual information our technology provides us. We're on the cutting edge in the intermodal sector for companies our size."
Looking to the future, Redbird wants to continue adding locations in more cities that are heavily travelled with intermodal freight. But the goal is not to flood any particular market with several locations. "We are also in the midst of buying a related business – a car-transport hauling company in Florida," Belew shares. "And we have a lot of room on our six-acre terminal to erect more facilities to expand into an over-the-road operation. We have a small such operation now of about 50 trailers and we do regional hauling. For another new project, I'm working with real estate brokers and my attorneys. We'll be going to all our locations where we need a yard and an office, and buying our own properties to move into, so we can pay rent to ourselves instead of someone else and build up property equity."
Redbird has a truck brokerage firm in Springfield, Missouri, that Belew says, "We're going to beef up and take on a tremendous amount more business in that line. In brokerage, the shipper gives you a load and you find a carrier, like Redbird, to haul it – you broker it to another trucker, and that's a huge industry. The most important points to know about Redbird Carriers is that we're extremely organized. We close out and balance every week on our owner-operator driver pay against our billing. Our owner-operator turnover on intermodal trucking is the lowest in the industry. We've never had more than one percent of accounts receivable over 90 days old, mostly due to the fact that we deal with repeat companies across the country. Our customer base in every city in the country with intermodal freight would rather have Redbird – one company with 18 to 25 locations, on their payable list than having to deal with 25 different companies. We don't care to do the international side of intermodal trucking due to greatly varied fuel surcharges, partially paid invoices, and, mostly, slow pay. We're mostly interested in domestic and continuing to do it extremely well."
Check out this handpicked feature on The Stark Area Regional Transit Authority – Safe, responsive, and dependable.
AT A GLANCE
WHO: Redbird Carriers
WHAT: Intermodal trucking carrier
WHERE: St. Louis, Missouri
WEBSITE: Visit Website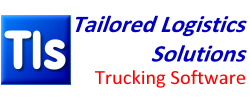 Tailored Logistics Solutions, LLC – www.tailoredlogistics.com
TLS provides web-based software applications to help you reduce costs, increase productivity and build stronger customer relationships all while making your life easier. We offer an application that you can "tailor" to your needs. We provide solutions for truckload carriers, LTL carriers, Intermodal drayage, and brokering. For more information call 630-887-4470 or click www.TailoredLogistics.com.