National Minority Supplier Development Council (NMSDC)
Actualizing the American Dream
Business View Magazine interviews Ying McGuire, CEO and president of the National Minority Supplier Development Council, for our focus on the U.S. Supply Chain
The National Minority Supplier Development Council (NMSDC) is taking on the extraordinary task of correcting the unequal access to wealth-building opportunities for communities of color (Asian-Indian, Asian-Pacific, Black, Hispanic, and Native American).
The organization, based in New York and founded in 1972, is the longest-running advocacy group for systematically excluded minority groups, helping provide them an equal shot at participating in the American experiment of free-market capitalism and entrepreneurship.
The council's mission is to serve as a growth engine for NMSDC-certified minority businesses and enable its corporate members to advance economic equity by creating connections between minority business enterprises (MBEs) and corporations, the public sector, and other MBEs. These efforts focus on helping MBEs benefit from each other, fueling entrepreneurship and growing intergenerational wealth for these systemically excluded communities.
Recently appointed CEO and president Ying McGuire is no stranger to the challenges minority groups face, coming from a Chinese-Asian heritage herself. "In the wake of the Tiananmen Square incident, I packed my life into a suitcase and moved to the United States," she recounts. "I had one promise in my heart, which was my American dream, to get a higher education and a great career in corporate America."
After working with Dell for over one decade, McGuire joined a large minority-owned business and served on several advisory boards for government and nonprofits. She reflects, "In 2020, after witnessing the outcry of racial injustice, my vantage point of America's social and economic state changed drastically. I realized that the opportunities that got me to where I am today are just not available to far too many people of color. When NMSDC, which I had been involved with in various capacities, approached me for the position, I grabbed the opportunity. I saw it as my renewed American dream to help systematically excluded communities of color actualize their American dreams. I'm working harder than ever now, but I feel more fulfilled than ever."
McGuire's passion echoes across the NMSDC leadership, administration ranks, and board of directors. The organization's leadership draws top-ranking executives from some of the largest companies in the United States, such as UPS, Pepsi, Dell, and Ford. They give their time and resources to help fulfill NMSDC's mandate.
McGuire adds, "Besides all the great people working at NMSDC, I'd like to mention several who have had a tremendous impact on me during my time here. They include Marc Morial, former mayor of New Orleans and current president and CEO of the National Urban League; Dave Steward, chairman and founder of World Wide Technology, the largest African-American-owned businesses in America; and John Rogers of Ariel Investments, which founded the first black owned investment firm with $16.8 billion asset under his management as of June 2021."
NMSDC has a dedicated team comprised of 30 employees working out of its New York office and hundreds more across its countrywide network of affiliates. Despite this, McGuire says the organization needs a lot more resources to fulfill its mandate faster than it is currently doing.
"We have few resources to tackle one of the biggest challenges in our society, which is closing the racial wealth gap through entrepreneurship and wealth creation," McGuire says. "We continue to call on society for more financial resources, in-kind contributions, policy support, optimal access to opportunities, capital for MBEs, business relationships, knowledge and technology transfer."
With unprecedented things happening on the government side, like the $1.3 trillion infrastructure bill and the recently passed bipartisan $280 billion CHIPS and Science Act of 2022, NMSDC is working with local, state, and federal governments to make sure MBEs are not left behind. "These are once-in-a-lifetime opportunities that can help many generations of marginalized American communities finally catch up," McGuire adds.
NMSDC offers minority-owned businesses certification and value-added services to scale their businesses.   NMSDC certified MBEs have C access to many benefits:  exposure to other MBEs, business opportunity fairs, capacity building, contract opportunities, executive education, and networking opportunities, to name a few.
Large MBEs can also seek membership with NMSDC through a Corporate Plus program. Corporate Plus members are MBEs nominated by corporate members to the program because of their demonstrated capacity to execute national or global contracts for major corporations. "We have close to 700 national corporate members including major corporations like Apple, Capital One, Cargill, Chevron, Cigna, Google, Merck, and Toyota," says McGuire. "We also have international partners in Canada, the UK, China, Australia, and South Africa."
NMSDC is celebrating its 50th anniversary this year as it reflects on past performance and what impact it can have over the next fifty years. A recent economic impact study commissioned by NMSDC found that MBEs employ 1.75 million and generate $400 billion in annual economic output annually, realizing $140 billion in government tax revenues annually.'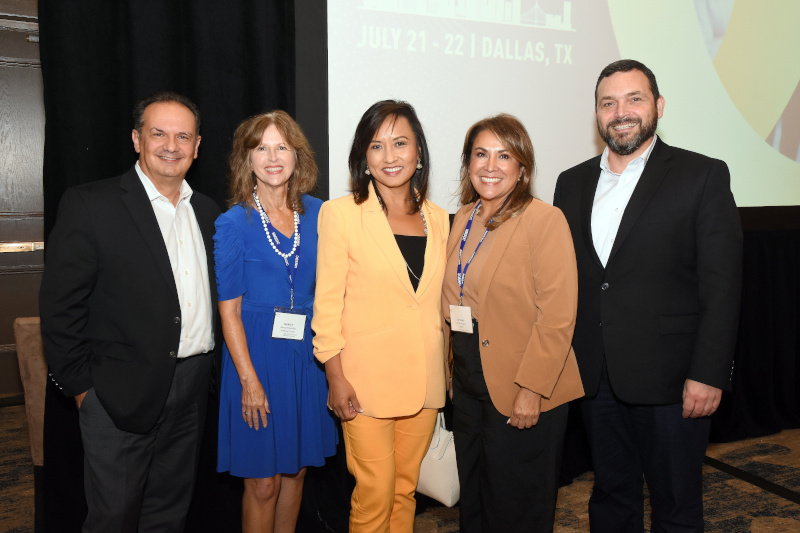 The organization has set an ambitious target to move MBE annual revenue to $1 trillion in the coming years, a number McGuire says is not as aggressive as it appears, noting, "One trillion dollars is only 4.3% of GDP, yet minority communities represent more than 40% of the population in the U.S. Other questions we are asking as we move into the next 50 years of NMSDC include why white households are still eight times wealthier than Black households and five times wealthier than Hispanic households and why the racial wealth gap has increased by 70% since the pandemic started?"
Although these data points paint a bleak picture, McGuire also recognizes that MBEs have made much progress over the years. "NMSDC-certified MBEs, on average, increased revenues by 22% between 2019 and 2021, and the number of jobs went up by 64%, showing that MBEs weathered the pandemic better, even though minority communities were hard hit. These results also show that our model works because MBEs gain additional support and resources to perform better."
Citing these favorable results for MBEs, McGuire wonders what kind of impact would be generated if NMSDC certified one million businesses up from its current 16,000. "What if we can provide opportunities to a million MBEs? What economic impact can we generate?" she asks.
But to achieve these outcomes, NMSDC will need many more resources than it currently has. "Our affiliate in Michigan found in its study that if you don't do anything different, it's going to take 333 years to close the racial wealth gap in the U.S., which is unacceptable," McGuire says. "The study also found that if private companies spent 1% more on MBEs each year for 15 years, 333 years can be reduced to just 15 years."
While NMSDC's mandate is to help bridge the wealth gap for minority communities through entrepreneurship, McGuire says doing so does not just benefit these communities. "Closing the racial wealth gap is good for everybody," she emphasizes. "Doing so will add $8 trillion to the U.S. GDP and unlock an additional $2.6 trillion in consumer spending while creating nine million more jobs by 2050. Our message is that growth for minority-owned businesses is growth for all and what NMSDC is doing does not just benefit a small group but everybody."
AT A GLANCE
National Minority Supplier Development Council (NMSDC)
What: The longest-running advocacy group for systematically excluded minority groups
Where: Based in New York City, NY
Website: https://nmsdc.org/