Powersource Transportation
driving past the competition
Leading the trucking business with an all-women executive team, Powersource Transportation skillfully navigates the trucking industry
Barb Bakos has a lot to be proud of since taking the helm of her husband's trucking company, Powersource Transportation. Following her husband's passing in 2014, and after discussing the life-changing decision with her closest friends, business associates, and family, Bakos took her seat at the head of the table of the power-only trucking company that had thrived for two decades boasting nearly 30 long-time employees.
The trucking, freight, and logistics business was one in which Bakos had not had any direct experience. While Bakos' father had managed a trucking company and she had some familiarity with her husband's business, she had never been involved in the day-to-day management of such an organization.
Bakos not only made the decision to take over the company, but she also instituted an array of changes to help further modernize it. Within four years she had overseen the completion of a new corporate headquarters that included new office space and a comfortable lounge for drivers, made an array of new hiring decisions, and has since been named the Top Woman-Owned Business by Women in Trucking magazine four years in a row.
Today, nearly all of Powersource's full-time employees are women, and the company has more drivers than ever before. Those drivers are owner-operators, meaning they own and cover the costs of their own cabs, so Powersource has very little overhead. The "power-only" portion of Powersource's description means that drivers are not responsible for loading or unloading. Their responsibilities are simply to hook, haul, and drop items. Combined with an attention to detail and to providing drivers with a positive work experience, Powersource pays top dollar for reliable drivers, offering benefits and potential bonuses as well.
Those benefits and bonuses extend to non-driver employees including sales professionals, dispatchers, and other back-office staff, Bakos says. "We will provide lunches for our team regularly and after a good month, I may walk around handing out $100 bills to the team. We have a real family atmosphere here and our staff truly enjoys what they do every day.
Bakos also has colleagues she can trust in leadership positions. Her general manager has been with the company for 26 years. Daughter Shannon, Vice President, is the future of continuing Powersource's success. "It's a very specialized field and our team's goal is to keep our customers and our drivers happy," Bakos says.
She also believes having most of the full-time staff women is an advantage. "It wasn't a conscious effort (to hire a large number of women)," she says. "But we made some strong hires and are in a good position for the future."
Powersource does not transport hazardous materials or products but is active with clients in a diverse array of other industries from beverages to events. For example, Powersource has transported stage elements, lighting, costumes, and more from one concert site to another for musical stars like Taylor Swift.
Efficient operations and transparent communications with clients, drivers, and employees are the hallmarks that Bakos has used to grow the company. Its four sales professionals are in direct contact with clients on a daily basis while three dispatchers communicate continuously with drivers during their shifts. Unlike other trucking companies, Bakos feels live dispatchers are critical to maintaining an open dialogue with drivers.
Bakos says, "That's one of the things I really wanted to focus on and our drivers love it. Our dispatchers all have different personalities but they know how to communicate well with our drivers." Bakos estimates that close to 95 percent of her drivers are male, but the dynamic with her three female dispatchers works well.
Powersource is also an extremely hands-on and transparent company. Bakos meets personally with all new drivers before hiring them. "We don't hold back here," she says. "We are very in touch with not just our customers but our drivers."
Providing a comfortable environment for employees and drivers is paramount and was behind Bakos' decision to construct a new headquarters at a new location in Portage a few years ago. The new headquarters offers fully modernized showers and a comfortable lounge for the drivers, a gym to allow employees and drivers to exercise when convenient, and even a fenced-in area where family dogs can play.
"Our employees and drivers care about the company's performance because they are engaged," Bakos says.
Powersource has seen its business grow steadily over the last few years but has also increased its profitability because it remains efficient in all operations. Bakos has purposely maintained an "asset-free" approach highlighted by not owning trucks and relying on customers to help supply trailers. She owns a leasing company that operates independently and can be a resource, but limiting assets reduces overhead and other operational requirements.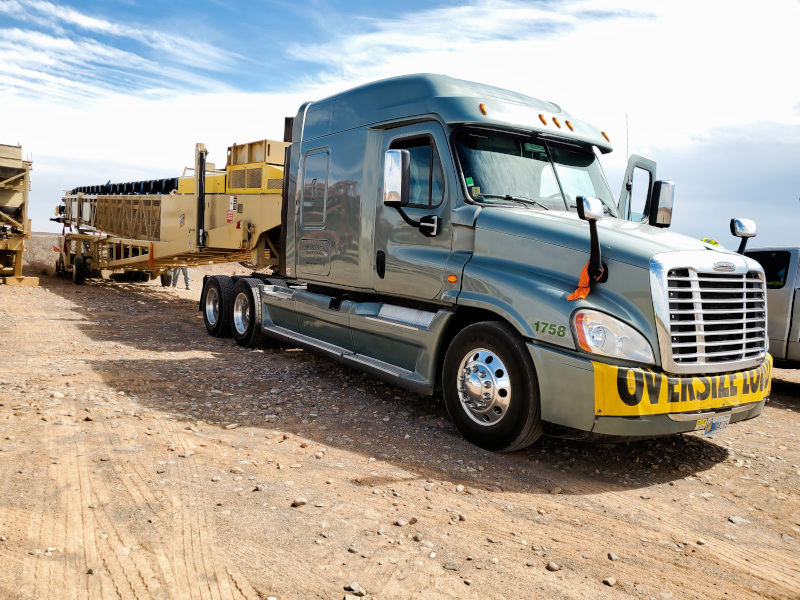 One key partner for Powersource is Cottingham & Butler, an Iowa-based insurance company that provides much more than insurance policies. Powersource is part of a captive insurance group of trucking companies that essentially receive a group policy discount from Cottingham & Butler but benefit from the same type of broad coverage. This helps to keep costs down in this age of nuclear verdicts, which are broadly defined as jury awards that surpass $10 million. Nuclear verdicts are often driven by juror anger at defendants.
The trucking industry suffers from an inordinately high number of nuclear verdicts because truck accidents can cause significant injuries and are a target of many personal injury attorneys. "We share the wealth in that regard by partnering together to keep costs down," Bakos says.
She adds that Cottingham & Butler is also a great partner in driver and vehicle safety. Bakos and other members of the management team regularly attend safety seminars and training sessions and share best practices with the rest of their team with their partners providing guidance and resources that reduce liability. Powersource team members closely follow their collective safety scores and prepare their drivers for random inspections, which can happen anytime and anywhere.
One significant accident or poor safety report can "take down a business like ours in a heartbeat," Bakos says, so she will reward drivers for good inspections and truck maintenance with cash rewards and similar perks.
Bakos modestly yet proudly says she has been able to accomplish many of her long-term goals in helping the Portage-based company to grow into an industry leader in the trucking field. She believes keeping up-to-date with technologies that make the lives of her drivers easier will be important because of how fast that technology evolves.
There has been a widely documented shortage in the commercial trucking space, and Powersource does hope to add more drivers to its fleet in 2023. That shortage existed even before COVID, and many experienced drivers have retired or taken on fewer hours over the last three years. However, Powersource has a strong enough reputation that many of its drivers have been with the company for an extended time, including some younger drivers relatively early in their careers.
While COVID did cause a short-term lull in growth for part of 2020, Bakos' policies helped to keep employees healthy and allowed them the option to work remotely. COVID did hurt the event and hospitality industry which Bakos estimated comprised about 20 percent of her company's revenue before COVID.
Fortunately, much of that work is coming back with more concerts, festivals, and events. She hopes to find even more event work in 2023 and considers it a fast-growing area in her industry.
"We can move just about anything needed in an efficient, reliable way," Bakos says.
With a reputation built on consistency and success, Powersource Transportation is poised to remain among the leaders in the power-only trucking field for the foreseeable future. Bakos will make sure of it.
AT A GLANCE
Powersource Transportation
What: Leading power-only trucking and freight transportation business
Where: Portage, Indiana
Website: https://www.powersourcetrans.com/
Hightower Great Lakes – www.hightowergreatlakes.com
Work smarter, not harder. That's what Barb Bakos does. As CEO of Powersource Transportation, Bakos knows trucking, and she is a leader in the trucking industry. She trusts Hightower Great Lakes advisors to navigate her path from where she is now financially to where she wants to be. Bakos positively impacts her industry, community, charities, and beloved family. While she puts her energies into what she does best, Tim Scannell and Samantha Pietruszynski of HGL focus on Bakos' financial future. HGL professionals assess business owners' distinctive situations and help them make work optional, strategize taxes, prepare heirs and build exit strategies. HGL advisors know every business owner has their own particular values, industry issues, family dynamics, legacy goals and dreams for the future. We're proud to work with business owners like Bakos who navigate obstacles, overcome challenges, and adapt to industry changes with confidence and commitment. She knows that we approach her portfolio with parallel skill and dedication. Like Bakos, we're experts in our field. Our clients are our priorities, and we take it to heart. Learn more about Hightower Great Lakes. Contact us at (219) 531-4941 or greatlakes@hightoweradvisors.com.

First Merchants Bank – www.firstmerchants.com
You have the vision and drive to succeed, but sometimes you need more. First Merchants provides valuable perspective, a reliable source of capital and a team who can see beyond the numbers to help your business thrive. First Merchants offers access to senior decision makers and personal attention from local bankers. Member FDIC
TrueNorth Companies, L.C – www.truenorthcompanies.com/transportation 
TrueNorth Companies, L.C. is a closely held, privately held risk management services and insurance brokerage firm with a nationally recognized transportation industry focus. Our mission is to assist companies and their people with protecting and maximizing assets, resources, and opportunities. Learn more at truenorthcompanies.com/transportation.