Latham Pool Products, Inc.
The market leader
Business View Magazine interviews Michael Fox of Latham Pool Products, as part of our focus on best practices in the composites industry.
Latham Pool Products, Inc., of Latham, New York, was founded by Merrill Laven in 1956, and, today is the largest pool manufacturer in North America. The company designs, manufactures, and sells in-ground residential swimming pools and components for homeowners, and pool and spa professionals in the U.S. and Canada. Its products include fiberglass, polymer, and steel pools; polymer and steel pool wall systems; ladders; auto covers; spillover spas; automatic safety covers; solid and mesh safety covers; in-ground pool liners; safety pool covers; pool steps; above-ground pool liners; and other pool-related products.
"We currently have 24 locations throughout the United States and Canada," reports Michael Fox, Latham Pool Products's Director for Fiberglass Products. "We've got our fiberglass pool division, which has eight locations; we've got our auto-cover division, which has two locations; and then we've got our package pool component, which has five locations. "Package pools is a vinyl liner pool," adds Product Director, Will Cappiello. "We have six vinyl liner and safety cover facilities, five of which are in the U.S., and three steel and polymer manufacturing facilities, one of which is in Canada and two in the U.S..  We also have a small distribution center located in Georgia."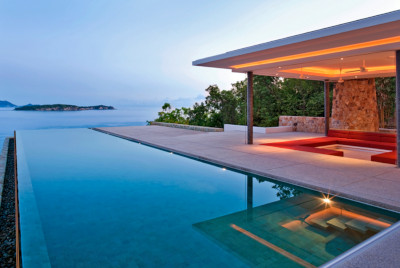 According to Fox, concrete pools were the "pool of choice back in the 1940s and '50s. They were the first pool made," he explains. "About 60 years ago, we started to make other styles of pools. Fiberglass came into the mix out in California. It originated with Viking Pools, which is one of our brands. In the 'sand states' – Florida, Texas, Arizona, and California, you find predominantly concrete or gunite pools. Within the last five years, though, we've seen a shift towards fiberglass because consumers using the internet to do research have realized that modern composites – and pools are made out of fiberglass and composites – are even more structurally sound and durable than concrete pools."
"Plus, maintenance-wise, fiberglass is much less expensive and there's much less time involved maintaining a fiberglass pool than a concrete pool," Fox continues. "You get significant algae growth you have scrub off, you have to re-plaster every 12 to 15 years, and you have to acid wash, on average, every five to seven years. You don't have those concerns with fiberglass pools. That maintenance is a huge concern for pool owners – they don't want to spend all of their time working on their pool, and fiberglass pools are low maintenance compared to concrete.
"And, outside of those sand states, there's a frost line to consider. If you come up north, concrete is not the predominant player because you cannot build the same pool that you build in Florida, in New York, because of the frost line. A gunite guy would have to go from building a three-inch wall to a foot-and-a-half wall as a result of the frost line, which becomes cost prohibitive. So, vinyl liners and package pools have played a bigger role in the market, especially outside of the sand states."
Latham Pool Products manufactures over 150 different models and styles of fiberglass pools across three brands – Viking, Trilogy, and Blue Hawaiian. "A homeowner will choose what style pool will fit their lifestyle and backyard and they will go out and contract with a local pool builder. The pool builder buys the pool from us. It takes about three to four weeks to manufacture a pool. Once it's ready to be shipped, the homeowner and pool builder decide on the delivery date, and it usually gets delivered on a 54-foot trailer, or any trailer that fits within state transportation regulations. The dealer will dig the hole, place the pool in the hole, and do all the backfill, plumbing, and landscaping needs."
"It's very similar on the package pool side," says Cappiello. "Package pools are polymer or steel panel pools with vinyl liners holding the water, but it's the same concept. They do their research on what kind of pool they want, what style they want. Then they contact their local builder and the builder buys the panels from us that we manufacture in our 24 locations. A package pool kit would show up at the home on pallets, and the dealer would show up, dig a hole and install that kit on site. It comes in components which the dealer assembles and installs."
"Package pools have no size limitation," says Fox. "They come on pallets; there's no transportation concern, so if a consumer wants an extremely wide pool or a customized type of pool, a package pool is the option because there's no limitations to size. Fiberglass pools are bound by the limitations of the Department of Transportation."
Fox explains the physical characteristics of its fiberglass pools, and what separates them from the competition: "From a material standpoint, the outside layer that you see in the pool is our premium finish or gel coat layer. That's what gives it the beautiful color, the blues the greens – that's the finish. The second layer is a vinyl ester resin layer. We call it the VE layer, and that's what holds the water – that's the water barrier. The third layer is our differentiator: that's the structural component that provides the strength to the pool. In our Viking brand, we back our pool with ceramic material to create that strength; in our Blue Hawaiian brand, our strength barrier is backed by carbon fiber; and in our Trilogy brand, we use a bimax radius re-enforcement in our structural component. So those are three different ways and composites that we use, but all three are under very rigorous strength testing and thickness testing."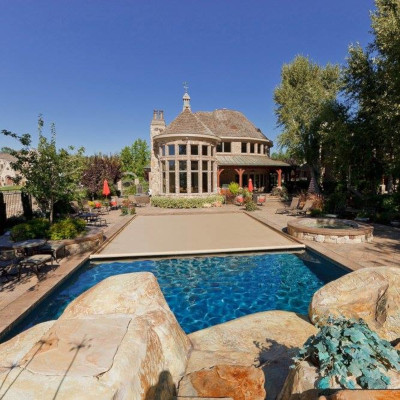 Cappiello follows with an explanation of the company's five-year-old, market-leading, "ultra-seam" technology, which virtually eliminates seam lines in a vinyl liner pool: "Vinyl liners are made up of six-foot wide materials that are seamed together and custom-designed to fit every pool in any backyard. We get measurements from the dealer and we fabricate it very similar to how you would get a custom suit made for yourself and tailored to your needs and body measurements. It's a similar process for us, only we're building 1,600-sqaure-foot liners, instead of suits. The seaming process allows us to be innovative and differentiates us from our competitors. Our slogan is: The strongest seam you'll never see. We have produced over 500,000 vinyl liners with that seaming process, and now, we're focused on the 'strongest' piece of that tagline – the strongest seams you'll never see. The benefit of the new technology is that our seam separation is now guaranteeing a pool that will be defect-free."
Latham Pool Products is ICC-certified and all of its employees – currently over 1,200 across all its locations – go through a rigorous training process upon entry into the company with ongoing, cross-training sessions. Fox says that the company will be coming out with some new products in 2019, focused on the growing popularity of in-pool tanning ledges. "It's a growing trend," he states, "so we'll have two or three new models with tanning ledges inside of our pools."
Both Fox and Cappiello stress that the company stands behind every pool it manufactures and every dealer it contracts with. "The structural integrity of our products is extremely important to us," says Fox. "The success and service of our dealers to our customers is important, as well." "This company has been here for 60 years," adds Cappiello. "So homeowners can always rely on us. It gives them priceless piece of mind."
Check out this handpicked feature on thinkstep – Building more sustainable companies.
AT A GLANCE
WHO: Latham Pool Products, Inc.
WHAT: An in ground pool manufacturer
WHERE: Latham, New York
WEBSITE: www.lathampool.com
Horizon Spa and Pool Parts, Inc. – www.horizonparts.com
Horizon Spa & Pool Parts, Inc. is a Tucson owned and operated pool and spa parts distributor, catering to the repair parts and equipment needs of service, repair, construction, and retail companies nationwide. Founded in 1992, Horizon had already been very active in the field with fiberglass and gunite pool/spa construction, portable spa sales and installation, portable spa repair, pool repair, and pool/spa monthly service. Then, it began stocking difficult to get parts, and today, Horizon has four distribution facilities and dealers in all 50 states. The company has the finest team of technicians and technical salespeople in the pool and spa industry and can assist its customers in many aspects of their construction, renovation, service, and retail businesses.
Little Giant / Franklin Electric – www.lg-outdoor.com
The Little Giant brand, manufactured by Franklin Electric, offers an industry leading collection of pool cover pumps and pool clean-out and maintenance pumps that provide easy water removal and exceptional protection for virtually any pool. We also offer a complete line of utility pumps, pressure boosting systems, lawn sprinkler pumps, decorative water products, aquarium pumps, and hydroponic products.