Great Lakes Die Cast Corporation – a Mumford Company
Growing the opportunities
Business View Magazine interviews representatives of the Great Lakes Die Cast Corporation and the Mumford Companies, focusing on best practices in die casting.
Based in Muskegon, Michigan, Great Lakes Die Cast Corporation (GLDC) is a leading manufacturer of high-pressure, aluminum die-casting components that must meet highly cosmetic, complex, and critical specifications. The company primarily manufactures components for the automotive and office furniture industries, while its remaining sales are comprised of products for such applications as food processing equipment, lighting, aerospace, truck components, military, and small engines.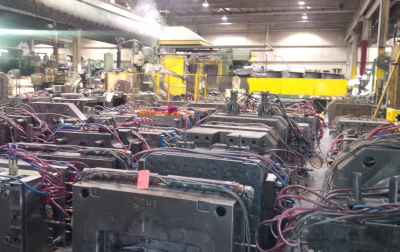 Great Lakes Die Cast Corporation operates from a 16.5 acre site with three manufacturing buildings and its main office. The facilities include a renovated office building; an 85,000-square-foot manufacturing building housing aluminum die casting, machining, polishing, tool room, and other support departments; and a new state-of-the-art, 45,000-square-foot aluminum die casting, machining, and polishing plant. It currently has approximately 83 employees.
The company was founded in 1974 as the Dilesco Corporation and changed its name to Great Lakes in 2002. In 2018, it was sold to the Mumford Companies, a business and real estate holding company based in Chicago, Illinois. The Mumford Companies was originally founded by Phil Mumford, Sr. in 1968, as a small, brick working concern. "They worked with reclaimed brick," recounts Alissa Bahr, Director of Corporate Business Development and Marketing. "They would go around to any buildings that were being torn down and haul away the brick for free, and they developed a way of slicing brick into decorative brick for homes, hotels, hospitals, etc."
Over the years, Mumford added several new divisions to his company's portfolio, including scaffold equipment and services, construction and architectural casework, three foundries, and four die casting companies, the latest being Great Lakes. Regarding its entry into die casting, Bahr explains that the company's modus operandi is to buy these distressed companies and rebuild them into profitable businesses. "They make capital investments of two or three million per business, each year," she avers. "They already rebuilt the furnaces at Great Lakes so they can start running more efficiently."
Bahr maintains that Phil Mumford Sr., and his partner, Phil Mumford Jr., run a growth-oriented firm that provides many advantages for the companies it absorbs into its realm. She calls it "the Mumford advantage," explaining, "We're a stable company that's been around for 50 years; we're not going anywhere and we're in it for the long haul. We're not buying distressed businesses to flip them; we're buying them to bring them into the Mumford family. We're low leveraged, which is unique as far as die casters go; it's a very capital intensive industry and our owners do not pull any profit out of any of their foundry businesses. They make all of their profit on the other aspects of the business – the bricks, scaffolding, etc. – and they're able to make very intense capital investments for the die casters."
"We focus on symbiosis within our companies," Bahr continues. "Four years ago, a number of our die casters were all competitors. There's still that friendly competition between the die casters, but, at the same time, we're able to share best practices. Our engineers from various die casters will get together to consult on product development for our customers. The last part is that we are multi-faceted. We have the resources of a very large company, but, at the same time, we like to execute like a nimble, fine-tuned, single shop."
According to Dean Hodges, General Manager and long-time employee at Great Lakes Die Cast Corporation, Mumford has already made significant investments into his company. "We've already added CNC capabilities," he notes. "And we're putting an automation cell in. One of our machines is going to be totally robotic. We just built a robotic tap machine, which will help us generate more parts per hour, which generates a lower cost, which allows us to offer discounts to our customers." Bahr adds, "We're starting our own remelting facility on the premises of Great Lakes. It allows us to offer specialized and project-tailored alloys to our customers to meet certain specs."
Mumford is also helping Great Lakes establish a training program for new workers, and Hodges says he will teach die casting, himself. "We're adapting the program that was in place when we bought the company," says Bahr. "We're developing an employee training and tuition reimbursement program. We want to show our employees that we're invested in them. The Mumfords are willing to reimburse people for community or junior college tuition for whatever classes they want to take – whether it applies to die casting, or business, or even cooking."
Bahr queries rhetorically, "Why would somebody want to work for the Mumford Companies? Because there's so much opportunity," she replies. "The Mumfords give us a lot of room for creativity and let us explore new avenues for growing the business. Currently, we are sitting at $140 million in sales, this year, and Phil Jr. and Phil Sr. want to be a $500 million company within the next five years, and a billion dollar enterprise in ten. They have shown trust in all of their employees, including those at Great Lakes, giving them the freedom to grow. We're focusing on getting these businesses new life and getting the employees and our key people the opportunities that they deserve."
Check out this handpicked feature on The Flexible Packaging Association – Connecting, advancing, leading.
AT A GLANCE
WHO: Great Lakes Die Cast Corporation
WHAT: A manufacturer of high-pressure, aluminum die-casting components
WHERE: Muskegon, Michigan
WEBSITE: www.gldiecast.com