Leaving the dirty work to them
A hospital is the place where people go when they need to get well; but sometimes that very same hospital is the place where people actually go and get sick. Healthcare-associated infections (HAIs) are infections that patients acquire while receiving treatment for other medical or surgical conditions. They occur, not just in hospitals, but in all types of healthcare settings: same-day surgical centers, ambulatory outpatient centers, doctors' clinics, long-term care facilities, and nursing homes, among other places.
The United States Centers for Disease Control and Prevention estimates that, each year, some 1.7 million hospital patients are stricken with an HAI – and one hundred thousand of them die. Some common HAIs are pneumonias, and bloodstream, surgical site, and urinary tract infections. Some of these bugs can survive in healthcare environments for a long time on surfaces, bedrails, and even hospital staff. Hospital linens, in particular, are a chief vector for the spread of HAIs, as used bed sheets, for example, contain large concentrations of microbial contamination. That is why the cleaning and sanitizing of all hospital laundry is a key element in helping to prevent thousands of the unnecessary deaths that occur in America's healthcare facilities, every year.
Westport Linen Services, in Baton Rouge, Louisiana is a healthcare laundry that specializes in providing reusable linens and uniforms to hospitals, clinics, surgical centers, and nursing homes. The company was founded 15 years ago by partners, Eddie Lefeaux and John Landry. Lefeaux details Westport Linen's beginnings: "Around 1999, the company we were working for [Kean's Healthcare Linen Services] was owned by Cintas Corporation, and they decided to sell to a competitor – a large, national chain. But it was too large of a company. It didn't have the regional, corporate culture that we had built over the years, running our little company.
"We saw a niche market in serving the healthcare industry in South Louisiana, so we decided, with our previous contacts, that it would be a great opportunity for the two of us to leave corporate America and start a small, local company that would grow and become a regional provider. We did not want to expand into industrial uniforms and the other segments of the industrial linen industry. We wanted to focus exclusively on healthcare. We started with ten employees and three customers."
Today, Westport Linen is the largest, exclusive healthcare linen provider in Louisiana, supplying everything from scrubs and bedding, to patient wear, surgical linens, bath towels, and wash cloths. The company employs over 200 workers and serves 125 hospitals, clinics, surgical centers, and nursing homes from the southeast Louisiana/Texas border to the gulf coast of Mississippi, covering an approximate radius of 250 miles from the center of Baton Rouge.
Its plant, a state-of-the-art, 48,000 square foot facility, was built in 2009, and is capable of producing 840,000 pounds of linen per week. Two years ago, the company picked up another location in New Orleans – a retrofitted, 15,000 square foot facility, capable of producing 285,600 pounds per week. The new facility allows Westport Linen to expand north into the Mississippi delta and west into northern Louisiana and east Texas. The company is contemplating opening a third facility in southwest Louisiana, sometime soon.
There was a time when hospitals did their own laundry. But over the years, more and more healthcare facilities found that the costs in time, equipment, and labor were unsustainable. Also, they didn't have the capacity to constantly upgrade their laundry facilities with the latest technologies or apply the industry's best practices to insure well-laundered, sanitized linen. So, they began to outsource. Lefeaux explains: "We have closed seven OPLs (on-premise laundries) for that exact reason. They don't want to invest the millions of dollars into the laundry equipment, nor do they have the personnel or the management expertise to operate them efficiently. Their core focus is patient satisfaction and as an outsourcer, we become a true partner. We consider ourselves an extension of the hospital."
In 2007, Westport Linen became the 30th laundry in the U.S. to become certified by the Hospital Laundry Accreditation Council (HLAC). To qualify for HLAC accreditation, a laundry must successfully pass an inspection of its facility, implement policies and procedures, regularly conduct training programs, and successfully maintain relationships with its customers. According to Lefeaux, it's one of the elements that sets his company apart from the competition. "More and more," he says, "the hospitals are becoming educated and realize that they want a true, certified linen supplier that follows all of the protocols to guarantee that they're getting good, sanitized, clean linen."
But another thing that separates Westport Linen from its competitors is its customer service. "All of our clients know that they can reach all of us 24/7. If a crisis was to arise, they know that we're just a phone call away. We go above and beyond."
Just how "far beyond" the company does go can best be exemplified by its response to Hurricane Katrina in 2005, when it was the only laundry that was able to provide linen service in south Louisiana and in parts of Mississippi. Lefeaux recounts how its trucks were actually escorted into his city by the State Police and the National Guard when all other traffic was leaving. "There's not a lot of companies that would do that; that would be willing to take that risk to see that their customers are taken care of."
Westport takes its role as an emergency vendor very seriously and the company is available as a back-up facility in times of crisis or disaster. "We have a huge generator that runs our plant. We have back-up and secondary water supplies. If a tragedy happened, and we lost power in our city, we could run up to two weeks on diesel [fuel]."
Right now, according to Lefeaux, the company is operating at about 60 percent of its capacity, but as more and more rural hospitals merge with larger hospital systems, he sees the possibility of increased growth by continuing to partner with them. In fact, by picking up another six-member hospital system, which the company is poised to do, its potential output should grow by 20 to 25 percent. Considering that, at present, Westport Linen processes 16 million pounds of healthcare linens per year, that's an awful lot of new laundry. So, the company plans to upgrade its operations from eight hours a day, six days a week, to ten hours a day, seven days a week.
Staying ahead of the curve, operationally, is another Westport Linen attribute. Its sales force is highly trained and the company is a member of several industrial and hospital laundry associations, including the Hospital Linen Association (HOSLIN), the National Management Board, the Textile Rental Services Association of America, the National Association of Institutional Laundry Management, and the American Reusable Textiles of America. "We constantly stay on the latest edge of technology and we bring a lot of the advancements from across the country," asserts Lefeaux.
Over the last decade and a half, Westport Linen Services has grown and prospered by paying strict attention to industry standards and adhering to HLAC practices. And its many customers have likewise been able to count on the company's high level of customer service by "leaving the dirty work to them."
AT A GLANCE
WHO: Westport Linen Services
WHAT: A healthcare laundry that offers rental linen service to hospitals, clinics, surgical centers, and nursing homes
WHERE: Baton Rouge, Louisiana
WEBSITE: www.westportlinen.com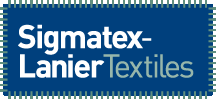 Sigmatex-Lanier Textiles – As one of the pioneers of globally sourced textiles, Sigmatex-Lanier Textiles has established a network of manufacturing partners that ensures its customers a consistent and reliable source of supply. With over 35 years of sourcing experience, a well-established network of manufacturers, a national distribution, a long-standing reputation for high quality products, and outstanding customer service, the company is a complete sourcing solution for quality textiles. Its healthcare products are designed with the patient in mind. From its popular patient gowns to sheets, blankets and terry products, the company is committed to providing its customers high quality products at a great value, with the added service of same-day shipping.