Upland, California
Historic and contemporary
Business View Magazine interviews representatives of Upland, California, as part of our focus on best practices of American cities.
Upland, California, a city in San Bernardino County, is located at the foot of the highest part of the San Gabriel Mountains, on an east-west trail that was once used by Native Americans and Spanish missionaries – part of what is now known as the Old Spanish Trail. By the time California became part of the United States at the end of the Mexican-American War in 1846, the area around present-day Upland was little more than uninhabited ranchland and a place to pass through.
Then, in 1882, George Chaffey, a Canadian shipbuilder and engineer from Ontario, Canada, along with his brother, William, purchased some 8,000 acres of land in what was known as the Cucamonga Rancho, as well as significant water rights from San Antonio Creek. Chaffey laid out a seven-mile thoroughfare from one end of his new irrigation colony to the other, which he named Euclid, (today, one of America's most iconic and scenic avenues) in honor of his favorite mathematician. He called the new settlement Ontario, and because of the water he piped in, it soon became home to thousands of acres of citrus orchards.
The present-day City of Upland, California was originally the northern part of Chaffey's Ontario Model Colony, and was known as "North Upland" or "Magnolia" after a local hotel. The name Upland was first used as the name of the "Upland Citrus Association." However, by 1902, the name "Upland" was used to refer to the entire area of North Ontario, and the City of Upland, itself, was officially incorporated on May 15, 1906. The citrus industry in Upland and the surrounding region continued to thrive, and by the 1930s, citrus had become the dominant agricultural crop in California. At the height of citrus production, the industry produced sixty percent of the nation's citrus supply and twenty percent of the world's supply. This success continued for citrus growers until the mid-1940s, when the citrus industry, as a whole, began its decline. After World War II, land values began to skyrocket, and growers began to sell their land to developers.
In 1954, the San Bernardino Freeway, later part of Interstate 10, was completed, connecting Los Angeles to San Bernardino. The freeway, one of the first in the nation, eased the commute to Los Angeles and accelerated the transition of Upland, California from a rural citrus area to a residential and commercial community. Today, Upland, with a population of 78,000, is one of the most desirable places to live, work, and play in the State of California. Its mild climate, its spectacular scenery, its prime location near Interstates 10 and 210 freeways, its Metrolink train station that provides access to Los Angeles and the Inland Empire, a quaint historic downtown, and other amenities, make Upland an ideal place to start or grow a business.
Some of Upland's significant current employers include the San Antonio Regional Hospital, which recently underwent a $160 million expansion project to better provide for the healthcare needs of the growing populations of San Bernardino and Riverside Counties; the privately-owned Cable Airport, situated just two miles northwest of Upland's central business district; and the family-owned Holliday Rock Company, founded in 1937, one of the biggest independent producers of construction materials such as hot-mix asphalt, aggregates, and ready-mix concrete.
Robert Dalquest, Upland, California's Development Services Director, says that the City has a lot of ongoing projects – residential, commercial, and industrial. "Right now, we have, either under construction or going through the entitlement process, over 1,000 residential units – from single family homes to town homes and apartments," he reports. "So, we've got quite a lot of activity from a residential standpoint." The largest, and perhaps most influential, project in the history of the city is the Colonies at San Antonio Master Planned community along Campus Ave. at the 210 Freeway, built by Diversified Pacific Communities, which also was responsible for updating the Upland Hills Country Club golf course. It includes 440 acres, over 1100 homes, and the Colonies Crossroads retail center consisting of 1.1 million square feet of retail space.
Regarding current, non-residential projects, just recently, the San Antonio Hospital, which is the regional hospital in this area, partnered with the City of Hope, which is a cancer treatment facility in the L.A. area, and constructed a two-story, 59,000-sq.-ft. medical office building. The City of Hope will be taking the entire ground floor for a cancer treatment facility, and the second story will be for medical offices."
Other commercial development projects, either ongoing or planned, in Upland, California include: the recently revitalized Upland Village that contains a Burlington Coat Factory, Ross, and Raising Cane's. There are other new projects just recently approved, including a 35,000-square-foot addition for a new supermarket; the demolition of an outparcel building for a new Starbucks Coffee with an expanded drive-through lane; Ford of Upland, a 22,285-sq.-ft. auto dealership; Firefly Cottage, a 2,642-sq.-ft. restaurant and bakery; a new Chipotle restaurant with drive-through; two new commercial buildings located at the site of the old pump house at Benson Avenue and 16th Street; the remodeling of an existing Chevron gas station; and north of the 210 Freeway in the Colonies Commercial Center is a proposed 9,225-sq.-ft. mixed-use building with retail and food operations which will contain another  new Starbucks Coffee location.
Industrial projects include: the construction of two buildings by ECI Fuel Systems; two office/warehouse locations for Chase Partners on 1.48 acres; and a proposed, approximately 200,000-sq.-ft. warehouse/parcel delivery service building on 50 acres built by Bridge Development Partners, LLC.
Meanwhile, the City is also intent on supporting its current businesses, especially in its downtown district, which is home to nearly 200 businesses providing a diversity of merchandise, restaurants, breweries, and services. "We have an historic downtown and we've got two programs that we're implementing to help revitalize the Downtown," says Dalquest. "One is a façade improvement program, and the other one is our Business Assistance and Attraction Program," adds Development Services Manager, Liz Chavez.
Dalquest elaborates: "We've completed about six commercial rehabilitation façades, and we've got seven buildings that we're processing, right now. We're trying to bring back some of the historic elements of the façades. For example, if a brick building is stuccoed over, we try to bring back the brick, but they can also add new elements like awnings, or new storefronts, or glass doors, that still maintain the historic architecture of the building. The property owner can get up to $30,000 that can go towards revitalizing their façade. The only caveat is that there's a five-year covenant; the business is required to maintain the façade for five years."
"The other program is our Business Assistance and Attraction Program," Dalquest continues. "That's where we're trying to either allow an existing business that wants to expand by more than 50 percent, or attract a new business in downtown, whether it's a restaurant, or specialty retail. This program offers up to $50,000 that can go towards tenant improvements or working capital to assist them with the site location. The condition of that grant is that the business musts hire at least one full-time employee for every $25,000 of what they're seeking; if they get the full $50,000, they must hire two full-time employees who are low or moderate income people. And that income is verified through our program administrator."
Dalquest adds that while Upland is trying to encourage high-density business development in downtown, it also seeks to create a Transit Oriented Development (TOD) near the City's Metrolink station, in order to get "that critical mass" that will be essential in revitalizing the downtown area. "We don't have a major college next to the downtown or major employer," he explains, "so the way we're going to get critical mass is by trying to get mixed-use development or residential development within the downtown area."
Rosemary Hoerning is Upland, California's Interim City Manager and Director of Public Works. She relates some of the green initiatives that Upland has promulgated in order to reduce energy consumption and its attendant costs to the City. "A project that's nearing completion is an energy efficiency project associated with retrofitting our existing public buildings to LED lighting and to high-efficiency air conditioning and heating units. It also includes the placement of solar panels on rooftops of our public buildings, so that we can take advantage of our natural sunlight while generating onsite energy that offsets what we need to use from our energy provider, Southern California Edison. That was a pretty significant project and we anticipate that it should be fully-energized in the first quarter of 2020.
"Another green-related project is our agreement with Southern California Edison to retrofit all of the Edison-owned lights in the City of Upland to LED lighting. That project was completed earlier this year and it was financed through on-bill types of programs, so there were no out-of-pocket costs to the City. And over time, the capital investment will be recouped through the differential between the bills at the sodium vapor lighting rate and the LED rate. So, the cost savings is paying for the capital investment over time. We've also been able to retrofit our city-owned street lights to LED, and we've done that with internal resources in an effort to lower our energy costs and to provide better and more efficient lighting in our community.
"The City also does a lot of its paving projects using a recycled, rubberized asphalt. We're taking the tires that would otherwise be disposed of and using them for an alternative purpose – at least for the top coat of our asphalt street projects. We found that product to be superior from a standpoint of longevity, color, reduced noise, and cracking that might occur. We think that's a great way to be green while providing a sustainable paving application.
"We also have projects like active transportation grant funding that we've received through partnerships with San Bernardino County Department of Transportation Authority and other local area jurisdictions that are helping us improve the infrastructure around our Metrolink station – improving our bike trails, so we have a better amenity for people to use from a recreation standpoint, and for access to alternative types of transportation outside of vehicular transportation as a primary source. We also have a Cool Parks Grant, which is helping the city address a number of public trees that have been impacted by disease and are dying; the grant allows us to remove those dying trees and provides funding for replacement trees. That's an ongoing effort to keep our urban forest vibrant in the City of Upland, California."
Dalquest notes that the historic heritage of the City is very important to its residents. There are nine historic districts and a lot of the City's older, historic homes are well-maintained. Celebrating that history is probably most visibly expressed in the yearly Upland Lemon Festival, where everything "lemony" is celebrated. It's been an important part of Upland tradition since 1997, and what originally started as a small celebration of the City's citrus industry origins has grown into a town-wide affair including the Lemon Idol singing contest, delicious (and sometimes messy) food competitions, carnival rides, games, and support of local businesses.
"We also have the Tour de Foothills, which was developed by our Chamber of Commerce," says Hoerning. "It brings in bicycle riders from all of California, and even internationally, to come to the City. It has professional style racing all the way to family fun rides. That's an exciting local event that we do here in town. It brings people in and when they're done riding, they can take advantage of the wonderful restaurants and other amenities that we have in our downtown area."
When describing Upland, California's charms and attractions, Economic Development Coordinator, Melecio Picazo, asserts, "Upland is in a strategic location here in southern California and the Inland Empire. We're near airports, the Port of Los Angeles, and recreational amenities – we're close to the mountains, we're near the beaches. We're the City of Gracious Living, so we have beautiful homes throughout our community. We offer shopping opportunities downtown, and we also have high-quality shopping centers along our commercial corridors."
Hoerning states, "We're an upper scale type of community that has access to a lot of amenities. We're bordered by freeways and we're in close proximity to other areas. So, if you're in Upland, you not only can find everything that you need here, but you have access to other places. It's centrally located, it has a great climate, and it's a great community.
Dalquest says, "We're a blend of historic and contemporary."
Chavez sums it all up: "It's a great place to live, to work, and to raise a family."
*Sycamore Hills Plaza pictured at top
AT A GLANCE
WHO: Upland, California
WHAT: A city of 78,000
WHERE: In San Bernardino County, at the foot of the San Gabriel Mountains
WEBSITE: www.uplandca.gov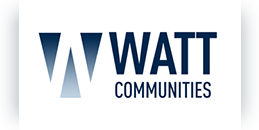 Watt Communities – wattcommunities.com
Watt Communities is a third-generation family owned company focused on the design, construction and sale of new homes in metropolitan areas throughout California and Arizona, including Los Angeles County, San Bernardino County, Riverside County, metro Sacramento, and Phoenix. Watt Communities successfully grew from a small building business to a large real
estate development organization.