Wallenstein Equipment Inc.
Making work feel more like play
Business View Magazine interviews Philip Horst, Vice President of Wallenstein Equipment Inc., for our focus on the Agricultural Industry in North America.
It all began over 25 years ago, when a small farm shop operation near the community of Wallenstein, Ontario began manufacturing log splitters. A necessary item in rural environs, these log splitters were sold directly to end users and quickly gained a reputation for the highest quality with exceptional durability. Early customers spread the word about their "Wallenstein log splitters," hence "Wallenstein" became a brand name. The business grew quickly, and within a few years, Wallenstein log splitters could be found in national retailers and farm equipment dealerships across Canada. Today, Wallenstein Equipment, Inc. continues to build on its reputation for durability and quality, producing multiple product lines used by satisfied customers around the world, with the tagline "Making work feel more like play."
Wallenstein focuses on producing small to mid-range forestry equipment – with owners of large properties as the target market, as well as farmers wanting to do their own logging for firewood or lumber, whether it's a skidding winch, or grapple, or log splitter. That's the niche market, not large scale commercial logging companies, although, some chippers are getting noticed in that sector.
Philip Horst, Vice President of Wallenstein Equipment Inc., shares some history. "The company is very interesting in the sense that the previous owner was a very conservative Mennonite man. Country life and a family farm kind of environment is one of their priorities. As the business grew, so did production, beyond what he could do in his own shop. So, he went down the road to a friend and asked him to help with production. From there, the business grew like an octopus. Instead of building a large facility, he just started setting up smaller shops of 3,000 to 6,000 square feet with a couple employees at each one. The company evolved into distribution and kept growing with additional product lines under the original owner until September of 2018, when he exited the business and I purchased the company with another partner. It was a healthy business when he handed over the reins and our relationship is still very good. I didn't know much about manufacturing, but I'm passionate about people. And, fortunately, there was a roster of really good employees with a wealth of knowledge who stayed on."
Today, about a dozen of those small shops are dedicated exclusively to the Wallenstein line. A dozen more also work for other manufacturers; work is outsourced to them on an occasional basis, for example, if they have a specific machine for producing certain parts. All the shops are located within a 60-90 minute radius; all are family-owned and part of the local Mennonite community. "Our production is not on one footprint," says Horst. "It's scattered throughout the community and we're really proud of that. We manage everything on our side with just shy of 30 employees – in production management, sales and marketing, digital technology, accounting. We also hold the entire engineering team. On the shop side (the production side), while we manage all of the inventory and production flow, the employees in those shops do not work for us. They work for the shops that are contracted to build our product. Those shop owners probably work on the shop floor, themselves, because they're a small business. So, they have a good work ethic and are really invested in our success because it directly impacts their success."
Wallenstein products are sold globally, but Canada is still the single strongest market, where territory managers put the company one step closer to the consumer. South of the border, nine distributors across the U.S. carry a variety of Wallenstein brands and offer them to dealers that then sell them to the end customer. The company uses a similar distribution model in Central and South America, New Zealand, Australia, South Africa, parts of Europe, and some Slavic countries.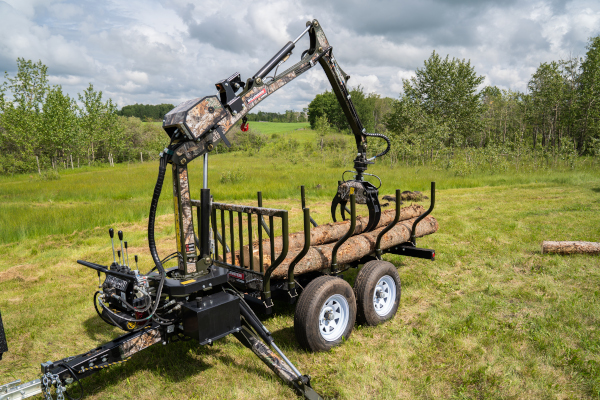 Horst admits, "We have competitors; everybody should have competitors. It's no fun, otherwise. Some of our competitors come from China, building good quality products for half the price. They tend to go through the box stores. With those products, warranty is a challenge, whereas, we offer a five-year warranty and we do a great job of standing behind our product. But it's not all about the product. Some of our competitors make a better designed product. And we take that as a challenge. But our advantage is being the absolute easiest company to do business with. That starts with the layout of our website, inquiries on our website, our order desk, our email response, our phone manner – the whole process of excellent customer service. Quality is assumed; yes we want to be innovative, but customer experience is what we do for people. We want to hear their stories; how they feel after they do business with us. Good machinery is the baseline of being able to compete, but what sets Wallenstein apart is our enhancement of the customer experience and business relationships, because you can't sell solely on features."
The company will interact with end users if there are warranty issues, but they do not sell directly. And their focus remains fixed and strong on small to mid-range forestry equipment. That's what they care about, that's where they excel, but that doesn't rule out innovation. Firewood processing is one area that has great potential. "The wood splitter has been here for generations and we do that really well," says Horst. "But what comes next after those traditional type products is what we spend a lot of time talking about, building, trying, innovating. Those are areas where, product-wise, we see changes. We see a future."
Good business relationships are key and expectations are not taken lightly. Upper management at Wallenstein Equipment picks the companies, the suppliers, and the people they want to do business with, and expects them to be priced competitively and relatively easy to do business with, in turn.  As Horst acknowledges, "If we're holding ourselves to a high level of customer experience going out to the consumer, we're going to align ourselves with suppliers and partners and vendors who reciprocate that."
Looking ahead, Wallenstein Equipment is poised to expand its product offering, and that may include a change in distribution in some regions of the world. With consumers' purchase methods changing (think Amazon, etc.) the company wants to be protective of its historic position within current distribution channels, but also very proactive in how they allow people to do business with them. Right now, it's distribution through the dealerships. "That's important for some products," Horst notes, "but I see a future in different parts of the world, where it will change the way we interact with buyers and end users. One other reason I feel we're positioned for a healthy future is the leadership of the company. At the present time, there are eight of us on the management level, including my partner and me. We meet every two weeks and that's where the decisions get made, jointly, as one voice. Our management team is at the core of the company and I'm really proud of them."
AT A GLANCE
Who: Wallenstein Equipment Inc.
What: Manufacturer of small forestry equipment
Where: Wallenstein, Ontario, Canada
Website: www.wallensteinequipment.com