Larsen Development
The beauty of expertise
Business View Magazine interviews representatives of Larsen Development, as part of our focus on best practices of American homebuilders.
Larsen Development, Denver's premier design/build company, was founded 16 years ago, by Larry Larsen, an award-winning homebuilder with a degree in architecture from Kansas State University, followed by a stint in the U.S. Navy Corp of Engineers, where he oversaw the construction of hundreds of homes all over the world. He gained further experience in his craft by working for two major home building companies, before launching his own firm in 1986.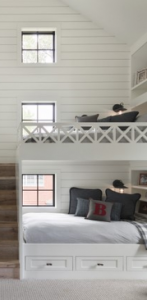 "My previous company built model homes and semi-custom homes," Larsen recounts. "When I started Larsen Development Company in 2002, the focus was to design and build one-of-a-kind, custom homes with a focus on affluent, infill neighborhoods. These are typically older neighborhoods where you tear down an old house and then build a new one. We specialize in the Greater Metro-Denver area, and a lot of our work is in Washington Park. It's a very popular area, and we are the predominant builder there."
Being so long-established in the Washington Park neighborhood, both as a builder and as a resident, Larsen says that the primary source of his company's business comes from referrals. "I've been building for over forty years in Denver, and even people who dealt with my prior company will contact us," he explains. "We give our clients a list of every homeowner we've ever built for. We also generate business from holding open houses when we complete a home, but it's mostly word-of-mouth."
Larsen believes that his company differentiates itself from the competition in several ways. "The key thing that we do differently than others – we're truly design/build," he avers. "Some builders will say they are, but they team up with an architect and other designers to design a home for a client. We are a true design/build firm in the sense that we do all of the architecture and interior design in-house. We feel that is more beneficial for our clients."
"Another very important thing that we do in our design process is we listen," Larsen continues. "We're very good at listening to what clients want, and then putting it on paper for their approval and building. Some of our prospects have been with clients who initially hired a different architect to come up with some concepts and designs but that architect missed the boat. They will often let the architect go and come to us.
"Once we sign a contract with a client, the first step in the process is a very thorough interview. We will spend hours asking questions and showing photographs of what we've built in the past, as wells as reviewing ideas the client has, whether that be a picture from the internet or something they've seen driving around. Then our job is to reflect that in their drawings. Ninety percent of the time, the first cut of what we're showing them is right on the money. We try and focus on the client's needs, not what we want them to like. We're here to design a home that they love – that's our goal."
While Washington Park has always been Larsen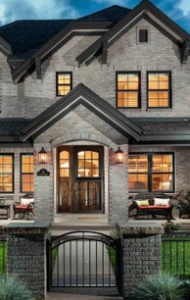 Development's "bread and butter," according to Jeff Englund, Vice President of Operations, lately, the firm has travelled out to other areas where clients want their homes built. "We've branched out into the different affluent areas," he reports, "Columbine Country Club in Littleton, Greenwood Village, Observatory Park, and Hilltop. This allows us to design and build on lots that are wider than an average 50'-wide double lot, typical to Washington Park. We're able to get into bigger, more sprawling houses in these neighborhoods."
"Our recent trend has been to do larger, more spread out homes on a bigger lot versus the smaller lots that we build on in Washington Park," Larsen adds. "That neighborhood was built in the 1920s and '30s, mostly. So, we're moving into areas that were built in the '50s and '60s, where they had larger lots and you could do bigger homes."
While Larsen Development might be building bigger homes, the company, with its staff of 13, is not focused on getting any bigger, itself. "We don't see becoming a huge builder; we're not driven by growth," Larsen states. "Our objective, right now, is to do 12 custom homes a year. A key objective in the next few years is to continue to improve and get better at what we're doing. We want to continually take care of our clients and figure out better ways of doing what we do. We need to always be on top of design trends, new products, and technology. It's constantly changing out there."
What doesn't appear to change much in the company's business model is its long-term relationships with its subcontractors and suppliers. "They're the key to our success," Larsen admits. "We are very loyal to them and, in turn, they're loyal to us. We do not go out and change vendors at will.  Over the years, we've developed relationships that are part of our team. I have a painting company that's been with me for 30 years; a lot of our vendors, suppliers, and subcontractors – 10 years."
"It's one big benefit for us: having such a loyal subcontractor and vendor base and being able to keep them very busy and happy," says Englund. "That way, we have the same people on our jobs day in and day out. Detail, quality, and performance are what make us who we are, and that comes from our team."
Both Larsen and Englund are firm in their belief that the company's future fortunes will be the result of the fine work of its professional staff and its high level of customer service. "We've got a great team, and we want to see them develop further," Larsen says. "A lot of companies are investing in marketing and trying to get their name and brand out there," says Englund. "We're kind of the opposite; we're a big family here; we're really into investing in our team and our clients. That's where our brand recognition comes from."
Check out this handpicked feature on Nalle Custom Homes – Pride in building.
AT A GLANCE
WHO: Larsen Development
WHAT: A premier design/build firm
WHERE: Denver, Colorado
WEBSITE: www.larsendevelopment.com
Caruso Kitchens – For over 30 years, Caruso Kitchens has created thousands of award-winning, dream kitchens for Colorado residents. In addition to kitchen and bath design services, Caruso Kitchens also offers semi-custom and full-custom, furniture-grade cabinetry and storage units; granite, engineered stone, glass, and butcher block countertops; and a variety of high-end appliances. This past January, the Denver-based company won "Best of Design" on Houzz, the leading platform for home remodeling and design. – www.carusokitchens.com