Tuschall Engineering Co.
For superior metals
Business View Magazine interviews Jim Tuschall, President of Tuschall Engineering Co., as part of our focus on best practices in the construction sector.
Tuschall Engineering Co. of Burr Ridge, Illinois provides professional architectural firms with superior metal cladding and siding products backed by its well-earned reputation for dependability, innovation, and exceptional craftsmanship. A second-generation business, the company was started in 1937, by John R. Tuschall, father of its current President & CEO, Jim Tuschall, who has been with the company for 43 years.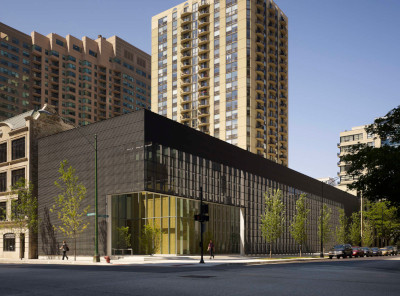 "My father was installing furnaces and doing duct work, and got into air conditioning when that started to get popular," Tuschall recounts. "He did that from 1937 till the mid-'50s, and then he started doing metal decking for flat-roof buildings in the Chicago market. In the late '60s, he got into metal siding for industrial warehousing. Metal insulated panels kind of dried up in that market in the '90s – precast concrete took over, so then we got into the high-end, architectural metal panels. We are installers of architectural metal panels, putting the cladding on the outside of a building. We do a lot of high-rise, universities, hospitals, churches, and some very high-end residential."
Tuschall Engineering has about 30 employees. Since it also sells specialty zinc products, particularly VMZINC, an historic brand of titanium zinc imported from France, the company also has several sales reps who cover a 12-state territory throughout the Midwest.
Tuschall believes that his company preserves its competitive advantage in the sector because all of its installers work directly for him, whereas some of his competitors will broker labor out to third parties. "So the quality of our work is second to none," he maintains. He also banks on the company's long-standing devotion to innovation. "We are always looking for new cladding options. I make frequent trips to Europe to the major building product shows – one in Paris and one in Munich – and we always look for new products to import. So, we're usually very progressive in that area."
"Also, we specialize in doing things in jobs and projects that have never been done before," he adds. "We can be very creative in architect/client solutions. We can take a design and make it work due to our experience with metal and interfacing materials. There are a lot of companies out there that just do the same thing, every day – just putting up planks of metal. We have really cool projects that are special."
According to Tuschall, the metal cladding industry, overall, is very healthy. "Metal is lightweight, easy to use, easy to stage, and easy to install, compared to brick or some of the other choices for exterior cladding," he asserts. "Copper will last a hundred years. Some of our systems use a lot of zinc, which is a hundred-year product, so marketing these quality metals is quite easy. I think the sector is going to continue to be very healthy for a long time."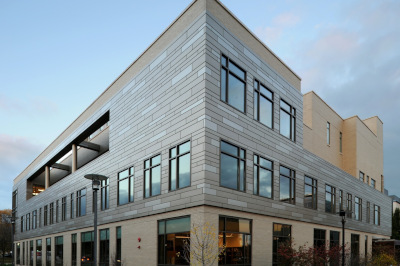 One current challenge for his company concerns the recent tariffs that have been applied to some imported metals, but Tuschall remains relatively unworried. "I'm not going to be affected, as much," he claims. "The big reason is because it's managing a pass-through. It's just raising the cost of everything, so the owners are going to end up paying for the tariffs, one way or another. We've seen aluminum and steel go up, even if it's American produced. They're raising their prices because they can, now. They put a little more profit on their materials because it still can be competitive under the imported metal product. But a 15 percent tariff doesn't mean our overall bid is going to be 15 percent more; it might be only three percent or so."
Tuschall's long-term agenda for his company is to grow modestly and keep the momentum going. "I'm not looking to be big," he avers. "I just want to support the staff that I have. I have a lot of long-time employees, so my goals are to make sure we keep this thing going for everybody. Right now, the economy is very strong, but I'm not sure what's going to happen. Most of our work is exterior, but we are looking to diversify a little bit and do some interior panels; lots of schools and hospitality and retail will use metal on the inside of their buildings, as well, so we're looking into that avenue."
After 43 years, Tuschall states that he has no plans of leaving the helm, anytime soon. "I really like what I do and I can step back a little bit and let everybody else do their job while keeping my finger on the throttle," he says in conclusion. "I don't have any plans to retire; I'll probably be at the office less. With the technology that we have today, being in the office is not as important as it used to be. My son is now the third generation; he's been with me for five years, so I want to see him succeed as the next generation goes forward."
Check out this handpicked feature on The Metal Construction Association – Its use is growing.
AT A GLANCE
WHO: Tuschall Engineering Co.
WHAT: A supplier of superior metal cladding and siding products
WHERE: Burr Ridge, Illinois
WEBSITE: www.tuschalleng.com