The SeaGate Convention Centre
Doing business in Toledo
Business View Magazine interviews Steve Miller, GM of the SeaGate Convention Centre, as part of our focus on best practices of convention venues.
The SeaGate Convention Centre is a performing arts and convention center located in downtown Toledo, Ohio. Opened in 1987, the Centre's exhibit hall has approximately 75,000 square feet of space and seats up to 5,100 for a banquet, 9,000 for a meeting, and 4,000 in a classroom configuration. It can be divided into three smaller halls, and, when used for concerts and stage shows, can seat 2,000, 3,000, or 5,900, depending on how many halls are utilized. The Centre also features over 17,000 square feet of additional meeting space.
Originally owned in partnership by the City of Toledo, Lucas County, and the University of Toledo, today, Lucas County is the sole owner of the Convention Centre which, since 2008, has been managed by the SMG Corporation, a worldwide venue management group headquartered in West Conshohocken, Pennsylvania that specializes in managing publicly-owned facilities. SMG also operates the nearby Huntington Center, an 8,000-seat, multi-purpose arena that was completed in 2009 to replace the now-demolished Toledo Sports Arena.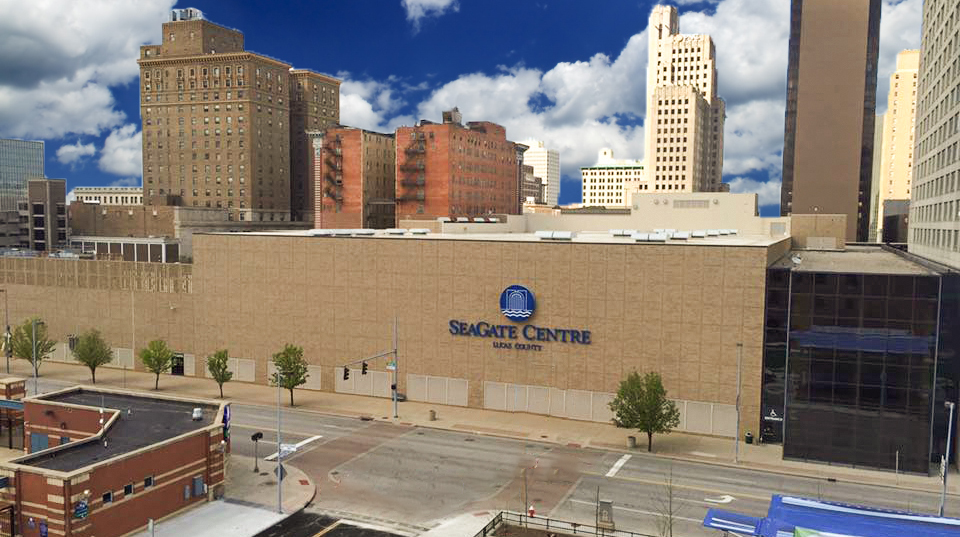 Steve Miller, SeaGate's General Manager says that the Centre hosts between 135-160 events a year. "We have the public shows – the RV Show, the Home Show, the Auto Show, and we do a lot of sports business – youth wrestling, youth cheerleading, youth gymnastics," he reports. "We also do some Ohio State association business and quite a few regional corporate events. We don't do a lot of national business; our focus is on the local and regional, and, obviously, we don't compete with the bigger markets that have much more space than us. We compete on the state association business with Columbus, Cleveland, Cincinnati, Dayton, and Akron, with the type of shows that would fit in our facility. For example, the Ohio Library Association rotates around the state and we would compete with a majority of the larger cities in Ohio. On a regional basis, we probably compete with Akron, Dayton, Cincinnati, Ft. Wayne, Indiana, Grand Rapids, Michigan, Lansing, Michigan, and, maybe, Lexington, Kentucky."
Helping SeaGate to compete is its participation in SMG's robust national program that all of its managed facilities follow. "When you come to our facility, you're going to get that consistency with the SMG policies and procedures, and how we do business," Miller states. "So, our competitive advantage, right now, is our staff and the service levels we're able to provide." He does admit, however, to some of the Centre's drawbacks: "We have an older, tired facility that's been around for quite a few years and hasn't had a lot of tender loving care. And our hotel property situation isn't the greatest, right now, either." That being said, the playing field is about to be further leveled via some new construction projects, recently announced by the Lucas County Board of Commissioners.
This summer will see the start of a $70 million project with three aspects: a 15-20,000-sq.-ft. ballroom, capable of seating up to 1,000, where the entrance to an underground parking structure now exists; a new exterior for the 32-year-old Centre; and a new, 200-room dual branded Hyatt Hotel. The 47-year-old Hotel Seagate, which now is partially demolished and has no walls, will be redeveloped into a Hyatt Place hotel with 128 nightly rooms, and a Hyatt House extended stay hotel with 68 suites with full kitchens. "It's going to be financed with bonds, debt through short-term loans taken out by the County, the hotel/motel tax, and we're also working on a naming rights deal we're very close to signing," says Miller. The project, slated for completion in a little more than two years, is expected to double the impact of visitors to Toledo to $50 million, annually. Miller adds that, once the expansion gets started, the Centre is also going to be upgrading its technology systems "to make sure we're keeping up with what the latest and greatest needs to be for convention centers."
Meanwhile, SeaGate can claim that it already leads the pack when it comes to sustainability practices and programs. It has earned a LEED existing building certification, and Miller says that the Centre has a pretty robust paper, plastic, and aluminum recycling program, and is working on adding a food recycling program, as well. "We've also done a lot of energy upgrades," he states. "We have micro turbines in the facility, which are, in essence, gas fired engines that make their own electricity. So, as natural gas is getting cheaper and cheaper, we get our turbines running with natural gas to turn that into electricity. We've also upgraded all of our lighting systems to LED to try and save that energy cost. So, we're working very hard to make the building as energy-efficient as we possibly can."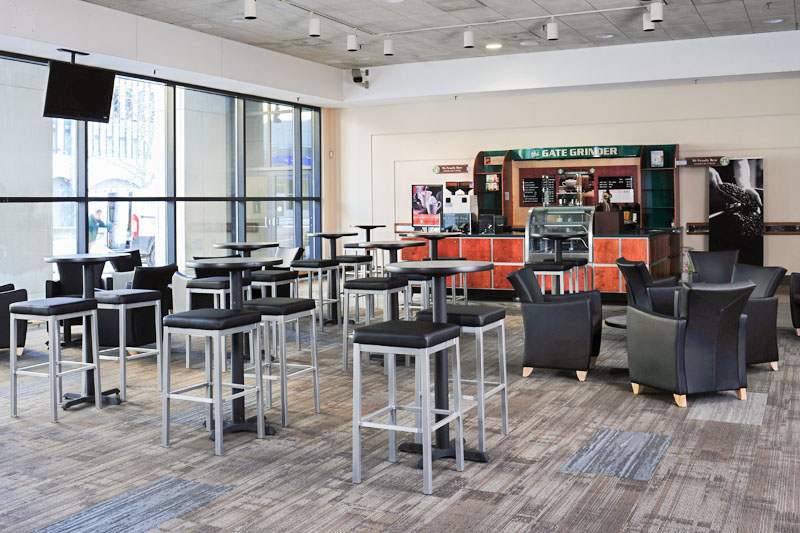 While awaiting the new updates, Miller touts the City of Toledo, itself, as a good reason for meeting planners to consider the SeaGate Convention Centre as an attractive site for their next event. "We're very accessible; we're right at the crossroads of I-75 going north and south, and the Ohio Turnpike, or I-80 and I-90 going east and west, so it's very easy to get here," he remarks. "The Detroit Metro Airport is only 45 minutes away, so there are a lot of direct flights going in and out, not only nationally, but internationally. And there are lots of things to do in Toledo. We have a lot of great amenities – we were voted the Number One minor league sports town in 2018 by Sports Business Journal; we have one of the top zoos in the country – the Toledo Zoo; we have the Imagination Station science museum; and we have one of the best park systems in the area. So, I think those are great things about Toledo, itself.
"As far as the Centre – when you come here, we're going to take great care of you; you're going to have a great experience, and, hopefully, you're going to want to come back. And, I think the expansion project coming down the pike is going to be a big positive for us, not only as a convention center, but as a market to really get our name back on the map. I think we've been below the radar screen quite a bit for the last five to eight years. And, now that we've got some great positive things to announce, I think people are going to get excited again to do their business in Toledo."
AT A GLANCE
WHO: The SeaGate Convention Centre
WHAT: A performing arts and convention venue
WHERE: Toledo, Ohio
WEBSITE: www.toledo-seagate.com