Richmond Raceway Complex
On track for a winning future
Business View Magazine interviews Megan Hazzard, Director of Events at Richmond Raceway Complex, for our focus on Best Practices in Convention & Event Venues.
The thrill of great auto racing; the excitement of top-billed celebrity concerts; state-of-the art event and exhibition facilities. As a multi-dimensional destination venue, Richmond Raceway Complex in Richmond, Virginia has it all, including an enviable history in the motorsports world that harkens back to 1946. Today, the Complex consists of five permanent exhibition/meeting facilities and plays host to over 200 events, annually, from consumer/trade shows to outdoor festivals. Focused on development of a thrilling, memorable, and unparalleled guest experience, the Richmond Raceway Complex is certainly on track for a winning future in the industry.
Business View Magazine recently asked Megan Hazzard, Director of Events at the Richmond Raceway Complex, for her insights into the fast-paced world of event management and growth at this unique and popular venue. The following is an edited transcript of that conversation.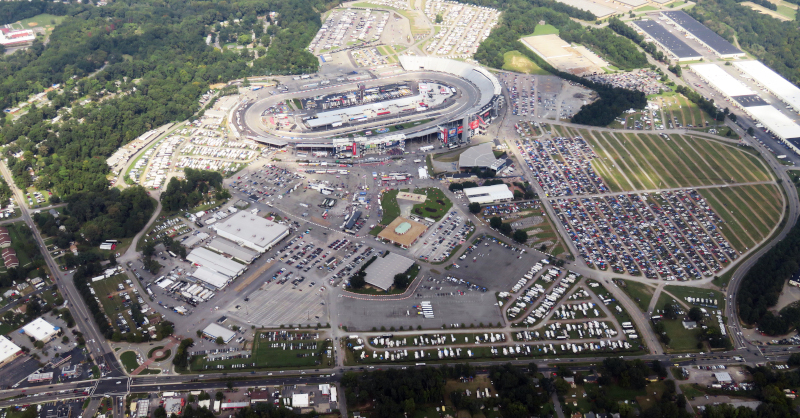 BVM: Can you give us an overview of the Richmond Raceway Complex?
Hazzard: "We have a rich history that started with the racetrack. International Speedway Corporation purchased the property in 1999; however, the track has been in operation since 1946. We've grown a lot over the years – today, we have over 100,000 square feet of indoor space, and 1,200 acres, including the three-quarter-mile, D-shaped oval where we host two NASCAR double-header weekends, each year. We also have Virginia Credit Union LIVE! – a 6,000-seat amphitheater for concerts. In all, over 200 live events are held on property every year at the Complex."
BVM: What do you think makes you different from other event locations?
Hazzard: "We're not a typical convention center like you'd find in a downtown area. With our 1,200 acres, we do a lot of outdoor events and festivals, but we also have huge indoor space, where we host consumer trade shows, such as the Richmond Boat Show, Virginia Outdoor Sportsman Show, Bizarre Bazaar, and Southern Women's Show. We also do a lot of things outside the box, for example we host a Beer, Bourbon, and Barbeque festival in the Main Expo Hall, and we host dog shows, where we'll have 1,500 dog breeds, here. In May, we have the Virginia Senior Games Pickleball Tournament; so lots of activities. We will host a dozen concerts at Virginia Credit Union LIVE!, the region's only covered amphitheater, as well."
BVM: Have you done any significant upgrades, recently?
Hazzard: "We just completed a $30-million redevelopment in September 2018. The project, Richmond Raceway Reimagined, has further expanded our events footprint. We can now do additional outside-the-box events in our new covered garage spaces, and there's a great corporate meeting space in our new Victory Lane Club overlooking Gatorade Victory Lane. With a partition door separating the 1,885-sq.-ft. Victory Lane Club from a 1,169-sq.-ft. Suite, the space can be made more intimate for smaller meetings, or the two rooms can be combined for a larger area. We're looking forward to hosting our NASCAR weekends in that 'reimagined' space, and growing our events portfolio. It was a private investment from our parent company, International Speedway Corporation. They're based in Daytona Beach, Florida, so from a state perspective, it was actually $30 million reinvested back into the Commonwealth of Virginia."
BVM: Have you upgraded technical amenities and sustainable practices to keep competitive?
Hazzard: "In January, we announced to all our show promoters that we are able to offer complimentary Wi-Fi in the exhibit halls, the amphitheater, and our infield. The complimentary Wi-Fi has been a huge hit among vendors, and specifically with promoters. The new infield also has programmable heating and cooling devices that we can do remotely from our phones. The same with the amphitheater lighting; we can control with a mobile app.
"As for sustainability initiatives, in addition to the LED lighting we just installed in the Main Expo Hall, we do extensive recycling in the infield and campgrounds. We have also had some solar energy partners; we welcomed Dominion Energy to our Military Hospitality over race weekends, and they are going to provide solar phone charging stations on our Midway. As well, our concessions and catering departments work on a lot of food donations. We actually did a sustainability study last year – we're still waiting on some of the results – but it was a great partnership between NASCAR Green, Richmond Raceway, and Arizona State University."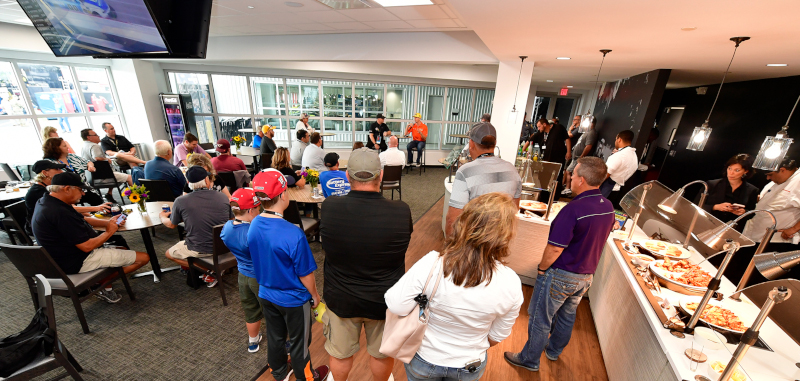 BVM: Are there any other partners or relationships that are valuable to your success?
Hazzard: "We work closely with all our vendors and partners to offer as many options to support events as possible. Exhibits Incorporated does our pipe and drape, both for shows and for us on race weekends. Harris Electric has been with us, I think, since we were built in 1946, so we call them for all things electrical. We're obviously a long-time Toyota sponsor, so the vehicles we drive on the property are Toyota-branded and manufactured in the U.S. We also have some important new relationships – Virginia Lottery is partnering to support all the Wi-Fi initiatives on the property, and Dominion Energy is working on solar power and some other initiatives that may come to fruition in the future.
"We are also a big community partner. We host Richmond Region Tourism, Chamber RVA, and other community events at the Complex. We always want local partners to be on property to showcase our new projects in the infield. Virginia Commonwealth University has a Center for Sport Leadership program and we do a Sports Executive Social for them in our Victory Lane Club during race weekends. We also host Henrico County Technical Education graduation in Virginia Credit Union LIVE!, the region's only covered amphitheater. We host a Neighborhood Night Out for our local community, as well. We have a neighborhood committee that meets every other month to keep in the loop about what events are upcoming. We are woven into the fabric of our community, so we want to always keep an open dialogue with our neighbors."
BVM: What are the most important points you'd like people to know about the Richmond Raceway Complex?
Hazzard: "About half a million people attend non-race events, annually. Some events, alone, will bring in 20,000, so we keep very busy, year-round. With new additions and an increase in concerts, that number will continue to grow. We currently have 37 full-time employees, plus contractors and others. On NASCAR weekends, when people come in from other tracks and we have part-timers and security, that number goes up to over 1,000.
"The Richmond Raceway Complex is so diverse. We are unique in motorsports in having so much indoor, climate-controlled space on property. We have a monthly call with all of our sister tracks in the International Speedway Corporation family to go over events we're working on, and most would love to have 100,000 square feet of space with the opportunity for built-in new business, annually. It's a fun job that's different every day.
"Our property showcases what a unique facility we have. We even have a warehouse where several television series and films have been produced – we even have the biggest green screen, I believe, in North America. It's a 200,000-sq.-ft. warehouse and the entire backside is painted green. That really helps the Virginia Film Office sell different shows to produce in the Commonwealth. We're a jack-of-all-trades here, and we're lucky that we get to do so much. A lot of people reminisce about coming out in the past for the Virginia State Fair, or the Strawberry Hill steeplechase races, or in the '90s when our amphitheater first came to life. It's amazing how much has changed, and how much we continue to grow."
AT A GLANCE
WHO: Richmond Raceway Complex
WHAT: A racing, entertainment, and exhibition venue
WHERE: Richmond, Virginia
WEBSITE: www.richmondracewaycomplex.com