Hallandale Beach, Florida
City on the rise
Business View Magazine interviews Keith S. London, Mayor of Hallandale Beach, Florida, as part of our focus on best practices of U.S. Cities.
Hallandale Beach, Florida, with a population just shy of 40,000, is roughly four square miles in size. It is bordered by I-95 on the west, the Atlantic Ocean on the east, the City of Hollywood to the north, and the city of Aventura and the Dade County line to the south. The city is probably best known as the home of two racetrack/casino venues: Gulfstream Park, which features horse racing, and the Mardi Gras which hosts greyhound racing.
Gulfstream Park first opened in 1939 and for decades was one of the most important venues for thoroughbred horse racing in America. Today, the complex is a thriving village of shops, restaurants, art galleries, outdoor cafes, bars, and nightclubs, employing more than 2,000 people and welcoming hundreds of thousands of visitors, annually. The Mardi Gras, which closed for several months, last year, after being damaged by Hurricane Irma, was recently purchased by real-estate mogul, Jeffrey Soffer of Turnberry Associates, a world-class developer who has renamed the venue, The Big Easy.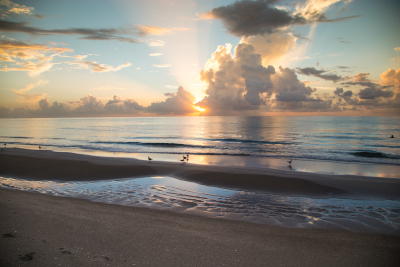 Hallandale Beach is also a city of parks and open green spaces, and the city administration is intent on maximizing their amenities for the benefit of its residents and guests. "We have two parks under construction, right now," says Mayor Keith S. London. "We have Bluesten Park, which is approximately a $30 million project. The project is on time and on budget, and the walls are starting to come up on a 40,000-sqaure-foot structure that the YMCA will be running for us. In addition to that, Ingalls Park, in the southwest, is approximately a $3.5 million project – again, on time and on budget. And in September, we are demolishing the current tennis center and building a new $10 million tennis center. And adjacent to that is Golden Isles Park and that's getting a three or four million-dollar renovation." Two additional parks are slated for upgrades, as well – 2.4-acre Sunrise Park in the northeast quadrant, and Sunset Park in the southwest.
London believes that in the future, because of a change in the city's open space calculations, park land will be at a premium in Hallandale Beach, and the private sector will need to underwrite some of the costs. "There's a minimum standard in Broward County: three acres of open space for every thousand residents," he explains. "We are one of the older eastern cities that counted the waterways in our parks calculation, but we just reduced that calculation. So, instead of having a surplus of approximately a hundred acres, it's going to lower the surplus to under ten acres. So, if a large scale, new development comes into the city, it will have to help us, either by purchase, acquisition, or an in lieu fee, to provide us with more open space. We've identified a couple of parcels – there isn't a lot in our urban environment – but we've identified a couple of parcels where we'd like to have in lieu fees, if they can't do it on their own site."
In addition to a potential open space fee, other fees for new developers, according to London, include: "a stormwater fee, potable water fee, sewage fee, parking fee, traffic fee, and a public safety fee." But, fees notwithstanding, developers continue to invest in the city. "We have the Optimum Building coming up," he reports. "It's a LEED Platinum office building. Another one, just north of Federal Highway, is the six-storey, Accesso office building. So, the zoning that we put in place seems to be attracting and making the development community see us as the option for the Aventura market, which is pricey. In addition to that, two blocks from Gulfstream is an eight-storey tower, called the Beacon Tower; also being considered for A or B+ office space, it should be online in the next year."
As Hallandale Beach continues to expand – generally upward – the streets below tend to get more crowded. It's something that London is painfully aware of. "The three biggest issues in Hallandale Beach are traffic, traffic, and traffic," he opines. "There are city streets, county roads, state roads, and then Interstate 95 is on our western boundary. So, I have limited control as to what I can and can't do on streets. But, the city was able to win a grant from the Metropolitan Planning Organization to do adaptive traffic signals on Hallandale Beach Boulevard, which is the east/west artery. It synchronizes the traffic lights and that should be rolled out in 2021. It was about a $2 million grant; Broward County is helping us with another million and the city is kicking in a million."
Other recent occurrences in Hallandale Beach include a new, $10 million fire station. The city's main Fire station is over 40 years old and has outlived its useful life as well as exceeded the capacity and changes to the operations of the Fire Rescue Department. The new facility, just opened this past June, includes the City's Emergency Operations Center, four drive-through bays, administrative and fire Inspection offices, training space, and living quarters.  There's also a brand new, $500,000 fire truck parked inside.
Another recent development was the decision by the David Posnack School of nearby Davie, Florida, to open a satellite campus in Hallandale Beach. "It was ranked as the number one religious day school in the United States," says London. "So, that's a real coup for our community – to bring in that level of education. That building should take about 20 months to build."
London insists that continued devotion to the needs of the community, as well as pro-active municipal planning, will remain parts of his agenda. "You have an administration that is listening to the concerns of the residents and we are not just looking out for the next budget cycle; we're trying to look out three years, five years, seven years, and ten years, to improve the quality of life for everyone that lives here," he states. "We're also trying to make sure you're getting a dollar in goods and services for every tax dollar that you send to the city, and to make sure that you feel as though your investment is being respected and allocated in a proper way."
Check out this handpicked feature on Altamonte Springs, Florida – Debt-free innovation, "the Altamonte Way".
AT A GLANCE
WHO: Hallandale Beach, Florida
WHAT: A four-sq.-mile city in Broward County; population approx. 40,000
WHERE: Located between Fort Lauderdale and Miami, next to Aventura, Florida
WEBSITE: www.cohb.org
Kaufman Lynn Construction, Inc. – www.kaufmanlynn.com
Kaufman Lynn Construction (KL) is a full-service commercial construction company headquartered in Delray Beach, Fla. Core markets are: multifamily housing, office, municipal/public safety, education (K-12 and university), and mixed use. Established in 1989, KL employs more than 165 at offices in Florida, Texas and North Carolina. The firm is consistently ranked as one of the Top General Contractors in Florida and among the 400 largest contractors nationwide.