Keller Williams Realty Coastal Area Partners
Collaboration, not competition
Business View Magazine interviews Tina Brickhouse, CEO of Keller Williams Realty Coastal Area Partners, as part of our focus on the U.S. Real Estate sector.
As the real estate market has progressed, superstar brokerage firm Keller Williams has grown as well. The average market center has 200 agents, and each Keller Williams office is independently owned and franchised. A star in its own right, Keller Williams Realty Coastal Area Partners was started in 2004 by Nancy Thompson, Bo Longgrear and an investor group with 12 agents and today has 335. Headquartered in beautiful Savannah, Georgia, with four business locations (Southside Savannah, Downtown Savannah, Pooler, and Richmond Hill) and five Mega Agent offices, the firm's associates currently buy/sell from Statesboro, GA all the way down to the Florida state line.
Tina Brickhouse, CEO and Executive Director of Keller Williams Realty Coastal Area Partners, began her career in real estate in 2010 as an Keller Williams agent in The Woodlands, Texas, advancing quickly to become Team Leader, and CEO of Keller Williams The Woodlands/Magnolia. Two years ago, she relocated to Savannah, where her energy and passion for the office and agents knows no bounds. And she really knows the market. "We have a big military population here," says Brickhouse, "We work with a lot of veterans, as well as retirees, and people who have a second home here, where they come for the winter. It's also a high tourist draw, so we have a lot of investors. We have a huge variety of sellers, a little bit of everything going on."
Coastal Area Partners is part of the Home Builders Association of Greater Savannah, and many of the agents work with builders and developers. New construction is booming in the Pooler and Richmond Hill areas outside of Savannah; in the city, itself, rehab is the buzz word, as buyers  set their sights on treasured historical properties and restore them to their former splendor.
Brickhouse outlines several attributes responsible for Keller Williams' astounding success worldwide and, specifically, in Savannah. "Number one, we have the best training. We lay a really good foundation for agents to build their business – we look at them as business owners, rather than an agent working for a brokerage (each agent is a 1099 independent contractor). We have systems that we teach agents, and they stay within those bounds to form their own business model. We also have a phenomenal coaching program that helps agents get into production, quickly."
The culture of Keller Williams is an atmosphere of contribution to the greater good of the whole company. Agents often share best practices with each other and mastermind together on building their businesses. Brickhouse says, "We believe in coming from a place of contribution. Having a prosperity mindset, rather than a scarcity mindset. There is enough business to go around. That's what we live and breathe, here. We believe in giving back to our agents and communities." Communication is key.
Red Day is a company-wide tradition that takes place every May. The annual event is a coordinated effort to give back to local communities and honors Mo Anderson, former CEO of Keller Williams International – an amazing woman who started the cultural movement at Keller Williams in 1983. This year, Keller Williams Realty Coastal Area Partners adopted a local senior citizens home as their project. "The project was an act of love to not only enhance a beautiful historical railroad property, but to bring a day of joy and entertainment to its residents.  "We did Bingo and Karaoke with the seniors," says Brickhouse. "Being a non-profit organization, they don't have the funds for extra maintenance. So, we re-landscaped their gardens, painted the front sign, and power-washed. We had about 100 agents helping out, all wearing red, and the people were over-the-moon excited that we came."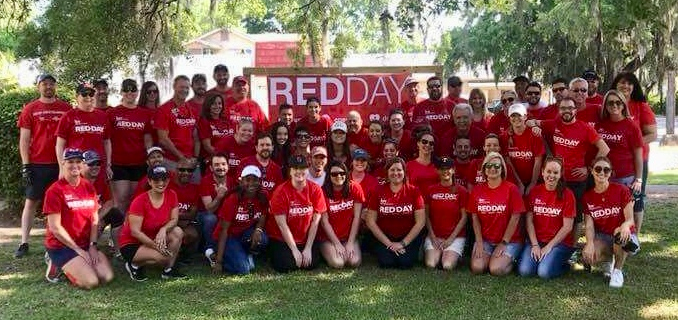 Keller Williams encourages agents to find or fund their own charity. At Keller Williams Realty Coastal Area Partners, many agents champion popular causes. One agent gives 10 percent of every sale to feed the hungry, others partner with the Rape Crisis Center and Safe Shelter for battered women, and the Coastal Pet Rescue to name a few. Even Keller Williams conferences are all about giving. These huge networking opportunities involve top agents for KW International giving out their recipes for success; people who come to KW from other companies are amazed by the amount of sharing between agents.
Relationships are vital to the growth and support of any business. Brickhouse gives a shout-out to four "Strategic Alliance Partners" who have formed valuable relationships with Keller Williams Realty Coastal Area Partners. McManamy Jackson PC, "Our go-to closing attorneys. They are extremely supportive of our agents and go the extra mile." Michael Caputo at Bank South Mortgage " Michael makes sure our agents are up to date on how the economy effects them from a lending perspective." The office also works closely with Home Warranty Partners: 2-10 Home Buyers Warranty and Old Republic Home Protection. "We are blessed to have great working relationships with many area businesses."
Technology in real estate is advancing quickly and Keller Williams is following suit. This year, they are implementing a cloud-based system, and they've just released an artificial intelligence app called "Kelle" that will become a virtual assistant for agents. "We also rolled out a referral network," says Brickhouse. "An agent can go on the site, pick an area on a map, add search parameters, and find agents anywhere to refer business back and forth. The next part to that is a Contact Management System called Keller Williams Command. The platform lets agents track their social media efforts and set up touch programs for clients. It will be an extremely robust system to enhance what our agents already do, because everything will be in one place. The majority will be written by Keller Williams programmers for Keller Williams agents, it's all about building agents' businesses."
Leadership doesn't compete with agents. Instead, they collaborate. At Keller Williams Realty Coastal Area Partners, Brickhouse no longer works with clients. Her mission is to support, coach, and consult with her agents. As for housing stock, Brickhouse reports, "We only have about 2 ½ months of inventory. We actually track three or four local zip codes closely, and inventory is really low. Properties sell quickly – lots of multiple offers – if it's in good condition and priced right, it's selling as soon as it comes on the market."
Where does she see the real estate market moving in the near future? "Right now, there's a frenzy around interest rates potentially rising. The economy is good, so people have money. They're snatching up everything as quickly as they can. Then you have sellers who don't want to list their property because, when it sells, where will they go? They'll have to pay more because housing prices are edging up. It's a bit of a vicious cycle. Building inventory will soon explode due to the shortage; they're building as fast as they can to keep up. For us, listings are leverage and getting them is the main priority. If you control the listing inventory, you control the market."
Keller Williams Realty Coastal Area Partners is the largest real estate company in Savannah. Last year, they did almost $890 million in sales volume, and their agents completed almost 3,979 transactions. They hold the lion's share of the market – between 21 and 30 percent – depending on the county. Basically, one out of every four properties sold in Savannah is touched by one of their agents in some way. So, in true Keller Williams style, Brickhouse celebrates her agents, first and foremost. "We are a large, robust company in Savannah. Our agents do big business, but they also have big hearts – giving back to the community, while working on their business.  The Keller Williams mission statement is: 'To Build Careers worth Having, Businesses worth Owning, Lives worth Living, Experiences worth Giving, and Legacies worth Leaving.' That's what we strive to provide our agents with; the support, resources, systems, models, and technology they need to do just that. We're always looking to bring in new talent, to train and coach them on how to build a productive business and create a Life By Design."
Check out this handpicked feature on Coldwell Banker Wallace & Wallace Realtors – A legacy in east Tennessee real estate.
AT A GLANCE
WHO: Keller Williams Realty Coastal Area Partners
WHAT: Independently owned & franchised real estate brokerage
WHERE: Savannah, Georgia
WEBSITE: http://savannah.yourkwoffice.com