Mafic
Fiber from basalt
Business View Magazine interviews Jeff Thompson, Head of Sales & Marketing for Mafic, as part of our series on the composites industry.
Basalt is an igneous rock formed from the rapid cooling of basalt lava exposed to the surface of the earth. More than 90 percent of all volcanic rock on Earth is basalt. Mafic is an adjective describing any rock, such as basalt, that is rich in magnesium and iron – the word being portmanteau of magnesium and ferric. Mafic is also the name of a company, formed in 2012, to produce basalt fiber – a high quality composite material – into a marketplace that was dominated by fiberglass and carbon fiber.
"Fiberglass is the workhorse of the industry; carbon fiber is the high-end material in the composites industry," explains Jeff Thompson, Head of Sales & Marketing for Mafic, "and we felt there was a wide gulf between those two that was unaddressed. High quality basalt fiber materials really filled that market void." Basalt fiber is most often used as plastic composite reinforcement for added stiffness or strength, but basalt can also be used for high temperature insulation or concrete reinforcement. "We melt the rock at around 1,500 degrees Celsius and draw it through platinum/rhodium bushings to form our final product which is a continuous basalt filament, which can then be wound, chopped, or processed."
Mafic began its operation in Kells, Ireland, roughly 125 miles south of the world's most famous basalt deposit, the Giants Causeway, an area of about 40,000 interlocking basalt columns on the north coast of Northern Ireland. "That initial production facility in Kells, we view long-term as a research and development facility, and one that we'll maintain," says Thompson. "And then here, in the U.S., we are launching our larger production facility in Shelby, North Carolina, which is set to come online later this year. That production facility represents about 6,000 tons of annual production and is the first continuous basalt fiber production facility here in North America."
According to Thompson, the new Shelby location, which now has only about ten people, will ramp up over the coming months, and grow to a complement of about a hundred employees. "We're excited about the expansion of our team, here," he states. "We're creating a lot of manufacturing jobs here in Shelby, and we've found this area to be rich in talent in the composites field, and a lot of smart, hard-working people in this area who can make us very successful."
Mafic's new facility will help it satisfy the needs of its current, and future, customers in the various industries that utilize composites in their manufacturing processes. "That can be in the automotive area; in things like high temperature fabrics for insulation; aerospace; and the growing 'composites in construction' industry. There are many different uses for our fibers. Recently, there have been a number of developments with basalt fiber in 3-D printing, for example. But generally speaking, you can see basalt fiber products anywhere that you might, otherwise, see glass fiber or carbon fiber materials being used. The void in the marketplace that we're filling are the areas that are unaddressed by the very expensive alternative, carbon fiber, or one that requires a higher performance material than is currently offered by a fiberglass product."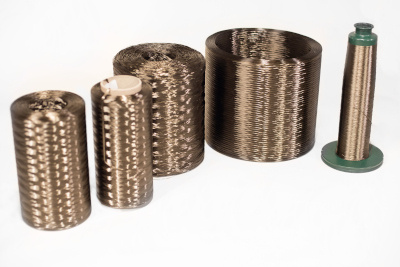 One of Mafic's missions is to educate those potential new customers about the benefits of basalt fiber. "We see that there are many people who have either a cursory knowledge, or basic understanding, of composite materials, and specifically what basalt fiber has to offer, and want to do more with it and gain more understanding," says Thompson. The company, he adds, must also overcome some negative perceptions about basalt fiber materials. "In the past, they hadn't always been made to rigorous quality standards that were required, and the products, themselves, weren't available through a North American production facility. By bringing on production here in North Carolina, we can make those domestic materials available to customers here in the states via a tighter supply chain, greater reliability, and fantastic American production, which, we know, many customers value."
Mafic also offers its customers unparalleled service. "One of the things that we focus on is customer requirements," Thompson asserts. "Many customers have different individual and specific requirements that we need to address. The way that is most evident is through the development of specific sizings – the chemical coating that goes on the outside of basalt fiber that allows it to bond into different resin systems – and our ability to tailor our sizing systems to different customer needs in different thermoset and thermoplastic materials, which then allows each customer to have a tailored 'recipe' for what they're looking for and to help make sure that our fiber is maximizing its properties within their process."
"Previously in the basalt fiber marketplace, it was very much a 'one-size-fits-all' approach," he continues. "And, although, there are offerings which are adequately addressed by a single-sourced type of material, we definitely know that having a diverse array of products and sizing materials is high on many customers' list for the bonding and the performance that they need to see. That attention to detail comes through in the other things that we pay attention to, like making sure that our facilities maintain high quality standards, and other areas where customers know they can rely upon us."
Mafic's owners, who have already invested "a significant amount of money here in North Carolina," according to Thompson, have plans to continue to grow the company's U.S. operations. "We're looking to expand on the firm footing that we have today, and what we will have achieved in a year's time with a year's worth of production out of our U.S. facility," says Thompson. "The way we look to expand is with additional facilities beyond the current one to meet the additional customer needs in the composites marketplace in North Carolina and beyond.
"We have a lot of customers that work with our products, today, here in the U.S. and other North American locations, that currently use our products from our Irish production facility, and we're looking to continue to expand those customers' utilizations, and in addition, support a growing customer base in Europe, where we currently supply from our Irish production facility and need additional supply capacity in order to service their needs."
Thompson views the composites industry – and its marketplace – as an unusually collaborative realm, both chemically and fraternally: "We are a tool in the composites tool kit but we know that in order to use basalt fiber products, oftentimes – almost every time, in fact – you are using some other composite products along with that. Many times it's a resin system, but oftentimes, in order to make a part you're using both carbon fiber and basalt fiber. Or to make the whole system work, you have glass fiber, carbon fiber, and basalt fiber in different areas of application. There is no one complete solution in composites; there are many different tools that work together to make the whole system work."
Regarding inter-company collaboration, Thompson reports that the "end user of a composites product is almost never buying off the shelf some single individual's product. Most often, they're saying, 'I need to solve Problem A.' And in order to solve that problem, there are five different companies that need to come together. We view the marketplace for basalt as growing the composites pie. And the challenge for a company like Mafic, and one of the focuses that we have, is to identify productive partners to solve those problems, to efficiently address market requirements, and to strive to make it worthwhile for all of the companies that we work with, within the industry, to succeed."
While working to make the entire sector successful, Thompson is convinced that Mafic, itself, has what it takes to succeed here in the U.S., based upon its superior technical knowledge and its excellent production capabilities. "We're a technically inclined company," he says. "The internal training that we have continues to produce fantastic employees and we expect that to continue. Our institutional knowledge, in terms of how to make high quality basalt fiber products, is great and has started from day one with our Ireland team."
Check out this handpicked feature on Durham, North Carolina – The quest for affordable housing.
AT A GLANCE
WHO: Mafic
WHAT: A producer of basalt fiber products
WHERE: North American headquarters in Shelby, North Carolina
WEBSITE: www.maficbasalt.com