San Benito, Texas
The resaca city
Business View Magazine interviews Manuel De La Rosa, City Manager of San Benito, Texas, for our focus on Infrastructure and Development in American Cities.
The City of San Benito is known as the Resaca City because of the scenic, 80-foot-wide waterway that leisurely winds through this historic south Texas community. Fed by the Rio Grande, the former Resaca de los Fresnos was an old riverbed that serves as the water source for both municipal and agricultural interests. Situated at the heart of the lower Rio Grande Valley, San Benito is bookended on the west by Mexico and the Gulf of Mexico to the east, and is just minutes from the Free Trade International Bridge at Los Indios, one of the most modern ports of entry in south Texas. The bridge provides a quick route to the Mexican border cities of Matamoros, Reynosa, and Valle Hermoso, as well as the industrial city of Monterrey.
San Benito City Manager, Manuel De La Rosa, notes, "We're located in deep south Texas between Harlingen and Brownsville, about 30 minutes from South Padre Island. Brownsville is about a 20-minute drive to the border at the south. The city is also part owner of the Los Indios International Bridge. The cities of Harlingen and San Benito each have a 25 percent interest and Cameron County has a 50 percent interest in that bridge. So, we share in the revenue from the tolls."
San Benito is a working-class suburban community of about 24,600 citizens who mainly commute to jobs in Brownsville, or Harlingen, or other neighboring cities to the west. The small amount of industry in the city is transportation-based and either comes from Mexico or goes from Texas into Mexico. Brownsville is experiencing growth because of SpaceX; Harlingen because of the medical schools locating there. San Benito has also seen some development – recently, the area's electric energy provider, AEP Texas, consolidated five of their service centers into one flagship location on a 40-acre site it purchased from the city. The property is part of 170 acres of city-owned land that used to be an old municipal airfield, then a fairgrounds. The AEP building is 87,000 square feet and was built to withstand a category 5 hurricane. It's a man-made fortress to protect equipment and vehicles, including large 18-wheelers. Yet, esthetically, it's very pleasing to the eye.
According to De La Rosa, "When the AEP Service Center came in, they reached an agreement with the city for certain incentives, which is how we sold them the land, and they got about half a million dollars through the city's EDC. The company committed to roughly $10 million worth of investments. When it was all said and done, it was $23.7 million of investments. So, what somebody may commit to on paper is just the obligation; knowing they are going to actually invest much more – they just don't want to be held to that standard. Which is the same thing we have going with a 10-acre development. It is zoned as commercial and will be known as Resaca Village."
Those 10 acres comprise a tract of land the EDC has slated for a mixed-used development that includes businesses, office buildings, and retail shopping, and with a boardwalk-type feel along the resaca. The three-phase development will have a $5-$8 million initial investment and upwards of $10-$12 million when complete. "We have a lot of self-standing medical offices going in," says De La Rosa, "some of the people buying these properties are from along the Gulf coast in the Houston area. They're developing them and then bringing doctors and other professionals into the area, because within three miles of San Benito, and most of our development, you can access both Baptist Valley Hospital and Harlingen Medical Center. It's an opportunity for any developer wanting to invest in these properties and, currently, we've seen a steady increase in our property valuations because of all the transactions of buying and selling land around here. In the last two years, we've had at least ten offices built. This is all new development."
The repurposing of older buildings is also gaining momentum in the historic downtown area, along Sam Houston Boulevard. The EDC has a façade grant program that matches up to $10,000 for improvements to the front of a building. They also provide six-month rent subsidies, if you sign a two-year lease agreement. That incentive is drawing renewed interest for people to move back into the downtown. The city is also negotiating economic development incentives to get repurposing of historic buildings moving forward. There is currently some mixed-use in the downtown area; developments with retail on the first floor and living accommodations, including rental units on the second floor. And more are being encouraged.
San Benito works closely with Cameron Workforce Solutions and Texas State Technical College (on the northeast side of the city near the Harlingen Airport) to provide a skilled labor force for the various industries it's looking to recruit to the community. Skilled trades courses are also available at the University of Texas Rio Grand Valley campus in Brownsville, a 20-minute drive away. As for its housing inventory, San Benito has been approving plats for the last two years that include residential. Most are from 20 to 40 homes. The homes are averaging around the $140,000 mark for a base price. The cost of living in the area is an attraction, in itself. For $160,000, you can purchase a very attractive, 3-bedroom, 2-bath, brick veneer home.
"We are also home to the Fun-N-Sun Resort," says De La Rosa. "It's one of the largest RV parks in Texas. I've been recruited as a judge for their Mardi Gras in February and they're a very happy-go-lucky, over-55 group. We call them our winter Texans – they're not only good for our economy, but for the whole region. They have a large community center of their own and host a lot of parties, but all the supplies come from local vendors. The place is well manicured, they have their own security, it's a town within a town. They create a lot of activity which generates traffic for us."
Luis Contreras, San Benito's Cultural Arts Director, chimes in on tourism as a growing economic driver. "We cater to visitors with a lot of festivals and museums. Along with the new San Benito Cultural Heritage Museum, we have the Texas Conjunto Music Hall of Fame and Museum, the Freddy Fender Museum, and an up-and-coming San Benito Cultural Arts Center. That Center and the Cultural Heritage Museum promote travelling exhibitions in art, science, and culture that have drawn people from across Texas.
"Our music community is very large – we are the home of conjunto music, which is an accordion-based mix of German polkas and Musica Ranchera (the ranch music in Mexico). It's a lot of fun and it belongs to San Benito. The city created the South Texas Music Festival, which promotes the evolution of the conjunto sound to target families and a younger audience. I've learned the importance of focusing on the youth; they'll have the jobs tomorrow that will help sustain any museum organization. We strive to create unique things to promote our city, like the Music Festival and our Hog Waddle Country Concert and Cookoff. San Benito was known as a go-through town and we want to make it a go-to destination, bringing outside people here."
Martha McClain, San Benito PR Director, adds, "From an environmental outlook, we're in the third stage of a wetlands project designed to attract birds and wildlife to our area. And we're able to do this through a series of grants we've been receiving. Birding and ecotourism is another influencing factor that draws a lot of winter visitors from around the world to this area to view some of the unique species here. We also have a new $1 million park under construction at the south end of town that we're pretty proud of. That was also funded through grants. For the future, we expect a lot of retail development to be coming in and we're beefing up our marketing plans. We have a lot of bargain-priced land available for new businesses; we're featuring that in all our promotions. With our proximity to the coast, to Mexico, and the I-69 corridor that takes all our products up north, we're in a natural position for growth and development."
De La Rosa sums it up beautifully, "San Benito offers a great quality of life. Any family or business professional wanting to relocate, they should really consider looking at us."
AT A GLANCE
Who: San Benito, Texas
What: Historic "Resaca City"; population approx. 25,000
Where: Rio Grande Valley in south Texas
Website: www.cityofsanbenito.com
Codysur Group – codysurgroup.com 
Since 2003 Codysur Group is bringing the world together in the transportation and logistics industry.  
The Group is a highly skilled network of professional staff and drivers who have made the commitment to exceed customer expectations which is why we emphasize in training our employees, and contractors to achieve absolute success. 
Codysur Group offers a variety of services to help you make your business a success.  
Whether you need a one-time international shipment or warehousing and ongoing supply chain management, we are here to help you meet your shipping needs 24/7. 
We provide expedited ground freight services, air and sea freight forwarding, customs brokerage, logistics and other specialized services 
Codysur Group provides the most reliable delivery of our client's goods by meeting the highest quality control and on-time delivery standards. We seek to "Accomplish our costumer's needs". 
We tailor-made special projects to accommodate the needs of our customers. 
We have all your transportation services under one roof at competitive rates. 
Codysur Group manages everything related to your shipment or movement maneuvers… and we do it for YOU. 
If you want to know more about Codysur Group, please visit us on: codysurgroup.com, or contact us on: sales@codysurgroup.com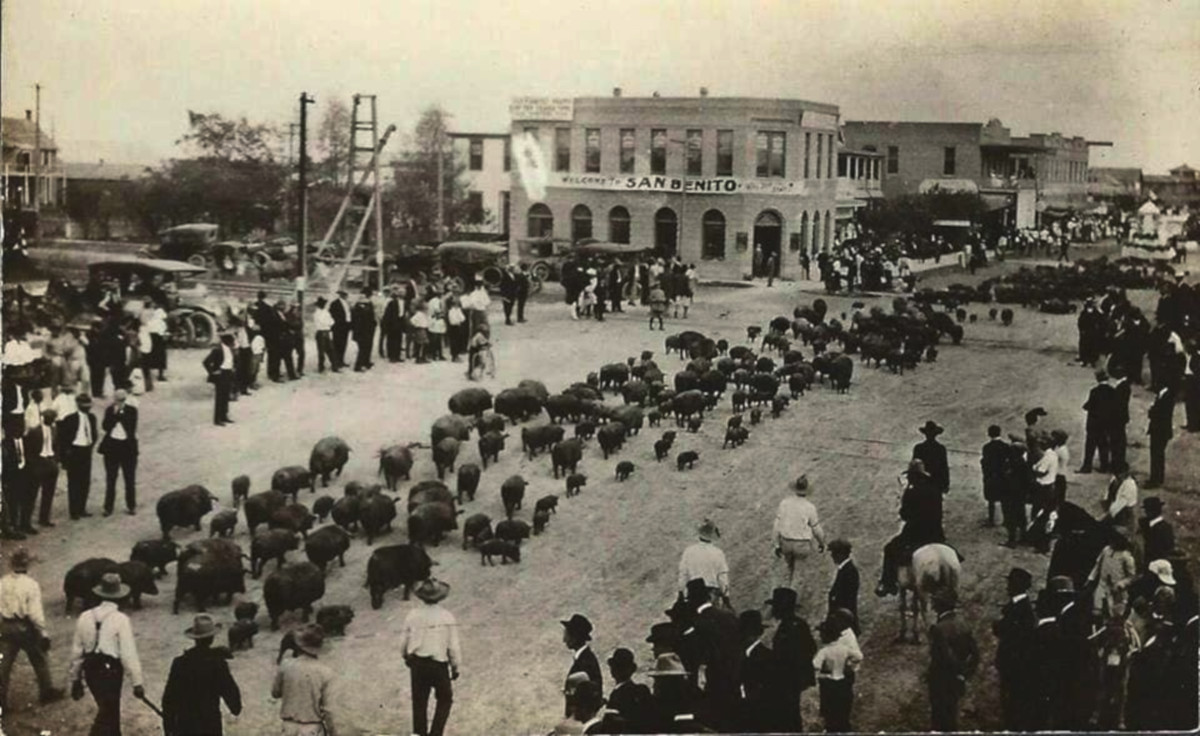 The San Benito Hog Waddle Country Concert and Cook-off is legendary. Hog waddle is a funny term but it's also a historical tidbit that is exclusive to San Benito. Back in the early days, around 1914, the town had their annual Cabbage Day parade to celebrate the harvest. One year, one of the town's pioneers, Alba Heywood (an agricultural engineer) decided to march about 2,000 of his hogs in the parade and it was quite a spectacle.
At the end of the parade, someone fired a celebratory shot in the air and scared the hogs and they scattered through the town. It took the people about three days to round them up. So that's the first and last time San Benito had a hog waddle. But they do still celebrate with an annual concert and delicious cook-off!