RYOT
For smokers by smokers
Business View Magazine interviews Dan Talbot, VP and CMO of RYOT, as part of our focus on best practices in the growing legal cannabis sector.
Established in 2000, RYOT is a company that designs and distributes products especially geared for the growing cannabis marketplace, including: storage boxes, jars, and cases; vaporizers; grinders; rolling papers and rolling trays; and pipes and "dugouts." (A dugout is a hand-held wooden box that holds a small "one-hitter" and a limited amount of ground marijuana in two different sections. A user would slide open the dugout, pull out the commonly spring-loaded pipe, and pack it by pressing it into the compartment containing the bud. Dugouts are popular because of their semi-discreetness and level of easiness to use.)
The company was founded by its current CEO, Mark Staiano, who saw a need for practical smoking devices and accessories that could store, conceal, and carry cannabis at a time when marijuana was not yet legal in many places. Indeed, the acronym RYOT stands for Roll Your Own Tobacco, a nod to the fact that a lot of products, back then, were promoted as tobacco products in an effort to divert attention from their actual intended uses.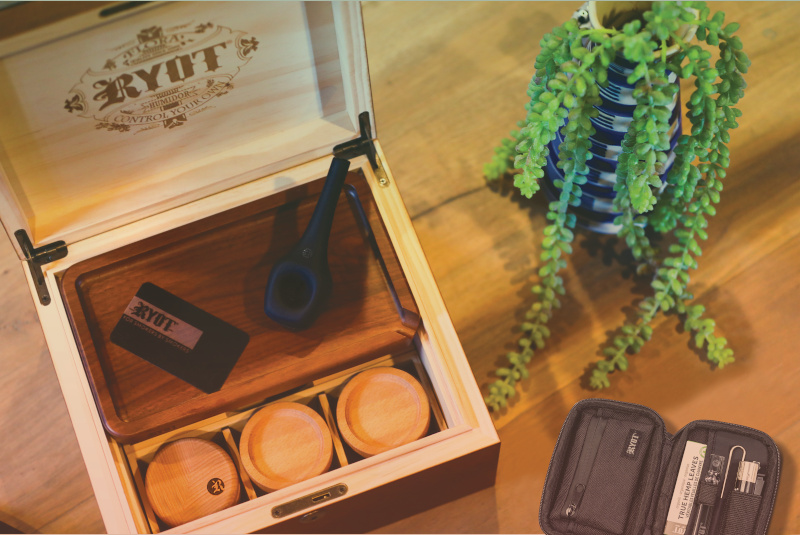 RYOT is based in Miami, Florida, with warehouses in Seattle, Vancouver, and Toronto. The company doesn't manufacture products, but designs and works exclusively with manufactures near and far, and then distributes them in the U.S., Canada, Australia, Chile, Columbia, Germany, Israel, Jamaica, Spain, and the United Kingdom, among other locales. "We've been able to span the globe," says Vice President and Chief Marketing Officer, Dan Talbot. "We're sold in over 30 countries at every level from distributors, to brick and mortar stores, to online resellers. We have vendors that we work with, but we design everything in-house. Nothing is purchased off the shelf. All of our products are our own, designed in-house and built, specifically, for our needs and for our customers."
As cannabis became legal in more and more jurisdictions, the company expanded its position in the marketplace, first focusing on U.S. states that legalized recreational marijuana and, most recently, across Canada, where recreational use became legal last year. "We've tried to position ourselves as a household brand that people can know and trust and to destigmatize the cannabis industry as a whole," says Talbot. "We've been around long enough, and we've been able to position ourselves and our brand name, so people know what they're getting from the RYOT brand. Typically, that's a quality, purposeful product. It doesn't have all the bells and whistles, all the glitter and smoke. You get a product that's built in a utilitarian way, designed well, and at a price that's accessible."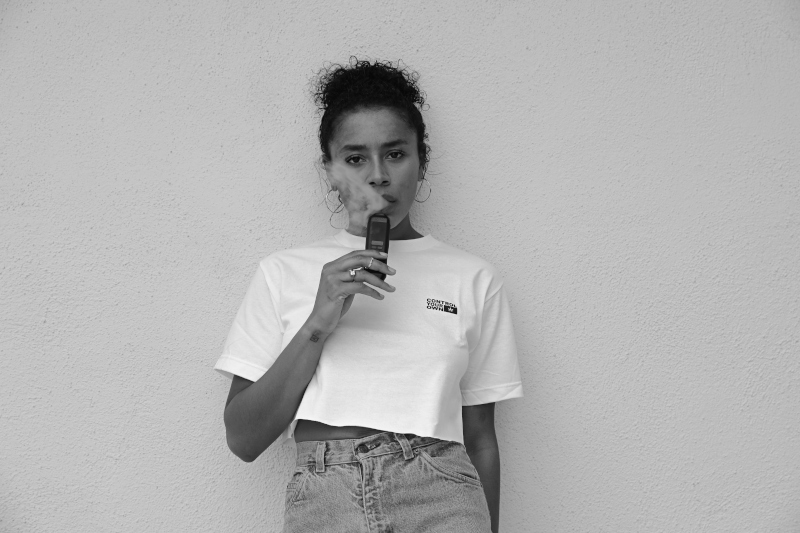 "Part of our philosophy is creating a full, 360-degree experience around store, preserve, and consume," Talbot continues. "We have an entry level product for everybody, with all different categories from great storage devices, boxes, hand grinders, canisters, to rolling trays, smell-proof bags, and other carrying devices. And are constantly coming up with new products. We released 12 new products, this fall alone. We just released a brand new vaporizer line like nothing ever seen before, which has a dry herb vape as well as an oil concentrate vape. We watched the vaporizer market evolve, but we were waiting for someone to come out with a product that was satisfying to us, and it just didn't happen."
While the laws against cannabis consumption are changing, Talbot admits that RYOT, as well as other companies in the marketplace, are "not out of the woods, yet, and things can happen," he avers. "We've had products detained and we've had to fight those battles. But, we're slowly seeing the walls come down; more states are going 'rec,' with Canada making the push. And there are other countries following that lead and we're certainly preparing for that. Our business is becoming more sophisticated for those reasons. It's been challenging, but a great experience. We've got a great team and we all rise to the occasion. We're a responsible company; we're not marketing to minors; we're out there to create a product that's responsible and discreet and fulfills the needs of any customer from any walk of life."
In addition to selling its products to its existing online customer base, Talbot says that RYOT does a lot of B2B, as well as consumer shows. "We have a very loyal fan base," he notes. "And sometimes we'll do a test market. We'll ship a new product to a few select customers. We incorporate our customers into the experience and people really like that. They become part of our family. We're always evolving and we adjust to the feedback that we receive."
"We are the brand that's for smokers by smokers," says Talbot, in conclusion. "We create products for the everyday lifestyle enthusiast, as well as the passive enthusiast, and those that just partake. We create products that are very discreet but functional. We're not trying to come across as a super, high-end brand – we're very down-to-earth. And I think that anybody, new or existing in the space is going to be fine with our products. There's really not much that we're missing."
AT A GLANCE
WHO: RYOT
WHAT: A company that designs and distributes cannabis-related products
WHERE: Miami, Florida
WEBSITE: www.ryot.com