Grand Junction Regional Airport
Change is in the air
Business View Magazine interviews Angela Padalecki, Executive Director of Grand Junction Regional Airport, as part of our series on U.S. regional airports.
"We're looking at the long-term vision for the Airport," says Angela Padalecki, Executive Director of Grand Junction Regional Airport, a public airport three miles northeast of Grand Junction, in Mesa County, Colorado. The commercial and general aviation facility, which originally opened in 1930, today is the largest airport in the western part of the state. It supports over 700 employees, and serves over 452,000 passengers and 4.5 million pounds of cargo, annually. And, it is on the verge of some major changes.
Encompassing 2,300 acres, Grand Junction Regional Airport includes two runways, one terminal, and multiple hangars and tenant buildings. According to Padalecki, the combination of commercial and general aviation tenants creates a unique atmosphere. "This Airport is unlike any other airport I'm familiar with in that we have an important role in the commercial community, but we also have a robust general aviation community, as well," she states.
On the commercial side, Grand Junction Regional Airport welcomes daily flights from Allegiant, American Airlines, Delta, Denver Air, and United. FedEx flights connect to Colorado Springs, Fresno, California, and Memphis, Tennessee. The Grand Junction Regional Airport is also home to several large, commercial and non-commercial aviation organizations such as the Bureau of Land Management, Twin Otter International (an aerial survey, surveillance, and research aircraft provider), and West Star Aviation an airframe, engine repair, maintenance, modifications, and avionics installation. Multiple flight schools and college collaboration educators are tenants at the facility, as well.
"About 80 percent of our operations are general aviation," Padalecki notes. "That's, in part, because we have a lot of folks with hangers here, who use us as their home airport. A lot of this traffic is driven through our MRO firm, West Star Aviation, who runs an excellent aircraft overhaul division." Calling it a "massive operation," she attributes 500 of the airport's overall jobs to the firm. The company is currently undergoing expansion activities, increasing its footprint by 94,000 square feet.
Mark Papko, Director of Operations, adds, "We have a diverse group of tenants, coupled with our military operations. Although we don't house any military establishment onsite, West Star does have a military contract. So, it's not uncommon for us to look on the ramp and see 17 or 18 F-18's or 15 Blackhawk and Apache helicopters. We definitely get a diverse mix of everything landing from a G6 getting an overhaul to slurry bombers taking on fire mitigation operations, and military or commercial aircraft."
As the Grand Junction Regional Airport's business has grown to include a diverse portfolio of tenants, its infrastructure needs have, likewise, evolved. Its latest endeavor, a new airstrip, will require $130 million in funding and will help shape the future of the facility. "We have a project that kicked off this summer, a replacement runway," Padalecki reports. "Our primary runway is 10,000 feet long and 150 feet wide and can land just about everything. But it was built in 1952, and is approaching the end of its useful life. So, we're replacing it and building a new one."
While the reasoning is simple, the efforts are far from it. "If we overhauled the current runway, we'd have to close it for a year, which isn't an option," she admits. "The replacement will have the same geometry and be 600 feet north of the existing runway, meaning construction can run while operations continue."
There are, however, obstacles. "Right now, where that runway goes, we have hills," she adds. "We have to move four million cubic yards of dirt before we can begin building it. So, it's a five- to ten-year project. It will be funded primarily through FAA AIT (Airport Improvement Program) grant funding. So, the speed in which we move forward will largely be driven by the speed and size of our grants from the FAA. Our ten percent match is something that we have available now. That way, we can say to them with accuracy, 'as quickly as you can provide funding, we have our match.'"
The plans for the new runway are also shaping the conversation about the Airport's future as a whole – including its terminal. Padalecki explains, "We have an opportunity right now to say, 'We're building this new runway. We know where the most critical piece of infrastructure will be. So what makes sense for our terminal? Do we continue to invest in this terminal? Do we develop plans to expand it? Is this the right spot? What about roads and access ways?' So, we're really looking at what makes sense for our terminal."
In the meantime, the executives and staff within the Airport continue to focus on daily travel. "Our tagline is 'Daytime Travel Matters,' Padalecki remarks. "We have the best on-time performance in any airport in the state, and almost the country. Our on-time performance is over 90 percent, and we almost never have any cancellations. So, our passengers can rely on us. And if there is a problem, it will result in a delay – not a cancellation, which is huge."
The Grand Junction Regional Airport is not only dependable for its planned passengers, it's becoming a top option for airlines forced to divert from original Colorado destinations due to weather or extreme conditions. Padalecki says, "This past year, we had about 150 planes that diverted here. The passengers de-boarded, got on busses and were bussed to the resorts they were trying to get to. So now, we're starting to see passengers come through more often who originally traveled here, unintentionally."
Papko concurs, saying, "Our reliability isn't only an internal business strategy – it's also externally noticed. With 150 to 160 diversions per year, airlines are beginning to realize that they can just come here, first. Some aircrafts take off from Chicago, or the east coast, knowing if they can't get to the smaller mountain airports, they can get in here. But diversity is a big one too when it comes to marketing what the Airport has to offer. Our location includes guaranteed travel and guaranteed activities, with some of the world's best mountain biking and world-class skiing."
"Our airport is small, so you can get off the plane and into the rental car within 10 minutes," Padalecki avers. "And then, a 2-hour drive gets you to a ski resort that everyone else is still a quarter-day away from making. We want travelers to use our Airport as a gateway to outdoor recreation in Colorado."
When Padalecki says "we" she means the entire Airport staff, concluding her remarks with applause for her fellow associates. "The team here is so focused on what's in their control, and really doing their best, while partnering with others, that it creates a really powerful environment when it comes to what you can accomplish. Everyone here wants people to love our Airport."
Check out this handpicked feature on the Ithaca Tompkins Regional Airport – There at the beginning.
AT A GLANCE
WHO: Grand Junction Regional Airport
WHAT: A commercial and general aviation facility
WHERE: Three miles northeast of Grand Junction, in Mesa County, Colorado
WEBSITE: www.gjairport.com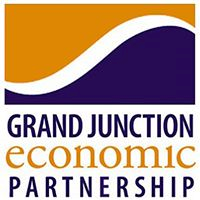 Grand Junction Economic Partnership
www.gjep.org
www.riverfrontcolorado.com
The Grand Junction Economic Partnership (GJEP) is the official economic development agency for Colorado's Grand Valley region, which includes Mesa County and the cities of Grand Junction, Fruita, Palisade, De Beque, and Colbran. GJEP is a private, non-profit organization that provides business services and operates in conjunction with its economic development partners in local government and the private sector. Its vision is to create quality jobs and expand capital investment through the attraction, expansion, and retention of primary business.
West Star Aviation –www.weststaraviation.com
In addition to West Star's 282,000 sq. ft. on over 32 acres at Grand Junction, CO, West Star occupies two additional full-service MROs in East Alton, IL and Chattanooga, TN. The five times voted #1 MRO specializes in airframe and engine maintenance, paint, interior and avionics on most business airframes.