Futures of Palm Beach
Dedication and compassion
Business View Magazine interviews representatives from Futures of Palm Beach as part of our focus on best practices of addiction treatment centers.
Futures of Palm Beach is a residential, inpatient addiction treatment center that provides foundational rehabilitation for alcohol and drug abuse by delivering holistic, personalized care for substance abuse and co-occurring disorders, with the goal of sustained lifelong recovery. The center was established in 2012 by the management of GMH Ventures, the private equity division of the Holloway family office. "Like many American families, they've felt the impact of addiction and pursued a mission to create a sustainable platform to help others, and the country, address the need for quality resources," says Todd Murphy, Vice President at GMH Ventures.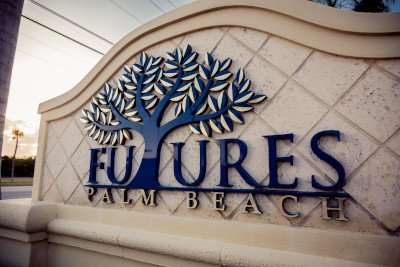 In order to carry the mission forward, Murphy says they sought the experience of  the "best people in the field," and were fortunate to hire both Dr. Gloria Dunkin, MD, a triple board-certified specialist in addiction psychiatry to be the facility's Medical Director, and John Maguire, LMHC, CAP, ICADC, who rose to the title of Clinical Director. Together, with their coordinated care team of 100-plus employees, they are able to meet the needs of clients from both a medical and clinical perspective. "We are an abstinence-based program," Maguire explains, "and we're looking for balance – physical, psychological, social, and spiritual.  A key component of our program relies on the capability of different departments working together to help the individual."
Regarding composition of the current clientele, approximately 30 percent of Futures of Palm Beach clients are local to South Florida, serving both men and women with a predominant age range of 30 – 40 years old. "When they come to Florida from out of state, it's because they need to be away from their triggers," explains Dunkin. "That's a big component. I hear from our patients many times, 'I've been to treatment, before; I was close to home; or I was outpatient; but I felt I needed to remove myself because of the triggers that surround my home environment.'"
"As far as the initiatives that we've been working on, it's a continuous initiative to constantly review our program to make sure that we're meeting the needs of the clients who arrive," Maguire states. "That is from a medical, clinical, and wellness perspective. Dr. Dunkin and her team address any medical needs; we also work with our physical fitness trainers, as well as physical therapists."
"We are very well aware of the tremendous impact of the opiate crisis and also very cognizant that the traditional treatment model presents challenges for individuals," Dunkin adds. "You cannot just tell an opiate addict, 'We'll detox you and give you a few days of treatment, and change your life.' So we're constantly researching the science and studies being performed to combat the crisis, including MAT, which is medication assisted treatment. What we'd consider is incorporating MAT into a very-well monitored behavioral program, with case management and core clinical services."
"From a medical and clinical perspective, we want to continue to do our research to identify what needs need to be met," says Maguire. "We all know about the young heroin addict, but there are quite a bit of older adults with an opioid dependency, too. So, we want to continue to hone our skills and build on that. In addition, it's very rare that a person comes in here and only has one issue. So, it's about developing our programs in regard to eating disorders, or chronic pain, or the trauma that a person has experienced; to focus on that and to help the person in their entirety and not just in regard to their substance abuse."
"The word 'ethical' is of the utmost importance to me," states Dunkin. "As a dedicated professional, I never want to feel like we're compromising our values or that our skills are going to waste. The patients here are treated with the utmost respect, and I think that makes a difference in our outcomes."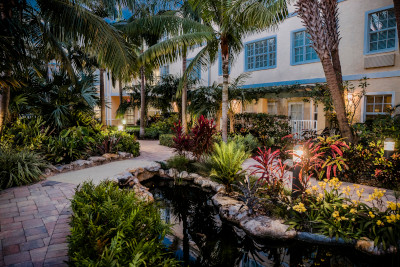 Maguire agrees. "If you were to walk in here, you would realize the dedication from all departments – medical, clinical, support, and even the folks who work in the kitchen and help with the housecleaning," he declares. "It's the dedication and the compassion that they have for the individuals who are here. We understand that it takes a lot of courage to come for treatment and it takes a lot of strength. And we're here to support them."
As in many addiction treatment centers across the country, a portion of the Futures of Palm Beach staff are, themselves, in recovery. "And they're open about it, in regards to their journey," says Maguire. "There are staff members who have walked in the same shoes as the clientele, and they share their experiences and the hurdles they were challenged with, when dealing with our clients. "A lot of people in our call center in admissions are in recovery," echoes Murphy. "So they're very well-equipped to help guide people and, more often than not, the thing I hear the most is that they appreciate the fact that they picked up the phone and took the chance to make that call. That is typically the step that requires the most courage – to make that call and reach out for help. That's why it's so vital that we have the right people to handle that first phone call."
Both Murphy and Dunkin also want to re-examine the facility's relationship to the insurance carriers that reimburse for client treatment services. "The industry has been changing because of insurance mandates, and in the opiate crisis everything is being pushed towards outpatient treatment," Dunkin opines. "We can detox the patient and then we have to speak to a reviewer and see if they will cover the patient. We strongly feel that the longer a patient stays in treatment, the better off they're going to be. In order to get all the tools that they need to live a life of recovery, it takes time. We're rehabilitating the brain, body, and spirit – taking the person from a state of using multiple substances to clearing their mind in a medically safe environment. Often, insurance will dictate the length of treatment through the utilization review process." To offset the complexity this dynamic creates, Futures work with clients and their families prior to admission to understand and explain the benefits of an individual's insurance plan and the financing required for the program.
Going forward, Murphy says the team desires to "amplify" the Futures of Palm Beach model. "We want to create that hub and spoke of services either directly or through partnership with other behavioral healthcare professionals outside of our local geography. "Recovery is a life-long commitment and life-long journey," he declares. "And Futures takes that approach from day one. Typically, we are fortunate enough to have at least a month with clients, but that does not mean that we forget about them on day 31. We want to stay in touch with them; we want them to come back for planned alumni events. And that commitment to a life-long approach to recovery, with Futures of Palm Beach being the steward and the support, is really what this is platform is all about."
Check out this handpicked feature on Casa Colina Addiction Treatment Center – For a healthy life.
AT A GLANCE
WHO: Futures of Palm Beach
WHAT: A residential, inpatient addiction treatment center
WHERE: Palm Beach, Florida
WEBSITE: www.futuresofpalmbeach.com