Caring, compassionate service for seniors
The Oaks of Clearwater is a fifteen-story high-rise located on the intercoastal waterway of Clearwater Beach, Florida. It is owned and managed by TJM Properties, an acquisition and management firm specializing in hotels and senior living. Madeline McCarthy is a TJM Director. She is responsible for the company's portfolio of Senior Living Communities, and ensuring that they all deliver "Caring, Compassionate Service" to their residents. She describes the history and present status of the Oaks of Clearwater, today, one of the top retirement and senior living residences in the greater Tampa Bay area.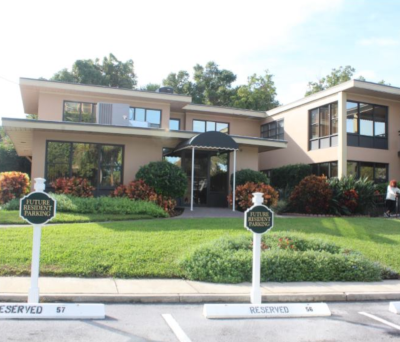 "The Oaks of Clearwater was originally built to be a retirement community, approximately 30 years ago," McCarthy relates. "When our company acquired the management of the property in 2001, the original plan of the previous owner was to turn the property into condos. But the ownership of our company decided that it wanted to keep it with the purpose of serving senior citizens and to continue it as a retirement community. And that's what it still is, today."
One unique aspect of the Oaks of Clearwater is that it encompasses every level of care offered by the senior living sector. McCarthy explains: "We have independent living, assisted living, a memory care community, and a nursing home, which is a skilled nursing and rehabilitation center. So, we have a full-service retirement community that encompasses all levels of care. Usually, retirement communities focus on an individual sector, or, potentially, two. It is rare that a community encompasses all levels of care. But for us, it's quite an advantage because it gives us the opportunity to afford seniors who move into our community, say at an independent living level, the opportunity to age in place, which is really great for the continuity of their care, and also for our operation."
Fran Davis is the Oaks' Assisted Living Administrator, responsible for all the staff and functions of the Assisted Living portion of the community. Assisted Living is the ideal retirement solution for seniors who wish to remain independent, but require some assistance with the activities of daily living. Davis' job is to ensure that all residents receive the necessary physical, mental, and social care they need to thrive, commensurate with their individual requirements. She talks about some of the facility's distinctive services offered in her domain:
"What also is unique about our community is that we have an à la carte service for our residents in the independent living setting," she says. "It's a go between, so to speak, before they get to assisted living, to afford them the ability to age in place." Another service provided at the Oaks is Home Health Aides, who "go to the residents in their independent setting and assist them with the services that they are in need of," adds Davis. "We also have a companion service, which is utilized in all levels of care, not only in independent living, for residents who may require escorts for shopping, or one-on-one socialization, or companionship."
The Oaks of Clearwater has a little over 200 employees. The community has approximately 125 independent living units; 125 assisted-living residents; 50 memory-care residents; and a 60-bed nursing, rehabilitation unit. According to McCarthy, about half of its residents come from the surrounding area and half have originally come from up north. "They moved down to Florida as a lot of seniors do, sometimes as snow birds and sometimes just to migrate down here because the Clearwater area is paradise," she exults. "We're very fortunate to be on the water, so we really are the retirement dream. People joke in our industry about retirement living being similar to life on a cruise ship with all the activities and fun, with meals and everything provided for you. And when you look out our windows over the water, to some it could be confused for a cruise ship."
Davis, herself, also relocated from up north and moved down to Florida in the early 1990s to join the staff at the Oaks. She says that what has kept her there all these years is the facility's resident-driven culture. "We tell our staff that we work in their homes, they don't live where we work." Regarding her personnel, Davis is effusive in her praise. "It takes a very special person to make us successful. There are a lot of good people who work here and I'm very proud to be a part of that team."
McCarthy adds that another way in which the Oaks stands apart from the competition is its combination of all-inclusive living and à la carte services. "A lot of retirement communities have a mentality where it's either all-inclusive, or all à la carte. But ours is a combination of both. We're an all-inclusive retirement community, but we customize our services to fit the needs of the residents," she says.
McCarthy believes that the Oaks truly offers its residents a senior living life style that challenges the stereotype that many have about retirement communities. "The perception is often misconstrued," she says. "A lot of seniors have a vision of retirement living as if it's the wheelchair in a dark corner. It's got a negative reputation and something that we've tried to negate, over time. And what we try to do through our advertising is let them know that it is not a beginning to an end, but a new beginning. That coming to a retirement community, as a senior, is life-altering in a positive way. They have the opportunity to thrive and grow with people their age, to communicate, socialize, and have fun. Just because they're in their seventies and eighties certainly doesn't mean that they can't have fun. There are a lot of people that still come in at an earlier age because of the activities and exciting things that they have going on here."
Over the years, TJM Properties has made extensive renovations to the Oaks property. "It's a thirty year-old building, but when you walk inside you would never know that," McCarthy says. "We've redone our entire lobby area; we've redone our dining room; we added an independent-living-only, inclusive feature in our community: a bar and lounge up on our 15th floor and an independent-living dining room." TJM also did a lot of grounds renovation. So much so, in fact, that the facility was the 2005 recipient of the City of Clearwater Beautification Award for outstanding presentation and landscaping.
While any expansion of the Oaks' physical property is unlikely because of its position on the intercoastal waterway, Davis says that the facility is always looking for new services for the benefit of its residents. "Because we are a resident-driven business, we continue to look at the services that we have available so that we can align ourselves with what's headed towards us. We continue to be creative and more person-centered in order to meet the needs of the residents who are moving into our community." McCarthy adds, "If there is anything we can do to enhance the lives of our residents, we are always open to that. The Oaks of Clearwater is a beautiful, fun place, where life begins again for senior citizens. It's a place where they can feel safe and secure for the rest of their lives."
AT A GLANCE
WHO: The Oaks of Clearwater
WHAT: A full-service retirement community
WHERE: Clearwater, FL.
WEBSITE: www.theoaksofclearwater.com