The Bartow Municipal Airport
A history of pilot training
Business View Magazine interviews John Helms, Executive Director of the Bartow Municipal Airport, as part of our series on American regional airports.
Like many of the airports in Florida, the Bartow Municipal Airport (BOW) in Polk County, was originally built as a World War II air base. "The vast majority of the airports in the state were built in less than a year at the outset of World War II," says John Helms, BOW's Executive Director. "It was just an amazing feat of engineering. It's hard to be part of military aviation and not have some connection to the State of Florida."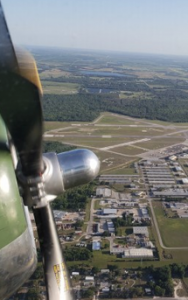 "BOW opened in 1943 as the Bartow Army Air Field and it operated as a fighter replacement training station for P-51 Mustangs, until 1945," Helms continues. "The airport was briefly turned over to a civilian operator until 1951, when the Air Force came in and took possession of it, opening the Bartow Air Base as a primary pilot training base. They operated T-6 Texans, T-28 Trojans, T-34 Mentors, and T-37 Talons. Many Air Force pilots came through and received their primary training at Bartow. We also had three astronauts come through for their primary training – Buzz Aldrin was trained here; Ed White and Bo Bobko."
When the Air Base closed in 1961, the ownership was transferred to the City of Bartow, with aviation facilities leased to a fixed-base operator. In 1964 the City requested authority from the Federal Aviation Administration to convert a large building area into an industrial park and, in 1967, the Bartow Municipal Airport Development Authority was established. Today, the Authority operates both the airport and the industrial park, as well as serving as the primary fixed base operation for the airfield and the operator of its well-regarded flight school. While BOW does get some funding from the federal and state governments for capital projects, it operates self-sufficiently with revenues from aviation and industrial park tenants that lease hangars and buildings, and fuel sales.
BOW sees approximately 40-50,000 operations a year, ranging from small, single engine aircraft to large corporate jets. "We have three active runways on this airfield, which is rare for a general aviation airport. Our primary runway is 5,000 feet long and 150 feet wide," says Helms. "We have an operating control tower on the field that's completely privatized. We have fully licensed and certified air traffic controllers, but they are our employees – they work for the Airport Authority. And we're probably operating one of the oldest, still active control towers in the country, dating back to the war era."
"We have 27 employees as part of the Airport Authority, and to this day, we continue that long tradition as a primary pilot training facility," Helms adds. "We're a pretty unique operation. We're one of those medium-level, general aviation airports with an equally large industrial park, so it's a very dynamic operation. It's different than the majority of general aviation airports and even some commercial services airports."
Airside businesses at BOW include three maintenance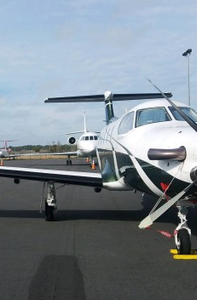 facilities, an aircraft painting facility, two medivac helicopter companies, the Polk County Sheriff's Aviation Unit, mosquito control, and the Bartow Flying Service (operated by the Airport Authority) which provides line service, fuel, and flight training. "In the industrial park, we have over 60 buildings that we own and operate and lease out to multiple businesses," Helms reports. "The industries vary from steel manufacturing to car customization; we have a plastic recycling center and county government facilities. And we're a true multi-modal hub in the area. We have a trucking facility and we have multiple rail spurs."
Terry Beacham, BOW's Deputy Executive Director, says that BOW has plans to expand the aforementioned intermodal capabilities of the industrial park by adding a community rail dock and truck loading facility, as well as additional rail lines. "It would improve the intermodal function of the industrial park, tying highway, rail, and aviation all together," he states.
Other items on BOW's agenda include a terminal apron expansion. "We're trying to get more corporate jet activity at the airport, and during our busy season, our ramp completely fills up," Beacham explains. "Longer term, maybe five to seven years out, we're looking at a runway extension, which would allow us to get a little bit larger aircraft in. We're also looking at some improvement on the airside for convenience – building connecting taxiways – to make the airfield more efficient. In addition, we're always doing rehabilitation projects because we have so much pavement and it's a major challenge to keep up with that. We're constantly trying to get more funding to rehab pavement and refurbish our industrial park buildings, which also date back to the World War II era."
The airport is also looking into the implementation of ground-based ADS-B (Automatic Dependent Surveillance-Broadcast) to provide increased capability to tower operators, giving them the ability to see aircraft in the area in real time from their computer screens. The addition of ADS-B equipment will dramatically increase tower operators' capabilities as well as increasing safety and efficiency of arriving and departing aircraft in a much more cost-effective manor compared to radar services.
While no longer a military installation, Bartow Municipal Airport still commemorates its military heritage. Forty years after the deactivation of Bartow Air Base, a retired USAF T-37 was loaned to the city and the airport by the National Museum of the United States Air Force and placed on a permanent static display pylon as a memorial to the former U.S. Army Air Forces and U.S. Air Force presence at Bartow. The T-37 is near the former air base main gate, now the airport entrance, and the Bartow Air Base Museum occupies a room in the airport's main terminal building.
Check out this handpicked feature on the Spartanburg Downtown Memorial Airport – History and community.
AT A GLANCE
WHO: The Bartow Municipal Airport
WHAT: A municipally-owned, regional airport
WHERE: Bartow, Polk County, Florida
WEBSITE: www.bartow-airport.com