The "first and last mile" in global commerce
Pacific Harbor Line (PHL) is a short line railroad that provides rail transportation, maintenance, and dispatching services to the adjoining Ports of Long Beach and Los Angeles, California, which, together, comprise over 10,000 acres of land and 68 miles of waterfront along Southern California's San Pedro Bay. They are the two largest and busiest container ports in the United States.

PHL was created in 1998, by its parent company, Anacostia Rail Holdings (ARH), a transportation development and consulting firm that owns and develops short line railroads and related transportation and logistics companies. Otis Cliatt, the President of PHL, explains its genesis: "PHL was created to assist the ports of L.A. and Long Beach in expediting traffic from the port going west, and from the eastward, inbound cuts, coming into the port. The port was serviced by the Union Pacific (UP) and Burlington-Northern-Santa Fe (BNSF) railroads, and also the Southern Pacific (SP), prior to the UPSP merger. The old Harbor Belt railroad line was disbanded and Pacific Harbor Line was created."
Before PHL took over rail operations at the Ports, some shippers were having problems getting their goods to or from port because the tracks were owned by the different Class 1 railroads that made up the Harbor Belt Line. As a neutral switching railroad, responsible for making up and breaking up trains, storing and classifying cars, and serving the industries within the terminal yard, PHL, as a private company, was considered to be better positioned to create a level playing field for all the shippers on tracks that now would be owned by the Ports, themselves, and then leased to the railroads.
Initially, PHL handled the dispatching chores at the Henry Ford Bridge, also known as the Badger Avenue Bridge, a structure that handles all rail traffic between the Ports and Terminal Island, where there are several marine terminals. "It was crucial that they had a dispatcher that handled that area," says Cliatt. "PHL stepped in and handled that from a management standpoint. From the dispatching, we landed our first terminal job, which was APL, (APL is one of the world's leading ocean carriers). In the early days, we had five switching jobs and we grew to our current 37."
Today, PHL has 175 employees and 25 locomotives, providing all rail movements on 75 miles of port-owned track. It offers interline, intra-plant, intra-terminal, and inter-terminal switching; car storage; unit train movement; and intermodal car repositioning. It dispatches all BNSF and UN trains within the Ports, and serves nine on-dock intermodal terminals. "We're the valet parkers for Union Pacific and BNSF in the port area," says Cliatt, modestly. "The west-bound, intermodal container trains handle the long haul, and once they make it to the port area they will basically hand over the keys to PHL. We can use their locomotives, or they can take their locomotives off and we'll use PHL locomotives. We take that traffic to the various marine terminals for loading onto the ships – or the other way around, from the ships, headed out. Then we'll hand it off to UP or BSNF so they can go east. We handle the first mile and the last mile of that traffic."
Cliatt explains the specifics of PHL's operations on that first and last mile of track, and beyond: "We have the traditional manifest traffic, which is your typical boxcar, hopper car, tank car, and automobile rack. We handle approximately 40,000 carloads, annually, on the manifest side. And then we have the containerized traffic, which is our primary business here in the Port. PHL handles roughly 2.4 million containers on an annual basis. We also handle additional business with Union Pacific, which is the Patata, Reyes and Carson industrial leads, which is all non-port, non-ship marine traffic – it's all manifest traffic"
The additional business Cliatt refers to are those companies located along the Alameda Corridor, a 20-mile freight-rail "expressway" owned by the Alameda Corridor Transportation Authority that connects the national rail system near downtown Los Angeles, California, to the Ports of Los Angeles and Long Beach. PHL currently provides service to seven customers, six days a week, on track owned by Union Pacific: Cargill Milling Inc., PCCR USA, Contractor's Cargo, International Paper, Epsilon Plastics, Grow More Inc. and Konoike-Pacific cold storage. PHL also provides maintenance on its own portions of the track.
In April 2014, PHL relocated from its original home, in
Pier A Yard, to a new facility two miles away, at Berth 200. "It's a brand-new facility that was built by the Port of Los Angeles," says Cliatt. "It's one of the newest facilities in the industry. It has, arguably, the best locomotive shop of any short line railroad. And it's a phenomenal structure; it's a green structure. We have security at this location; we have cameras; we have all of the storm water improvements to go along with our fleet of 25 Tier 3-plus locomotives. It's a facility that any rail fan or rail buff should put on their list of places to see."
Another source of pride to Cliatt is PHL's reputation as owner of one of the greenest locomotive fleets in the country. In fact, this past May, the company was designated a SmartWay Transport Partner by the federal Environmental Protection Agency (EPA), a label awarded to companies involved in freight transportation and committed to being environmentally efficient and cost-effective. Its Tier 3-plus- rated locomotives feature an 85 percent reduction in the production of particulate matter, such as dust, smoke, and other particles that degrade air quality, and a 38 percent reduction in nitrogen oxide emissions. In addition, the company has greatly improved its safety culture over the past several years, which, according to Cliatt, "has resulted in numerous safety awards from the American Short Line & Regional Rail Road Association."
Moving forward, Cliatt reports that PHL is working with both Ports and both Class 1 Railroads "to find ways for the San Pedro Bayport area to become even greener. We're looking to take more trucks off the road, and one of the mechanisms that is being researched to make that happen is the possibility of a short haul rail between the San Pedro Bayport area and the Inland Empire." (The term "Inland Empire" is most commonly used to define the Riverside-San Bernardino-Ontario metropolitan area, which covers more than 27,000 square miles.)
Meanwhile, Cliatt stresses that PHL currently operates "in the newest, cleanest, and safest yard of any short line railroad in North America," and that it is "one of the most technologically advanced railroads, which is evident in our locomotives and the amount of funds which have been extended to upgrade our fleet." In addition, Cliatt states that "PHL is a veterans-friendly company. We were recognized in 2013, by the State of California, as one of the best companies for hiring veterans in the state. Approximately 25 percent of our work force is veterans."
Finally, Cliatt points out the importance of PHL's association with the largest port facility in North America: "The state of California comes in around number eight or nine in the overall GDP (Gross Domestic Product) of the world economy," he says. "And on that same world, GDP list, the L.A. basin, which includes the Port, falls at number twelve. So this is one of the most, if not the most, critical locations when we speak of the global economy. For goods and shipments coming in from Asia, to land their goods here in the Port of L.A./Long Beach, we reduce their transit time by five to seven days over landing anywhere else in the U.S., and that's time that can't be made up. And PHL plays a critical role in making that happen as we are the first and the last mile of the global commerce that comes in and out of this Port."
While some companies assert that they will go the "extra mile" for their customers, only PHL can claim that it goes the first and last ones.
AT A GLANCE
WHO: Pacific Harbor Line
WHAT: A short line railroad that provides rail transportation, maintenance, and dispatching services
WHERE: Wilmington, California
WEBSITE: www.anacostia.com/railroads/phl
National Railway Equipment Co. – National Railway Equipment Co. (NRE), headquartered in Mt. Vernon, Illinois, is an employee-owned, vertically integrated provider of new and remanufactured locomotives, locomotive products, and wheel services. Founded in 1984 by Lawrence Beal, NRE has grown to encompass fifteen facilities and affiliates making it the world's largest independent supplier of new and remanufactured locomotives; new and rebuilt mechanical materials; electrical components; and technical support and field services. With nine facilities, encompassing over 275 acres and more than 1,330,000 square feet under roof, NRE serves its customers with the best equipped shops in the industry. NRE continues its history of solid growth using its highly skilled workforce and state-of-the-art manufacturing facilities to provide quality products and services to its customers worldwide. – www.nationalrailway.com
ATBD Inc. – ATBD (Application Technology By Design), Inc. is a complete solution provider of AEI (Automatic Equipment Identification) systems to the American Short Line Railroad industry and other rail customers. The company is headquartered in Kingwood, Texas. It offers many products to facilitate the efficient operation and data acquisition that support daily railroad and plant processes, as well as services from education to complete turnkey systems and maintenance. Some of its products include: DTMF Controlled Switch Machines and D-Rails, Hot Box Detectors, Dragging Equipment Detectors, and Yard Inventory Data Acquisition systems. – www.atbdinc.com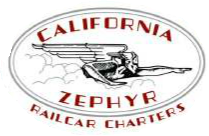 CA Zephyr Railcar Charters Inc. – California Zephyr Railcar Charters owns a fleet of classic Budd-built, stainless steel, streamlined Zehphyrs from the 1940s, rebuilt to modern standards and capable of traveling at speeds up to 110 miles per hour. Most of its charters are on regularly scheduled Amtrak trains, and groups can rent its cars to travel to any Amtrak station west of Chicago, throughout the South, and to selected destinations in the East. – www.calzephyrrailcar.com
Highball Signal, Inc. – Highball Signal is a railroad signal contractor specializing in signal maintenance and construction. It performs services in California, Texas, and Indiana. With over 20 years of experience, the company provides dependable and reliable services, such as Signal Maintenance, Signal Construction, Signal Construction Consultation, Test Documentation, Systems Set-up Test and Commissioning, and Systems Integration Testing to Class I Railroads, Class III Railroads, and transit lines. – www.highballsignal.com