Port Colborne, Ontario
Celebrating marine heritage
Business View Magazine interviews Bill Steele, Mayor of Port Colborne, Ontario for our focus on Infrastructure in Canadian Cities.
The City of Port Colborne, Ontario is a community steeped in marine heritage – no surprise, given its location at the southern terminus of the Welland Canal at the northern shore of Lake Erie on the Niagara Peninsula. When the canal was completed in 1833, this small settlement on Gravelly Bay was named a port-of-entry and in 1834, dubbed Port Colborne, in honor of Upper Canada's Lt.-Governor, Sir John Colborne, who was instrumental in securing funding for the canal project. Known today as "Niagara's South Coast," Port Colborne entertains residents and visitors, alike, with unique shops and restaurants in its historic Canal District, beaches, parks, nature trails, a full-service marina, recreation facilities – and the never-disappointing pleasures of watching those steamships sail by.
Port Colborne Mayor, Bill Steele, took office in Dec. 2018, after serving as Councillor from 1996 to 2014. The Steele Family has deep roots in the community, going back to the late 1770s, and Bill is carrying on the tradition. His Great Uncle, Dewitt Carter, was Mayor in 1918 and his Great Grandfather, C.S. Steele, served as Mayor from 1927 to 1928. Bill also has a passion for the community's marine history. He shares, "With this administration coming in, we have a thrust for the marine industry. The industry across the Great Lakes is growing and we want to be a part of that. We have an agreement with the Port of Hamilton to pursue development of our canal lands in Port Colborne. Our Economic Development Office is working closely with the St. Lawrence Seaway Authority to look at acquiring and opening up lands to bring new companies in and bolster what's currently here."
Cruise ships are now using Port Colborne as a stop and the city is trying to get a proper docking facility and welcoming facility for that. Over the last year and a half, the Mayor's office, the CAO's office, and EDO have also been doing one-on-one meetings with existing industrial businesses as to how they can help them grow. Steele says, "One of those companies, we put in touch with Brock University and they're looking at a collaboration with having students, physically, in the plant. They've actually dedicated space to classroom areas. That's something that's really new to us and very new to Brock. Personally, as Mayor, I'm very big on collaboration, not only with our surrounding municipalities but with our businesses in town. We can't always throw money at it, but we can certainly facilitate with upper tier levels of government, with educational institutions, and in our own planning and development departments to help with business growth."
CAO Scott Luey reports, "Last year, prior to the election, the previous council approved an Economic Development Strategy and that was the roadmap that our EDO is using to plan out our industrial growth, commercial growth, and even residential growth. The final Strategic Plan will be approved by council before the end of 2019. We have a strong marine history; even some of the sailors who work on the ships – captains, engineers, first mates – live in Port Colborne. Of course, being located along the canal, we have many ship chandlers (companies that are suppliers to the shipping industry), and a lot of machine shops in town that send product all over the world. Our proximity to the U.S., and the canal and the shipping transportation links we have, makes Port Colborne ideal for all kinds of businesses, even if they're not canal-related."
Last year, over $14 billion in goods were transported through ships across the Great Lakes. That was a 14 percent increase over a two-year period. This year, while some of the ports have seen a very slight decline, most of them have experienced a huge increase in shipping. So, the trend is continuing and not expected to wane any time soon. With the emphasis on clean, green energy, Mayor Steele predicts, "I think you'll see a lot more goods being shipped across the Great Lakes. And what will happen is they'll deliver large amounts of goods to a destination, so the trucking or train portion is a lot shorter. And that, in turn, helps with climate change and environmental concerns, as part and parcel of the whole increase in shipping."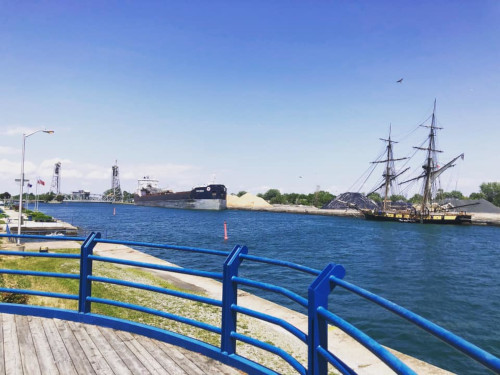 Port Colborne has two major dock operators and they're thriving. One, Port Colborne Marine Terminal (formerly Snyder Services), is partnered with Quebec Stevedoring and has interests in Port Colborne and Port Weller in St. Catharines. The other company, Rankin Construction, has a partnership with Logistech. They have an interesting business – working with a container service running a small container ship called the Cleveland Europe Express out of Antwerp, Belgium. It stops at Port Colborne and drops off containers of goods that people have ordered. Then it goes across Lake Erie to Cleveland, empties the rest of its shipment and picks up other goods. On the return trip to Belgium, it picks up more goods at Port Colborne – a two-week turnaround time, hence the name "Express."
In other news, the city is currently working on a huge dock refurbishment project with the federal government, the St. Lawrence Seaway Authority, and private businesses. Dock 18 is about a quarter of a mile long and can fit up to three laker ships (large 700 footers). But it's in dire need and, currently, under quarantine from the Seaway Authority. The city is pushing to get them moving on that because it's a huge stretch of canal that can't be used to onload or offload.
According to Mayor Steel, "Port Colborne has positioned itself well in the last number of years. We purchased our port when Ports Canada went out of business. So, we own our own grain elevator. It's leased to P & H (which used to be Goderich Elevators); they bring in grains from local farmers and from western Canada, store it, and ship it out. So, with our port on the lakefront, we own the marina, the grain elevator, and a dock that we use for winter berthage of Great Lakes ships, which helps the community garner money. And we bought all the water and land for our Lakeview Park. We also own a rail line that we lease out to Trillium Railway, our short line operator. It's a big advantage for businesses because we have a great highway system, and a rail system on the east and west side of the canal."
On the job front, there is significant employment happening in Port Colborne's "Carbohydrate Valley." ADM Milling is doing well from its location beside the grain elevator, as is another flour mill called Ceres that just purchased the former Robin Hood Flour building and formed a partnership with London Agricultural Commodities. In addition, Jungbunzlauer Canada Inc., a starch and citric acid producer, has its only North American plant in the area and continues to expand.
Shipping is generally active from late March-early April to mid-December. But no one is idle in the winter because Port Colborne has dockage. "We've had as many as 12-14 lakers docking here for winter maintenance," says Steele. "And the Seaway wants to see year-round shipping on the Great Lakes. So, because the dock is part of our port facility, we can actually run 12 months a year. We had, at times, three ice-breakers moving ice between Port Colborne and Windsor this year."
Port Colborne CAO, Scott Luey, speaks to the city's downtown enhancements. "We have a vibrant, boutique-style downtown with a main business district, and the historic West St. area that is full of shops and restaurants with patios overlooking the canal. There's a waterfront vibe – very walkable. Looking ahead, we have a $32 million Community Improvement Plan project for the whole downtown area that will do water, sewer, stormwater, roads, sidewalks, streetscaping – once completed it will be the second biggest project we've funded in the history of Port Colborne. The first being our Valley Health & Wellness Centre that sits at our largest sports park."
Next on tap, Rankin Construction has purchased an old brownfield factory in the downtown core, along the canal, where they'll be constructing "Southport," an eight-story, 60-unit condominium project. The exciting project will be an incredible asset to the downtown with retail and restaurant space on the main floor, and water views from every window on the top five floors.
Located an hour from the Greater Toronto Hamilton Area (GTHA), 30 minutes from Niagara Falls, and only 20 minutes from the Peace Bridge crossing at Fort Erie/Buffalo, New York, Port Colborne has something to offer year-round for every age and interest: four-season tourism with winter sports tournaments, cycling, fishing, museums, entertainment, and the fabulous annual Canal Days event. Plus the city owns two beautiful, sandy municipal beaches – Nickel Beach and Centennial Beach that are busy all summer long.
Chiming in with his own sentiments, Mayor Steele adds, "What we really want to emphasize is our marine heritage, and moving forward with the marine industry here in Port Colborne; bringing back shipping as the main component to our municipality. From that, everything else can grow. Having that industry here on a large scale will draw in outside industry – suppliers, machine shops. We have a good base on the industrial side, and focusing on our strength in the marine sector will bode well for the entire community."
AT A GLANCE
Who: Port Colborne, Ontario
What: Marine community: population 19,000
Where: North shore of Lake Erie on the Niagara Peninsula
Website: www.portcolborne.ca