Bertie County, North Carolina
Making a Splash
Business View interviews John Trent, Chairman of Bertie County, NC Board of Commissioners, for our focus on Economic Resilience in U.S. Cities & Counties
Water brings life. It refreshes. It revives. And it restores.
Water, the priceless natural resource, has brought new life for Bertie County in northeast North Carolina. There's lots of water here: the Roanoke River, the Chowan River, the Cashie River, and the Albemarle Sound. Bertie County has nature-based assets in abundance and they are using those assets – all those beautiful waterways – to attract new people and new profits.
It comes in the form of a new initiative, appropriately named Tall Glass of Water, that utilizes their number one resource: water. The county invested in a 147-acre property, featuring a sandy beach on calm, shallow water. It provides public access to the beaches, something that Bertie County never had. Ron Wesson, Vice-Chair of the Bertie County Board of Commissioners, explains, "We have world-class waterways in Bertie County that have never been brought out and shown to the rest of the state or anywhere outside of the state until now."
John Trent, Chairman of the Board of Commissioners, shares that right after the county purchased the property, a land trust came in and bought a thousand acres right next to it. "Then, they gave it to the state. And to Parks and Rec. And now, they've come in and bought 300 acres on the other side of us!" That land can't be developed beyond walking trails, but the land the county owns can. Wesson reports, "We're using our natural resources to diversify interest in our county. To draw business and individual stores in." There are plans for learning centers, amphitheaters, an RV park, and camping sites. The hope is to make Bertie County a destination.
But what's interesting about this place is the combination of the old and the new. Bertie County is steeped in history. For example, they have Historic Hope, an old plantation home of a former governor. On that property, they honor both the Native Americans and the slaves that once lived there. And some of that history is still being discovered in other parts of the county. Currently, there's an archeological dig on Salmon Creek called Site X that has been featured on The Discovery Channel and BBC. They've found remnants that go back to the 1600s. Those remnants might just reveal clues – and provide some answers – about the Lost Colony of Roanoke Island.
Trent notes, "Bertie County could be the first colony in the United States. That's the reason we call North Carolina the Peninsula With the Future. The great thing about this is that all of us have reached out to discover these things. To make these things happen, to get these things moving, we've invested money into this dig. It goes back and it shows the history. These things are important to preserve. These are the important things to show our future of where we're going, where we came from, and the direction we're going."
Bertie County continues to find ways to move forward. To be relevant and profitable. "One of the things we understood early on," says Wesson, "is that no one is going to save us here at Bertie County but us. So we had to make sure that we invested in the things that would improve the quality of life here. I was born and raised here. We're the third largest county in the state of North Carolina. We've been making the transition from an agricultural base, trying to leverage resources in this county to give us diversity; to give us income based opportunities. We are uniquely positioned right on the Albemarle Sound, which is the pathway to the beach. So if you're going anywhere in North Carolina, you're going to the beach. And you come right past us."
Bertie County has much to offer. There's Occano, with the Arnold Palmer Signature Championship Golf Course, which overlooks the spectacular Albemarle Sound. They have agricultural corporations and high tech companies and manufacturers producing body armor for the military and law enforcement. Their schools are newer, too. Trent says that one of the best things about Bertie County is its natural beauty. They are now working on putting that beauty on display and expanding their ecotourism.
But they also honor history whenever they can. For example, instead of tearing down their historic courthouse and building a new modern one, they refurbished what they had. "It was one of the largest projects that we've undertaken in Bertie County in probably 60 years," Trent explains. "We made a choice to remodel and refurbish this historical piece of architecture. We did this on our own… It became a star before I knew it. There were people shooting commercials in front of the courthouse!"
That project speaks to the heart of the community. "The people in Bertie County are very resilient. The county commissioners are very resilient. We try to do things. We do sometimes live on the edge," Trent laughs, "but we get it done by ourselves and move forward with it."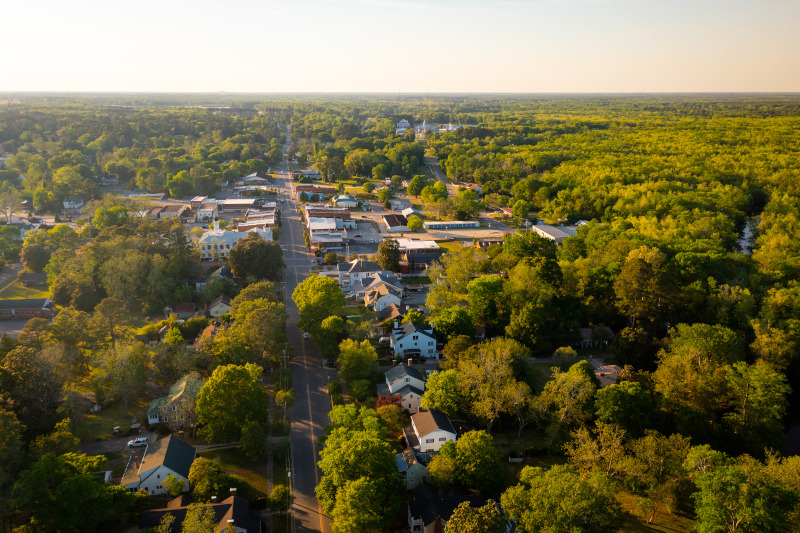 Bertie County is no stranger to struggle. They've been hard hit with hurricanes over the years. Most recently, with a deadly tornado that spun off of Hurricane Isaias in 2020. Wesson agrees with Trent that "the citizens here in this area are extremely resilient. We have been impacted by natural disasters as much as anybody in this part of the state. But yet, still, our people have learned to recover. Our people have learned to rely on us and be a part of this government… we've been kind of a poster child for how you recover from natural disasters. We've done a great job of working with people and working with the state. We stay prepared for those kinds of things because we've been through it."
Those storms – that history – is why Bertie County put such an emphasis on shoring up their healthcare services. Wesson says they knew they needed better healthcare for their citizens, so they pursued a hospital. They knew they needed better EMS services. So they found a way. Ten years ago, Bertie County had a basic EMS service. The Board of Commissioners wanted more. "We went to privatization," notes Trent. "And now we have one of the best EMS services that work for the county instead of a volunteer system. We're EMT as far as a paramedic level, which is higher than the other two counties that border us. We have helipads. We have our own hospital here now. We have a helicopter stationed right here in Bertie County, right beside our hospital. That has been of great importance, especially in rural areas, to have a hospital that services the community the way it does. And that's one reason we went from volunteerism to where people can actually work for the county and earn a living and earn a retirement. It creates an economic hub."
Today, Bertie County has a fantastic feeder program at the local high school. Juniors can take a course that starts preparing them for EMS certification. "We're growing our own employees," Wesson states. "We've hired everyone who has graduated in the county system."
There's another program, too, that also helps to grow their own workforce. Students can join a law enforcement program in high school, which is the only one of its kind offered in the State of North Carolina. Students leave school with college credits, already working toward their degree in criminal justice or their BLE (Basic Law Enforcement). "We know that's a great standard here in Bertie County," Trent says. "We have a very low crime rate." Trent is also quick to credit area corporations who donated money to get these systems rolling. "These companies came together and wrote checks within 10 days after asking to get these programs put together."
"I think it's important that we leverage the diversity of this community," Wasson emphasizes. "We are the largest minority majority community in the state of North Carolina. We're 72% African American. And that is unique. We've got to make sure that we connect our people to all the opportunities that are available to them through the county government."
"People here have a real opportunity and people that come to Bertie County will have the same opportunities," says Trent. "We're reaching out, touching everybody with everything that we try to do. It all goes back to the people of Bertie County – the people here are some of the nicest people. There's going to be bumps in the road. But you keep moving forward. You can't stop. You've got to have the vision of moving forward."
For Bertie County, that vision is Tall Glass of Water. It's full of the hopes and dreams of a community, just waiting to bubble over. Get ready. Bertie County is about to make a big splash.
AT A GLANCE
Bertie County, North Carolina
What: A beautiful, historic community
Where: On Albemarle Sound in northeast North Carolina
Website: http://www.co.bertie.nc.us/
Geenex Solar – www.geenexsolar.com
Development of the future Sumac Solar Project in Bertie County was started by Geenex Solar & acquired by EDF Renewables.  Both companies have a long-standing relationship, developing more than 4,700 MW.  EDF Renewables North America is a market leading independent power producer & service provider with 35+ years of experience.