MAAX Spas
Built to the MAAX
Business View Magazine interviews John Johnson, President of MAAX Spas as part of our focus on best practices in the pool and spa manufacturing sector.
MAAX Spas Industries Corp. is a leading designer and manufacturer of "Luxury Hot Water Products," sometimes referred to as "modern whirlpool systems," but mostly better known as spas and hot tubs. The Chandler, Arizona-based company offers 41 different spa models and 16 swim spa models through a worldwide network of over 350 dealers.
MAAX Spas traces its roots back to 1969, with the founding of Modern Fiberglass and Metal, which produced snowmobile shrouds and swimming pools. For the next several decades, the company grew and expanded both its product line and its geographic footprint under the aegis of several different owners. According to Company President, John Johnson, the Chandler facility in which MAAX Spas was born and matured was originally owned by Coleman Spas.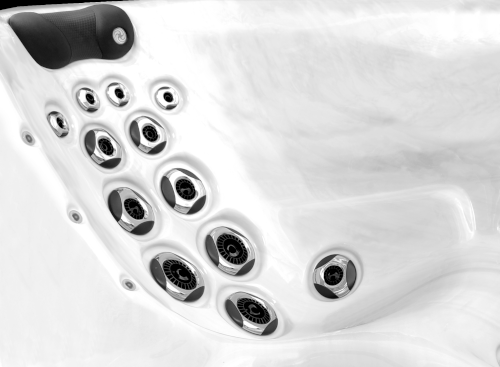 "They started here in the mid-80s," Johnson recounts. "We were a subsidiary of the Coleman Company up until 1998, when it divested the spa group and we were sold to MAAX, which was a bath company in Canada. So, we went from being a subsidiary of the Coleman Company to having a licensing agreement with them, and we continued to produce and sell Coleman Spas branded products until 2008. At one point, under MAAX, we had three different manufacturing sites – British Columbia, Ontario, and Chandler. Through our lean manufacturing transformation in 2005, we ended up integrating the B.C. facility and the Ontario facility into the Chandler facility here."
Johnson continues the company's corporate saga: "At the corporate level, MAAX was sold to a group of equity investors in 2003-04, and from there, they went from being a publicly-traded company to a privately-held company. We ran with them until 2008, when all of MAAX was purchased by a company called Brookfield, which is another private equity group based out of Canada. Brookfield separated the spa division from the bath division and created two separate companies.
"As a stand-alone company under Brookfield, we acquired a company called Vita Spa out of Florida in 2009, and moved their manufacturing from Florida to here in Arizona. In December 2014, we acquired a company called L.A. Spas and we moved the manufacturing from that facility in Anaheim into the facility in Chandler. We continued to be under Brookfield until January 2017, when both MAAX Spas and MAAX Bath were acquired by the American Bath Group, who owns us today. We're still known as MAAX Spas, but we are now a division of American Bath Group."
Today, MAAX Spas employs about 220 people, with 202 in Chandler. It has sales reps throughout North America, and a satellite customer service center in Florida. The company's main markets are the U.S., Canada, and Europe.  "We hit 22 countries around the world on five continents," Johnson reports. "We cover 47 states, including Alaska and Hawaii; we have representation across Canada, all the way from British Columbia to Prince Edward Island; and we cover Europe.
"We wholesale; we distribute to pool and spa specialty retailers as our primary customer. They will distribute to the public. That distribution model holds for the U.S. and Canada. When you start going outside of North America, it gets a little bit different. Most of the resellers in Europe are actually distributors themselves, so we will sell to them; they will typically have one or two retail locations; and then they will have a series of sub-dealers underneath them that they will distribute to within a given country or territory. And everything is manufactured and distributed out of this facility in Chandler."
Regarding the competition in the spa and hot tub sector, Johnson relates that there are 60-plus spa manufacturers in North America, with about 30-plus manufacturers that have national footprints. The two largest manufacturers are Hot Springs and Jacuzzi. Other major brands include: Master Spas, Artesian Spas, Marquis, Bullfrog, Strong Spas, and LPI. Johnson believes the MAAX Spas products stands up admirably because the product is "built a little differently than most."
"One of the key things that we're proud about is the way we build our products," he states. "It's what we call Appliance Grade. That's our main differentiation that we feature in our marketing. It's appliance-grade construction, which means it's got a molded pan on the bottom, steel frames on the side, 'green' insulation around it, a reflective barrier, as well as a convection barrier on it. It's the only patented insulation system that I'm aware of in terms of energy efficiencies and energy consumption."
"But most importantly," he adds, "if anything does go wrong with the product, we are able to complete any necessary repairs to bring it back to factory specs, in the field. We don't have to bring it back to the factory; we don't have to tear it apart or disrupt the product in any way. We're able to do it in the field. We are unique in the marketplace in terms of being able to do that."
According to Johnson, the company's success has it stretching its manufacturing capacity at the Chandler plant, and while there are no more potential acquisitions on the horizon to expand that capacity, the company is "looking at different expansion options, but nothing is solidified, yet." Regarding its marketing direction, he adds, "We're trying to move more and more into the digital age – getting away from a lot of the printed literature and moving into web-based, interactive information. We're also trying to go into some of the 3D, virtual-reality type modeling so potential consumers can come in and see what their spa will look like in the backyard."
"In terms of our product development, we're trying to accelerate our product development cycle," Johnson adds. "Historically, this market has had an annually-based development strategy. You have a series of products that's typically launched in either the fourth quarter or early first quarter of the year; you run with that product during the course of the year; and then you make a series of changes the following year. We're trying to move away from that, a little bit, because that becomes a bit problematic when you're changing 25 to 50 percent of your products within a short window. It puts a heavy strain on the organization in terms of executing the changes; it puts a strain on your QC (Quality Control) efforts, and on your productivity efforts.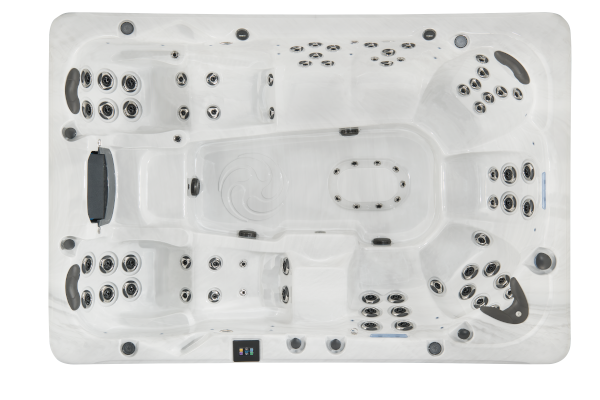 "So, what we're trying to do is move into a more consistent, but faster-paced, product development schedule. Instead of having once a year, where we make a whole series of changes, we're moving more towards having changes made on a more consistent basis throughout the year. The underlying strategy we've coined as 'accelerated innovation.' Instead of waiting for the next development cycle before launching an improvement to the product, we're able to improve it immediately and drive that higher level of value to the end consumers on a more consistent basis than what we have done in the past."
Johnson gives a lot of credit to his suppliers – the manufacturers of the control components, lighting, blowers, ozone generators, etc. – for helping to drive MAAX Spas' product development process. "We focus on building hot tubs," he avers. "We partner on the building and design of components that go into the hot tub. So, that puts a lot of pressure on our supply base. We involve our key suppliers within our product development strategy, and we rely on them to execute some of the development plans. We have weekly meetings with some of them; we have monthly meetings with others; and we're constantly keeping in touch and involving them at a ground level in terms of our product development activities to ensure that there is a continuity of supply and that we're executing it properly. Designs or concepts that we come up with, which we think may be a good idea, we put in front of the supply base and we rely on them to bring us back to reality – what can and can't be done. And they do a lot of the tooling and development work on their end that's not done here."
Those close working relationships with its suppliers is one reason why MAAX Spas' two main brands, American Whirlpool and Vita Spa, are known as innovative industry leaders. "The product is unique in terms of the insulation system, the look, and the styling," says Johnson. "We have a whole series of innovative and value-added features, and we have a long history of being extremely innovative within our industry. We were one of the first to do reverse molding on the acrylic; the first to do physician-designed jetting arrays; we were the first company to introduce steel frames; the first company to introduce thermal-lock insulation. And one of the things that we hear, quite often, is that our product holds its resale value. If you own one of our products for five or ten years and you want to trade it in for a new one, you're going to get more resale value with our product than almost anybody else."
Finally, Johnson maintains that, in addition to having a superior product and a long-tenured staff of "incredible" people, being customer-minded is always a necessary ingredient for the company's continuing success. "We put the customer's needs first and foremost in our actions and thought processes," he exclaims. "Our policies are geared towards the experience that a customer has with our company. And we're here for the long run; we've been in business for a long time, and we're going to stand behind our products and our customers for a long time to come."
Check out this handpicked feature on Diamond Freight Distribution Inc.
AT A GLANCE
WHO: MAAX Spas
WHAT: A designer and manufacturer of spas and hot tubs
WHERE: Chandler, Arizona
WEBSITE: www.maaxspas.com