FinTech Sandbox
financial solutions powered by automation
Boston-based nonprofit drives global financial tech innovation on the fiscal road ahead
Technology has been the driving force for many sectors in the last few years and in the financial arena the impact is felt strongly. Easing fiscal transactions and providing the framework for financial data streamlining, technology is here to stay.
No one knows this more than FinTech Sandbox who for the past nine years has been positioned as a well-known nonprofit entity driving global financial technology, innovation, and collaboration.
FinTech helps financial technology start-up companies get access to the data they need so that they can build outstanding products. Begun by a Boston-based group of entrepreneurs and investors, FinTech Sandbox has in recent years become the place for all things data-related.
We recently spoke with its executive director, Kelly Fryer. To all her friends and colleagues in the industry, Fryer gave a special shout-out about Boston FinTech Week 2023, which is right around the corner. Coming into its sixth year, the event will run Oct. 10-13, including a two-day ticketed event hosted by FinTech Sandbox, Oct.11 and 12, at the Federal Reserve Bank of Boston. This year's theme is "On the Brink: Building the Infrastructure We Need for a Bold Financial Future." To learn more, be sure to consult the Website at www.bostonfintechweek.org.
"We hope to see you there" Fryer enthuses.
She explained the term, "fin tech," a neologism referring to the financial services sector and its convergence with technology. It's all about innovations and technologies that are focused on pushing financial services and products forward.
"Honestly," says Fryer, "it trickles into many other industries. If you think about payments as being an underlying infrastructure technology across every single industry, if you think about your credit card or anything like that, that's really what fintech is at its core."
Fin tech, she adds, is a ubiquitous phenomenon that plays an often unseen role, or at least one not often thought about, in the lives of almost all people throughout the modern Western world.
Fryer also spoke of the recently-repealed government-mandated restrictions regarding the COVID outbreak. This only sharpened the need for fin tech-related functions and shone a light upon not only cracks in financial systems but also how the modern world can't do without such services.
"It was fin tech that jumped in to fill the holes," she says, citing deficiencies that both financial institutions and governmental entities alike were unable to supply.
Especially because of the speed with which it acts, technology was truly able to save the day during these times of less interpersonal communication and increasingly remote-based work, as Fryer notes.
"I think we saw a big realization in the gaps that we had in our payments," she says, citing the digitalization and infrastructure of small businesses—entities that were not at that time yet able to optimally work in a computer-based world. "Fin techs were able to luckily jump in and fill those gaps, which was great to see."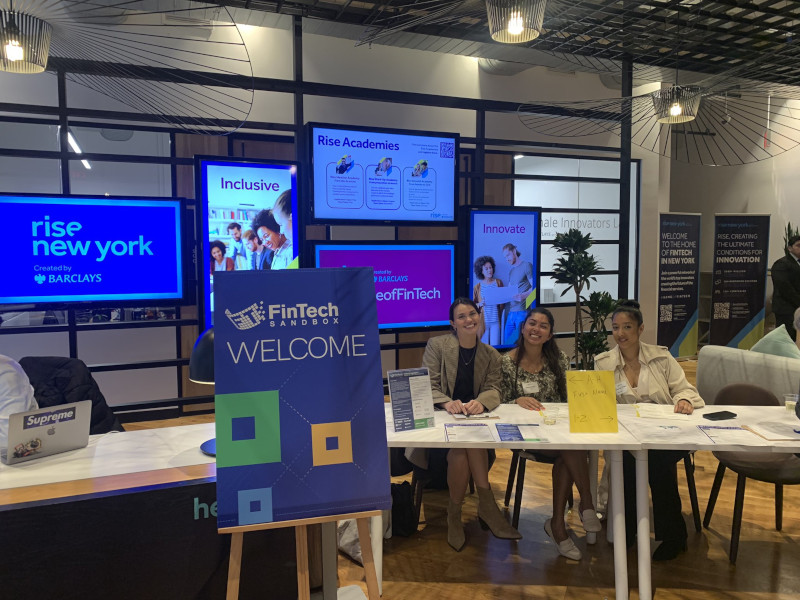 Endless possibilities
Fryer says the list of companies with which a fin tech can potentially work virtually runs the gamut. Name any company. Chances are, a fin tech could work with it. Big banks quite readily come to mind, of course.
Amongst others are car companies, airlines, and health care systems, especially as regards payments and loans. Retail giants, such as Wal-Mart, and such technological titans as Apple and Google are working well with fin techs these days, says Fryer. She continues that Starbucks, the famous coffee chain, and countless other such entities that use popular computerized applications, are other examples.
At its core, FinTech Sandbox provides a leg up for early-stage entrepreneurs around the world, says Fryer. It provides them with free access to critical data and the resources they need to build their products and get off the ground.
Fryer adds, FinTech Sandbox's mission focuses on making entrepreneurship more accessible and inclusive, lowering the barriers to launching a start-up, especially as regards the requirements for the necessary data and infrastructure.
Some 300 start-ups from all over the world have so far taken part in FinTech Sandbox's data access residency. They cover all aspects of financial technology services, as Fryer points out.
"Let's say," she hypothesizes, "that you're looking to help improve people's credit and get them out of debt faster. Or you want to build an impact-investing tool or help small businesses get paid faster. You need data on the back end to power that, whether it be credits or stock prices or income data or news."
Hard as it may be to believe, such data can easily cost hundreds of thousands of dollars, as Fryer reveals. It can be very tough to afford such services and get the data you need to build out your products. Indeed, Fryer adds, such things can be the kiss of death for a new business.
"That's really why FinTech Sandbox exists," she continues, "and why we offer free data sets to fin tech entrepreneurs."
Last year, as Fryer informs, FinTech Sandbox saved its start-ups some $5 million in data costs alone. This, she says, is very exciting, and it's very rewarding helping such start-ups get to their next stage.
"The interesting thing about working with the earliest stages of companies is you get to see the merging and get a front-row seat to that," she says.
Artificial intelligence (or AI) is a current hot topic, Fryer notes, as is ChatGPT (or chat-generative pre-trained transformer): a large language model-based chatbot (a computer application that mimics human conversation), developed by the OpenAI research laboratory and launched just last year, notable for enabling users to refine and steer a conversation towards a desired length, format, style, level of detail and language use.
ChatGPT, says Fryer, has become a mainstream topic. She adds that about a quarter of FinTech Sandbox's portfolio now features AI to one extent or another. This affects such things ranging from digital lending to ESG (environmental, social, and governance, about companies) scores.
"Data is very critical," says Fryer, citing consumer, personal, financial, and health-driven apps and data, especially as they relate to building AI models, adding that, "Fin tech is what enables people to lead better lives across the board."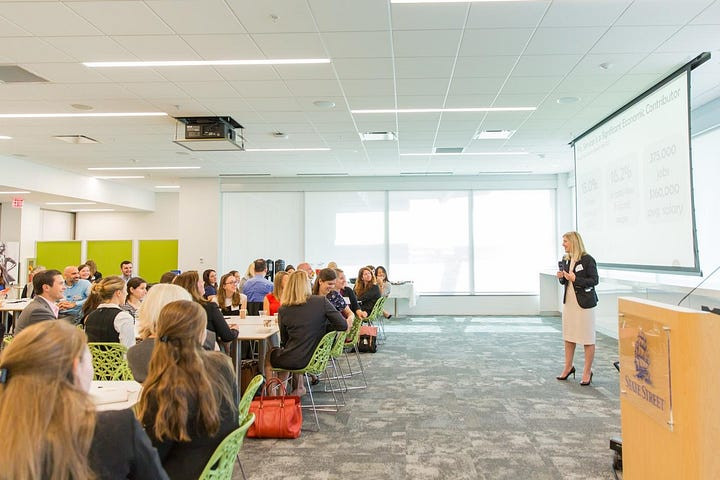 One-stop shopping
Representing a one-stop shop for clients and doing it very well, all the way from the front to the back, is one thing that helps to set FinTech Sandbox apart, as Fryer points out. There is high value in setting up such a business paradigm.
"Again, if you're an entrepreneur," she says, "and you're building a fin tech product, honestly the data is what's powering it on the back end."
As a recent example, she cites a company that was building out a fixed-income platform. To do this, you need bond pricing and many other different prices and data sets that are very expensive and otherwise difficult to acquire when yours is a small company. Such things can make all the difference when it comes to robust product demonstrations and creating successful fundraisers.
FinTech Sandbox offers its start-ups helpful infrastructural resources, as Fryer also points out. Cloud credits and other infrastructure resources are offered. Being an effective connector is another big advantage.
Fryer notes that FinTech Sandbox offers its start-ups connections to many large and important financial institutions, as well as access to the investor community. Further, when your start-up is known to do business with FinTech Sandbox, it only strengthens your credibility. People then know that you are serious, as Fryer emphasizes.
Also and most importantly, by being a nonprofit, FinTech Sandbox does not take fees or equities from its start-ups, as Fryer stresses. Instead, corporate sponsorship is a revenue source.
"We're a friend to all in the ecosystem," she observes, adding that this lack of both alignment and commercial motivation only places FinTech Sandbox in a singularly advantageous position.
She also cites some of FinTech Sandbox's important core long-term partners. They include F-Prime Capital, Fidelity Investments, Goodwin Commonwealth, and MassMutual.
"They've been wonderfully loyal to us, our mission, and our start-ups since we started," she notes.
By acquiring many useful connections and building up the trust of its start-ups, FinTech Sandbox has gotten to the lofty position in which it now finds itself. Continuing to scale (increasing revenue at a faster rate than costs) the number of entrepreneurs it can reach is amongst a host of its plans, as Fryer points out.
"The mission of FinTech Sandbox has remained the same since we started," she remarked, citing both its 2014 origins and its exponential growth on an annual basis.
Fryer continues that her nonprofit can help and enable people in ways that they don't even realize or perhaps haven't thought about. It has, she opines, the power to change world problems, from climate change to the housing crisis, and things that are actually beyond merely
the financial services industry.
"Definitely," she declares, "we want to be at the forefront."