Bradley Lifting Corporation
Below the hook solutions
Business View Magazine interviews Scott Salisbury, GM of the Bradley Lifting Corporation as part of our focus on best practices in the manufacturing sector.
The Bradley Lifting Corporation was founded in 1972 by Harvey Bradley, a professionally licensed engineer with many years of experience in the design and maintenance of mill-duty overhead cranes and below-the-hook lifting equipment. Started as a small business in his basement, Bradley Lifting has grown steadily by following a simple philosophy: thoroughly understand a customer's material handling requirements and provide the appropriate below-the-hook lifting solution.
In 2008, the company was acquired by Xtek Incorporated of Cincinnati, Ohio, but still operates from its own 43,000-sq.-ft., ISO9001 and ISO14001 registered facilities in York, Pennsylvania, with products fabricated by AWS-certified welders. Bradley Lifting's products include: Coil lifters; Sheet & Plate Lifters; Vacuum Lifters; Bar, Pipe & Diameter Tongs; Ingot Lifters; Lifting Beams; Mill Roll Lifters; Block Lifters; Crane Bottom Blocks; and Special Purpose Equipment. It serves customers in the U.S., Canada, Mexico, and abroad, most specifically in the Gulf States of the Middle East.
Recently, Business View Magazine spoke with General Manager, Scott Salisbury, to find out more about the company's operations. The following is an edited transcript of that conversation.
BVM: What industries does Bradley Lifting Corporation mainly serve?
Salisbury:  "The bulk of our customer base, and core portion of our business, is in the aluminum industry and we've been largely involved with some of the major players in aluminum production, helping them develop their processes and tailoring their material handling to suit their production needs for many years. We also do a fair amount of steel, as well; so, it's about 60 percent aluminum, 30 percent steel, and the other ten percent, miscellaneous.
"And when I'm talking about aluminum, for example, I'm not talking about any one particular aspect of it. I'm talking end-to-end. So, for the aluminum industry, we're involved from the front end process, the handling of the production of raw materials that are consumed in the smelting process, smelting maintenance equipment, the casting equipment, the rolling equipment, and the downstream processes. It's an end-to-end offering of solutions. The same goes for the steel industry, from the handling of the electrodes that are used in steel production, some of the casting and forging operations, down to the handling of finished product, whether it be slats or finished coils. In these industries, we're integrated into the whole process and provide solutions end-to-end."
BVM: What sets Bradley Lifting apart from the competition?
Salisbury: "I think the thing that sets us apart is not only our expertise – and we've worked closely with a lot of the companies in these industries to develop solutions – but the fact that, to this day, we've remained very customer-focused. We have the knowledge and experience to talk to them intelligently about their processes and come up with real solutions; we're there along the way, walking side by side with them to come to the final solution.
"When it comes to lifting equipment, in general, you can probably find a dozen or so companies that have offerings. But, for what we do, I think we're very specialized, and some of the products that we make, and have made in the past – there are very few out there who could duplicate that. And that's a real testament to the experience and knowledge that we have in-house, here."
BVM: How does the company go to market?
Salisbury: "We use digital marketing and try to leverage that because it's organic and we have a lot of control over that aspect of it. Through our website, through newsletters and emails, we try and reach out to our existing and prospective customers to provide worthwhile information they may find interesting. We also visit a lot of the industry trade shows; we participate and get our presence out there and also, hopefully, engage in conversations with end users and other OEMs of process equipment related to our fields.
"The third way, and the more common way, is a lot of word-of-mouth and repeat business from existing customers. We're servicing large facilities, quite often, and our reputation speaks for itself. People come to know us and recognize our name as synonymous with a quality, robust component, and they know that we specialize in custom-designed and engineered equipment and we can generally solve the problems that they're having and provide something that not only is going to work well, and safely, for them, but is also going to help them improve their productivity on top of that. So, word-of-mouth and repeat business is a big component of how we get by."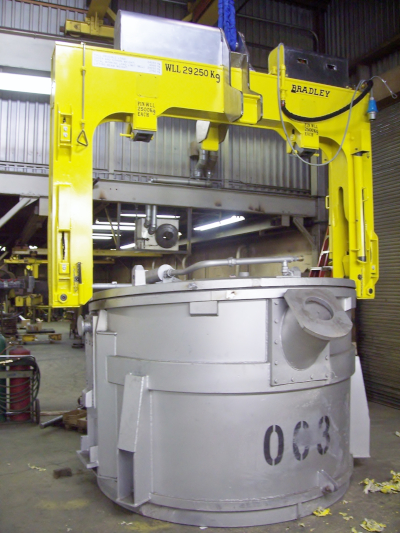 BVM: A lot of manufacturers tell us that the shortage of skilled labor is a growing concern. Is that true for your company, as well?
Salisbury: "That's going to be a challenge for everybody, hands down. The shortage of skilled tradespeople is going to continue to grow, and it's been a challenge for us. Whenever we have to replace somebody due to retirement, it's always difficult to find somebody who fits well. It's one thing to find somebody with the skill set, it's another thing to find somebody who integrates well with your company culture. We are very small, 43 employees, and so it's imperative that they fit and integrate well with the team that we have here. And we find that since we're doing such a specialized product, there's always going to be a learning curve. So, we're always looking for the person that has greater potential. We may not necessarily be looking at hiring somebody who has a three-page list of certifications, per se. We're looking for somebody who's got skill training and has demonstrated potential in these functions, and we know that we can cultivate that into the kind of team player we need them to be."
BVM: Some companies are reaching out to their local community colleges and other educational institutions for talent. Is that an option for you, as well?
Salisbury: "Well, that's the other we combat this – to get them as they're coming out of school. So, we're members of the manufacturing associations for our region and we participate in functions and advertise there. We also discuss and meet with the trade schools in our area and the various institutions that exist. And we have hired several of our engineers directly out of local colleges."
BVM: What's on your company's agenda, going forward?
Salisbury: "In addition to constantly improving the way we do things, you always have to be looking towards improving the way you operate. We want to provide even greater support than we already do for the end users of our equipment, in terms of the maintenance side of it. We have a dedicated service department here that handles the service of our equipment, and non-Bradley equipment, as well. However, most of that is done in-house. In other words, we're sourcing from the customers to send the equipment to us for evaluation and teardown.
"We do onsite lifting equipment inspection on an as-needed basis; however, I don't think enough people take advantage of that. Something that we see in doing these repairs is that it's not done enough. So, I really want to promote that aspect of the business, because it is instrumental in getting the most value out of the equipment, whether they purchase it from us or anybody else. Keeping equipment operating at peak operating efficiency is instrumental to its longevity.
"So, above and beyond continuing to provide custom solutions, where others may not be able to, is to stand apart as a resource to our customers in supporting their functions in terms of the maintenance and service of their existing equipment – especially as the workforce gets older and retires, and new people come into play who may not be aware of all that. For some operations, it's a struggle for them to retain people with the experience and knowledge to handle the maintenance functions at their facilities, or they're just retiring out through attrition and they're not being able to replace them. So, we want to be able to provide that resource to fill that gap and provide more onsite assistance for more frequent and periodic inspections of their lifting equipment to enable them to get more value out of their equipment. So, we're going to get the word out and make people more aware that this is something that we do for them and can do even more so."
BVM: What do you want our readers to know about the Bradley Lifting Corporation?
Salisbury: "That we are a very experienced and trustworthy company. We build a high quality product and our customer service is second to none."
AT A GLANCE
WHO: Bradley Lifting Corporation
WHAT: A manufacturer of overhead cranes and below-the-hook lifting equipment
WHERE: York, Pennsylvania
WEBSITE: www.bradleylifting.com