RE/MAX Select Realty
A culture of caring
Business View Magazine interviews the Owners/Partners of RE/MAX Select Realty, Western Pennsylvania for our focus on top U.S. real estate companies.
Founded in the year 2000, RE/MAX Select Realty has become a well-known leader in Western Pennsylvania real estate. With 242 sales associates, 41 full-time employees, seven offices, and a culture of caring and giving back, the company is well-placed to reach and exceed the one billion dollars in sales milestone. Recently, Business View Magazine visited with co-owners Chris Murphy, Ed Rae, and Paul Culley – a good-natured, industry-savvy trio who spoke candidly about their company's operations and future. The following is an edited transcript of that conversation.
BVM:  Can you give us a brief overview of your company history?
Rae: "We founded the company in 2000 with one location. In the beginning, it was Paul Culley and me. We met at a previous broker we worked for, where both of us were frustrated with the operations and compensation schedule. So, we moved out on our own and founded RE/MAX Select Realty. Two years later, Paul introduced me to Chris Murphy and a few months after that, we helped Chris with an office of his own in one of our Market Places. We mentored him as he started and grew that company, and in 2004, we incorporated Chris into RE/MAX Select as a full partner.
"We went through the recession of 2003 and the big one from 2008 to 2010 and, in that time frame, the company grew a bit and shrunk a bit and came out of it with a really good restructuring and regrowth plan. Since then, it's been an upward swing, where we've grown between 15 and 30 percent every year. We now have seven real estate offices, and our Cranberry Township location is considered our corporate office. That's where our infrastructure and support is housed – accounting, IT, marketing. We do about 85 percent residential and 15 percent commercial. We also have a property management division, currently managing about 150 properties."
Murphy: "We also own other companies, separate LLCs besides the real estate end, and a lot of our staff members work for those companies, as well – mostly in title insurance, and property management. Our agents have sold as far as Erie, Pennsylvania, but mainly we cover all six counties in Western Pennsylvania."
BVM: Right now, it's a sellers' market, as inventory is low across the country. Will the market be shifting soon?
Rae: "Good question. Most new construction in our market is being built by what we call tract or production builders whereas, prior to the recession, 50 percent or more of our new housing needs were met by small builders and developers in the area. Those guys have been driven out of the business, or are doing other things, and that's left a gaping hole in the inventory piece. Most of what we see in new construction is contract built versus spec homes that are available for inventory."
Murphy: "One other thing that's really affected the market here is the good employment picture. Pittsburgh is healthcare-based – UPMC is here. And a lot of national banking is here, as well. And over the past 10 years, it's been all fracking jobs related to the gas and oil industry. So, there's been a lot of employment, and the biggest thing that drives growth is when people feel comfortable about their job. If they do, they'll purchase real estate. That's made a huge impact."
Rae: "Developers aren't getting in there and building because the banking industry still hasn't loosened up the purse strings for lending. That's what I believe the issue is. If we had a better supply of new construction, you'd see more people willing to move up, and that buyer would buy a particular home in their price range, and the whole cycle would get better."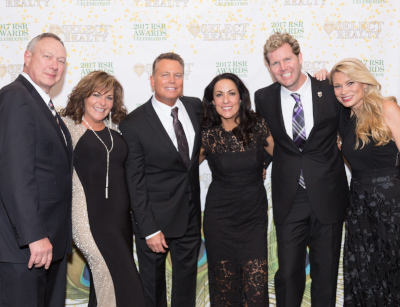 BVM: There might be a lack of properties, but no shortage of real estate companies out there. What sets RE/MAX Select Realty apart from the rest?
Rae: "We're selling with a national brand franchise, but other than that, I believe it's our culture that sets us apart. We've invested strongly in our company over the last 18 years, especially in the last five or six. We remodelled most of our offices to bring them as current and relevant as we could to attract all ages and types of real estate agents. They have the opportunity to work in the office environment collectively, with state-of-the-art technology, furniture, lighting, you name it. And it's given us a really good vibe in the offices.
"We are very big on consistency. In the first quarter of every year, the three of us conduct an annual review with each sales associate. We have a broker hotline where they can reach us seven days a week from 7 AM to midnight, along with a chat line they can access through an app. And we only hire full-time sales associates, that makes a huge difference too.
"Our investment in technology has propelled our sales associates above and ahead of the rest in the marketplace. Most real estate companies outsource, but we've hired three IT people that work strictly for us; creating and building agents' websites in an individual and unique way. We've done the same with our company website and all the internal pieces we use have been done on our own terms, in-house."
Murphy: "The physical office is almost like a coffee-house environment – very open, high-end décor, contemporary. When agents from other companies come in for a closing they are wowed. In general, our real estate company is an agent-centric business model and our competitors in this marketplace are very broker-centric. We tell sales associates, 'You're in business for yourself, but not by yourself.' We're here to help. It's a partnership – when an agent comes to RE/MAX Select, they're making a big decision; having a lot of faith in our company and succeeding. It's a scary thing. And it's our job to make sure they do very well and feel comfortable in our environment."
Culley: "We have monthly telecast meetings that are broadcast to our agents. So, we're able to do the meeting in one sitting to the entire company, at once. In addition, we have quarterly company meetings, where we bring all the sales associates and employees together in one location. It really helps generate camaraderie among our agents and adds to our culture. The three of us come from an agent/realtor background, so we know what it's like to be out in the field. Part of our culture is accessibility. Ed and Chris and I are approachable pretty much 24/7; if they need us, we're available."
Rae: "We really empower our agents and employees. A lot of things we've put in place over the years have come from suggestions they've made, especially in IT, accounting, the title company, and all the other ancillary services and peripheral departments around what we do. We've incorporated their ideas and made them part of the decision-making process. And I think they leave every week feeling that they matter and that their voice counts."
BVM: How involved is RE/MAX Select Realty in the community?
Murphy: "As a company, we started Select Charities which our agents have the opportunity to contribute to on each of their closings. All the monies collected are allocated directly to the office and our entire group decides which charity they want to support with those funds. We're supporting multiple local charities within the communities our agents represent. So, when they sell homes, they're not only helping support themselves and their families, they're also giving back to the community."
Culley: "Another popular thing we do for fundraising is bring in the RE/MAX hot air balloon to different community events and give tethered rides. Some places will charge a dollar a ride, and the money is donated back to the community."
BVM: Five years down the road, what are the priorities for RE/MAX Select Realty?
Rae: "The plan, right now, is to continue to invest in technology and education and training for our sales associates and staff. We're closing in on a billion dollars in sales this year. I don't know if we'll reach it, but we'll come really close. We are three times more productive than any of our competitors in Western Pennsylvania. But there's a lot more to this company than just being productive. We're relationship-driven. The reality is, we care about everyone and we always have. It simply makes us better."
Murphy: "One thing we focus on with our agents is balance between work and their personal life – whatever they do outside of real estate. Working here is about a lot more than sales. That's built into our culture and it's how all three of us feel. We've always invested back in the company. We don't live lavish lifestyles; we put our funds back into the company to help grow and educate our agents. If they can do a better job and make more money, then we make more money. But we really do it because we believe in our people, and we care."
Check out this handpicked feature on StorageMart – Self-storage satisfaction.
AT A GLANCE
WHO: RE/MAX Select Realty
WHAT: A real estate brokerage firm serving western Pennsylvania
WHERE: Head Office in Cranberry, Pennsylvania
WEBSITE: www.selecthomefinder.com