Regal Pools
Just so cool
Business View Magazine interviews Josh Buzzell, Managing Partner at Regal Pool & Design, for our focus on the U.S. Home Construction Industry.
Making a splash in your own backyard under the hot Texas sun is just plain heavenly. But when that experience takes place in one of Regal Pool and Design's custom creations, you'll be treated to a whole new level of luxury. Regal has earned a stellar reputation for its stunning swimming pool designs and a wealth of accolades including: Honoree on The Wall Street Journal list of "World's Greatest Pools"; named to The Master Pools Guild (invitation only); Pool & Spa News Top 50 Builder; and winner of more than 300 industry awards.
Regal Pools was created in 2008 by owner, Josh Buzzell, to offer premier pool and outdoor living design and construction services to homeowners in The Woodlands, Texas. His partnership with co-founder, Edwin Escobar, brought extra industry knowledge and the ability to offer the ultimate combination of construction expertise with the best in customer service. Today, operating with a team of highly-trained and educated project managers, warranty managers, and service experts, Regal Pool's design, quality, and service are unmatched.
Buzzell started in the pool industry about 15 years ago, left and tried some other things that didn't work out, then, with the help of his wife started his own company, which became Regal Pools. He recalls, "About a year later, I brought on my partner, Edwin Escobar, to handle all the things I couldn't get to because the business grew extremely fast. He's taken on the burden of 50 percent of it. He handles the construction and implementation of all the projects we're building, and I handle the day-to-day business operations, as well as sales and design."
The fact that he knew how to build pools, but not design them, didn't deter Buzzell. Drawing on his background as a "tech kid" who grew up with computers, he was at home with the 2008 swimming pool software that was coming out when he started Regal. To his way of thinking, "It was similar to designing video games, so I was able to create these unique backyards. And, of course, there is studying. I do a lot with Genesis 3 education, and Association of Professional Pool & Spa education. Really hands-on, especially social media, networking with other great designers throughout the country to get a take on what they do and bring it to your own work. It's a collaborative community as far as design goes in the pool industry."
Regal Pools' customer territory runs from south Houston to north Houston. Thirty five employees, not including sub-contractors, look after all aspects of the operations. As business has grown, more people have been hired in different areas to cover work on job sites farther out from the main office. "A few of these guys were high school friends of mine in Bangor, Maine, that moved here," says Buzzell. "They got married, now they live in these perfect locations where I can just send them out from their house to build pools, every morning." The past four years, the company has maintained 20 percent growth. This year, 2019, it will be minimal at four to seven percent. But Buzzell believes that's good because they've grown internally with processes and procedures.
The primary business focus is residential pool construction. Buzzell admits, "That's because we can deal with people and not have to deal with a corporation, where it seems like you get a lot more blocks and walls put up, rather than having a person-to-person relationship." Word of mouth is the number one marketing tool, and customer retention is paramount. Buzzell adds, "That happens when people move to a new neighborhood, where we're able to build them another pool. I've built four pools for one couple; they just move all the time. People in Houston love to accentuate their backyard – the size of the pool, the scale of the landscape, putting $300,000 into it, when their house only cost a fraction of that. They want to be outside, and Texas in the summertime is hot. They need a pool and shade but it doesn't stop there. They build an outdoor kitchen, patios, install bug-be-gone machines – really bring it to the next level. Growing up in Maine, I never thought people would spend hundreds of thousands on a pool and a backyard patio and a putting green. But they do, often."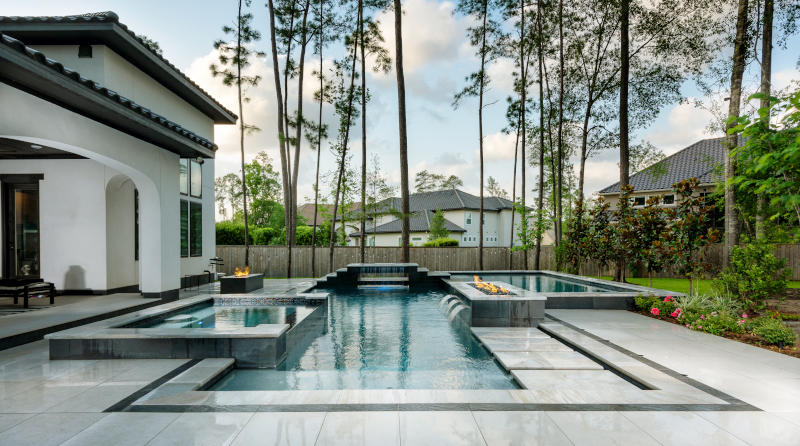 Consider these very cool, upcoming projects: one with a rooftop spa and a pool in the basement. Planning and development has been five years in the making; the whole building will be blocks, steel, and rare stones from Italy. Another is the building of a modern-day grotto with a steel and wood roof over the pool and spa, and automatic blinds to keep it self-contained. Regal's competitive advantage is all in the details. Their in-house CAD designer is proficient in AutoCAD, SketchUp, and Reddit, so he creates amazing concepts in 3D – much easier for the team setting pool equipment to work from 3D scale. To boost marketing impact, the company recently hired an in-house social media director/public relations coordinator, and invested in a video camera with the goal of including more video on their Instagram and live feed channels to complement the photo gallery of amazing projects.
"We've been in our present location for five years," says Buzzell, "and hopefully I can get that financially paid off in the next two years and have another location, somewhere within Houston. My marketing strategy is to be the top pool builder with maintaining details and service and quality, so people are getting what they pay for, that's our number one priority. Our service is huge – after your pool is built we will clean and maintain it for a nominal fee that's very competitive. We also have a three-year, bumper-to-bumper warranty for extra piece-of-mind." Finding skilled workers is always a challenge, so Regal typically hires untrained people and trains them in-house. The process consists of six weeks of intense training, beginning with plumbing and digging ditches and, at the very end, working with the internal office software and app. It's learning from A to Z.
As for long-term objectives, Buzzell reflects, "Just to continue to be relevant and offer the best service and quality to our clients. Typically, that takes care of the rest. I think pools are going to continue to be a big thing in people's lives. It's a lifestyle, exercise, fun, and so much more. Ten years ago, architects weren't drawing a pool in a $3 million house design. They would leave it out and the pool guy would just come in and do it. Now we're being brought in ahead of time. In another 10 years or so, pool builders and home builders are going to be working together way more than they have been because we can do the build and automate it all together. We just did a pool with a home automation system where the owner can literally talk to Alexa and control the system."
In an average year, the company builds 125 pools; above average is 150. And the average project cost is $125,000, complete with pool, patio, outdoor kitchen, and landscaping. Every pool is custom designed. "We get creative and pride ourselves on the design aspect," says Buzzell. "Our pools start at $60,000. We use Gunite construction with rebar in it, not a lot of vinyl liners. They are high-end and exceptional quality. And we have a screening process when people call us. We don't want to be offensive, but we also don't want to waste anybody's time. Some people don't like us vetting them but we have to."
Regal Pools continues to WOW with their swimming pool designs that give the ultimate in pleasure to clients throughout the Houston area. According to Buzzell, "Hard-working, honest people do succeed in this country. And as long as you stick to your word and your ethics, everything will be alright. I've been in difficult situations in my 10 years in business, but as long as I maintain my basic morals of being honest, and direct, and having faith, it always works out. The best thing I've ever done is remain who I am. Just a normal, family guy. I moved here from Maine, went to University of Houston, and dove right into building pools. I love water, the way it looks, the way it feels – it's a part of me."
AT A GLANCE
Who: Regal Pools
What: Award-winning custom pool design/build firm
Where: Houston, Texas
Website: www.regalpooldesign.com