Rick Husband Amarillo International Airport
a hundred years of aviation
The Rick Husband Amarillo International Airport 'lands' its future development with a direct route to the growing prosperity of its host city
Located within Potter and Randall Counties in the middle of the Lone Star State's panhandle, Amarillo, Texas is the economic epicenter of the area and a city on the move. And the Rick Husband Amarillo International Airport (AMA), operated and managed by the City of Amarillo's Department of Aviation, intends to move right along with it.
Indeed, the fates of both the city and the airport — today, a full-service commercial and general aviation facility that sits on 3,811 acres, just six miles east of town — have been intertwined for over a century.
The first recorded landing of an aircraft in Amarillo occurred on April 27, 1918, when two Army Signal Corps planes landed in a pasture off Polk St., refueled, and took off again. The first aircraft business – the Panhandle Air Service and Transportation Co. — was founded in 1920 at Bivins Field in southwest Amarillo.
The company eventually moved to the north of Amarillo, and in 1928, the field was renamed Bivins-English Field. In 1929, Bivins-English Field relocated again, six miles east of Amarillo on Highway 60, and renamed itself English Field. That year, Transcontinental & Western Air (TWA) began passenger airline service to Amarillo, and by 1931, the city was a stop on coast-to-coast service between Los Angeles and New York.
In 1952, the airport changed its name to Amarillo Air Terminal and, after the adjacent Amarillo Air Force Base was deactivated in 1968, a portion of it became part of the Amarillo Air Terminal. The primary instrument runway, built for the USAF Strategic Air Command base, at 13,502 feet, is the 7th longest civilian runway in the United States and is still used for military training.
In 1954, new terminal buildings were opened and by 1976, the airport also became a U.S. Port of Entry, requiring yet another name change to Amarillo International Airport. In 2003, the airport changed its name, once again, to the Rick Husband Amarillo International Airport after NASA astronaut and Amarillo native, Rick Husband, who died in the Space Shuttle Columbia disaster in February of that year.
Post-pandemic recovery
Over the years, AMA has been served by many local, national, and international airlines; today, three remain: American, Southwest, and United.
According to Airport Director, Mike Conner, "All of them are doing fairly well. The pandemic was not kind to the airline industry and airports, in general," he recounts, "but we've recovered relatively well. I think we were one of the first airports that got back to 90-100% recovery; our numbers, this year, far exceeded our 2019 numbers."
"In June and July this year, our numbers are higher than back in 2014. So, we're making good progress in the airline passenger arena."
Since the end of the pandemic, leisure travel has been the airport's "bread and butter," Conner reveals.
"Business travel is still down – about 30% of pre-pandemic numbers."
So, a current focus for AMA, these days, is to boost that part of the commercial business. To that end, Conner says that the airport works closely with Amarillo's Convention and Visitors Bureau, while also reaching out to the local business community via its Taking Flight program.
"That program links the airport with our business community to make sure that the airlines are flying to the places that the business travelers want to go to," he explains.
"Oftentimes, the airlines don't get the perspective of the actual people: the business leaders, the business owners, who may have the ability to direct where their travel dollars are going. So, we connect those two up."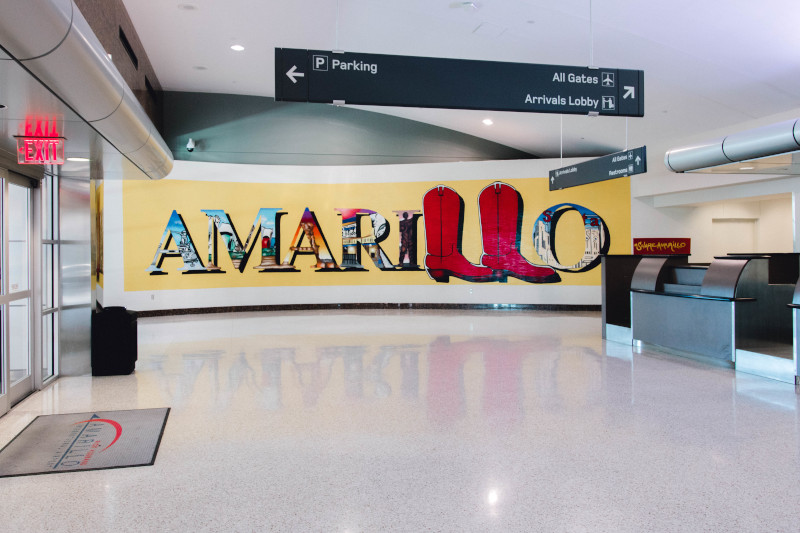 AMA looks to lure new businesses
Attracting new businesses to AMA is another current agenda item. Its new Land Development Coordinator, David Sougstad's primary job is to find suitable lessees for about 500 acres of vacant land that the airport has available.
"So that development is key for us for the airport moving forward," notes Conner, "whether that's aviation business or other types of businesses. For example, we've identified warehousing as a big need here in Amarillo and we feel that if we can attract some good companies to come in, that will spur on some other things."
Some recent positive developments include a $670-million capital investment by Producer Owned Beef, a meat processing company that bought some airport land and intends to open a new facility by late 2024 that will employ nearly 1,600.
"We've also got a lot of big businesses that are moving right around the airport," Conner adds. "There's a Buc-ee's Travel Center, and we also have a company – Chemical Vapor Metal Refining – about a half mile away that's going to be processing rare metals." CVMR intends to invest $1.5 billion to build a 500,000-sq.-ft. facility on 540 acres.
Onsite maintenance continues
Meanwhile, maintaining AMA's physical footprint is a never-ending job. On the commercial side, some upcoming projects include: upgrading the elevator in the parking garage, while adding another new one; upgrading the TSA's screening equipment; improving the airport's baggage handling system; repaving entrance roads and parking lots; and conducting an airfield-wide remarking project to ensure the airport's markings remain in compliance with FAA standards.
On the general aviation side, the airport replaced a very old FBO terminal building with a new one, and its former FBO, TAC AIR was replaced by Signature Flight Support, one of the largest fixed base operator chains in the world.
"Signature has been very good to work with and in the long run, we think they'll provide a lot more opportunities for development of general aviation facilities," Conner says. "I think we're going to be working with them to provide additional maintenance capabilities shortly.
"We also have a second FBO that's going in very soon; they're constructing their facility right now – it's called Haven Aero. They already have a maintenance facility here called Flight Mechanix. Their maintenance business has been going like gangbusters and so they've decided they want to build an FBO here to handle additional traffic," he points out.
"They're building a large hangar and we're excited to have them here, as well. I think, in the long run, you'll see a good uptick here in GA traffic. With the new FBO coming on, I think we'll see a lot more of the mid-sized jets that we don't see, right now. That's where Haven Aero will come in."
"Right before the pandemic, we had a really bad storm and it blew off the roof of one of our larger hangars and we had to scrap the whole hangar. Within the last eight months, a replacement hangar opened and it's a beautiful facility. Signature operates that for us as they did the previous hangar. It's got some office space attached to it and it's fully heated."
"Also, we're going to be switching our existing maintenance group, which is English Field Aviation – their contract ends with Signature at the end of this month. We're not quite sure who that's going to be at this point; Signature is looking at several options to replace them. We hope that whatever that company is, they'll have a good business plan to increase maintenance here. I think that will go over well with the community — there'll be a bit of competition between the two; prices will be good; and we'll have a broader aircraft focus. So, there are a lot of good things happening in the GA world."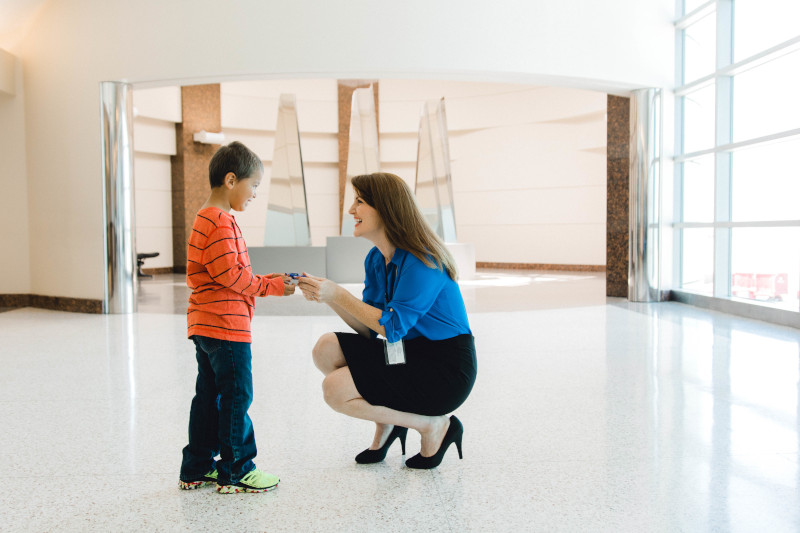 The challenges ahead
Despite that good news, confronting the nation's widespread pilot shortage is a tougher nut to crack. "We don't do much flight training here," Conner laments.
"Our colleges don't do that either. We have one flight school here, but they've kind of scaled down. If I had my wish, I'd like to move some additional flight training here from larger companies that do simulator training. That would help out the pilot situation. And I think that it would also help attract other aviation businesses here to Amarillo."
Other current challenges include maintaining airport staffing at a level commensurate with customers' needs. "Keeping staff and attracting new staff that have the skills to make this airport great is always a challenge,"Conner states. So is maintaining AMA's main terminal that underwent a $52.2 million renovation in 2009-2010
"It's a great building. The airlines love it. The passengers love it. But it's 13 years old and needs a lot of maintenance," he opines. "We have to keep up with that and our airfield — keeping up with the pavement maintenance is a challenge when we don't have enough staff to make that happen according to plan."
Amarillo is the place to be
With all that being said, Conner, who has been AMA's Airport Director for the past six years, and has a long résumé in the field, with previous stints at Wilkes-Barre/Scranton and MidAmerica St. Louis is happy at AMA and has no desire to manage a larger facility.
"I enjoy the camaraderie at a smaller airport," he relays. "There's a lot more autonomy. And what keeps me motivated is the level of opportunity that's here. Amarillo is a growing community; we've exceeded 200,000 in the city and that doesn't count the outlying areas."
"There's a lot of opportunity for growth. We've got a great organization and we've got so much land to develop. And with Amarillo as a growing city, it's great for the airport. Ultimately, it's going to allow us to make things better, improve our customer services, and improve the size of the airport."
AT A GLANCE
Rick Husband Amarillo International Airport
WHAT: A commercial and general aviation airport
WHERE: In Potter and Randall Counties, Texas,
WEBSITE: www.fly-ama.com
International Aerospace Coatings – iac.aero
As the global leader in aircraft painting, interiors, and graphics along with engineering and technical services the IAC group provides critical services to key players in the aviation ecosystem. IAC's painting and coatings capabilities combined with Eirtech's engineering and technical services offerings create a scaled "one-stop shop" provider of critical aviation services from aircraft purchase to owner transitions and end of life. Working with International airlines, private operators, military aircraft and aviation leasing companies across the globe, the IAC group provides tailor made aircraft painting, aircraft interior refurbishment and aircraft graphic solutions that ensure regulatory compliance globally. Our specialty capabilities, global footprint, proprietary processes and systems and supplier relationships create a unique platform that offers customers improved efficiencies and reduced costs. International Aerospace Coatings recently announced receipt of their Part 145 approval from the Irish Aviation Authority (IAA) to offer maintenance services as part of the aircraft painting service. IAC's European HQ is based at Shannon Airport, Co. Clare, Ireland, with their US headquarters located at Irvine, California. Across the group's 10 locations worldwide, with 7 widebody facilities, we complete 700+ painting events per year and 700+ engineering & technical service projects per year.
West Texas A&M University – www.wtamu.edu
Take your education to the next level at West Texas A&M University.
Our graduate programs embody the innovative spirit of the Texas Panhandle and beyond. WT125, the University's long-term strategic plan, guides our mission in providing regionally-responsive, high-quality programs to our students. Through leading-edge research and nationally recognized programs, we transform our students and our communities. Discover affordable, advanced education at the Graduate School at West Texas A&M University.

Amarillo EDC – www.amarilloedc.com
The Amarillo Economic Development Corporation (Amarillo EDC) is the primary economic development engine of the Amarillo community, responsible for industry growth and job creation through business attraction and retention initiatives. The mission of the Amarillo EDC is to attract businesses to Amarillo which offer highly skilled, highly-paid positions; to expand and retain existing local businesses in Amarillo; and to foster a business environment conducive to entrepreneurship. Learn more at www.amarilloedc.com.